Cut out the noise: What high decibels do to us physically and mentally
It is incumbent upon us to be proactive for our sheer survival - pick up the phone and dial 100 if people play loud music.
It comes as a welcome relief that a Bombay High Court bench, led by Justice Shantanu Kemkar, on September 14 refused to lift the blanket ban on DJs and high-volume sound systems during Ganesh Chaturthi and Navratri celebrations.
Denying interim relief to the petitioner, Professional Audio and Lighting Association, the bench said that the association cannot use DJs and high-volume sound systems in violation of noise control norms.
Cut it out: We cannot play with people's health in the name of populism. (Source: India Today)
In India, public religiosity does not recognise the rights of individuals. Those who practice public religiosity, no matter what their religion or caste, are always greater in number and have larger constituencies than the dissenting individual.
He/she is the real minority.
No matter what nuances about democracy they taught you about in school and college, this is the reality that is brought home to you every festival season. In the recent past, the Maharashtra government has, under pressure from populist netas who rely on mob support, extended the deadline to play loudspeakers.
Despite laws that exist on paper, hard-won every inch of the way by noise pollution activists who undergo mockery, abuse and threat of physical harm from the very people on whose behalf they struggle, a visit to the average police station in India by any complainant will reveal the apathy and reluctance of the law to fall foul of popular sentiment. So, what message does this send out?
Firstly, this proves that if you have enough numbers (comprising potential rioters and arsonists of whatever persuasion), you can toss all those nice pretty things written in the Constitution out of the window. The government will always give in.
Secondly, the 10 pm deadline was just a sop handed out because a bunch of English-speaking "pseudo-secular" activists with nothing better to do had to be appeased, because apparently, they still mattered. As far as the organisers are concerned, all that's thankfully changing now with small town "real" India calling the shots. The fact that noise pollution is more than just a mere inconvenience that one has to 'kindly adjust' to, has been ignored.
These are some of the things that happen to all of us — yes, not just us poofy types, but also the sturdy sons of the soil — when noise goes beyond certain limits: Exposure to noise tells upon the health. Very loud noise of 150 decibels can cause a rash under the collar, in-between the fingers and the thighs. Eardrums may rupture. It can cause giddiness and nausea. The international limit set for noise is 60 decibels, while in India, people burn crackers producing over 125 decibels — which is tantamount to a jet flying at 300 feet.
Exposure to over 100 decibels for a few hours lessens efficiency and makes one more prone to accidents. It makes one aggressive and quarrelsome.
Even for those who are sleeping, exposure to loud noise causes a disturbance in their brain waves as recorded by the electroencephalogram.
While we enjoy, we should ensure nobody is inconvenienced. (Source: Agencies)
Prolonged exposure to loud noise can lead to irregular or faster pulse, enlarged hearts and increase in blood cholesterol. It causes mental fatigue, irritability, and precipitates or aggravates mental tension and neurosis.
Loud noise increases the heart rate of the foetus in a pregnant mother. This may cause irreparable damage to the unborn baby. Noise-induced hearing loss can indeed impair the quality of life, through a reduction in the ability to hear important sounds and to communicate with family and friends. Some of the other effects of noise, such as sleep disruption, the masking of speech and television, and the inability to enjoy one's property or leisure time, also impair the quality of life. In addition, noise can interfere with the teaching and learning process, disrupt the performance of certain tasks, and increase the incidence of anti-social behaviour.
Sound level in decibels is a logarithmic rather than a linear measure of the change in pressure with respect to a reference pressure level. A small increase in decibels can represent a large increase in sound energy. Technically, an increase of 3 dB represents a doubling of sound energy, and an increase of 10 dB represents a tenfold increase. The ear, however, perceives a 10-dB increase as doubling of loudness.
Noise can also produce disruptive after-effects, commonly manifested as a reduced tolerance for frustration, and it appears that the presence and timing of control over the noise are critical to the prediction of after-effects. Even moderate noise levels can increase anxiety, decrease the incidence of helping behaviour, and increase the risk of hostile behaviour.
These effects may, to some extent, help explain the "dehumanisation" of today's urban environment.
Take Mumbai for instance, our financial capital — the city police recorded 41 cases of noise pollution during dahi handi this year, higher compared to 28 in 2017 and 22 in 2016. This year, the cases were mostly related to loudspeakers for crossing the permissible limits in residential areas and silence zones. According to the police, noise readings were taken in every zone, but they can't be made public as the investigation in each case is pending and a Bombay High Court (HC) order from 2016 had directed them to file reports in individual cases, and submit action-taken reports. The Supreme Court and the HC have passed several orders directing noise pollution rules be strictly followed and have emphasised that religion should not be a reason to break the rules.
Our festive celebrations should not become a problem for others. (Source: Reuters)
According to the World Health Organisation, the average noise level in Mumbai is steadily increasing by 1.5 decibels a year. The decibel level in Mumbai during the daytime is way above the 55 db recommended by the WHO, touching 85 to 90 db in traffic-nodal areas like Saki Naka, Byculla, Kalabadevi and Ghatkopar, and airport-noise-affected suburbs like Vile Parle and Santa Cruz.
"Acting on HC guidelines, we make a proposal, highlighting the cases and decibel (dB) levels. We then give the report to the Maharashtra Pollution Control Board, and they further file charge sheets in the court," says Manjunath Shinge, deputy commissioner of police and Mumbai police spokesperson. Much of what the higher ups say does not get implemented on the street level by the lower officers.
According to Sumeira Abdulali of Awaaz Foundation, who has been practically singlehandedly campaigning against noise pollution for more than two decades, "Filing cases is one thing, but taking preventive action by confiscating speakers, arrests or convictions to ensure cases are not repeated has to be seen… We have examples from 2010 where cases were filed against political parties during the Dussehra Rally, but no action has been taken."
The Central Pollution Control Board of India had published a rule book in the Gazette of India, dated February 2, 2000, titled The Noise Pollution (Regulation and Control) Rules, 2000.
In this rule book they have divided all areas in 4 different zones and decided limits for noise level in respective zones.
a) Industrial area: 75dBA (day time) and 70dBA (night time)
b) Commercial area: 65dBA (day time) and 55dBA (night time)
c) Residential area: 55dBA (day time) and 45dBA (night time)
d) Silence Zone: 50dBA (day time) and 40dBA (night time)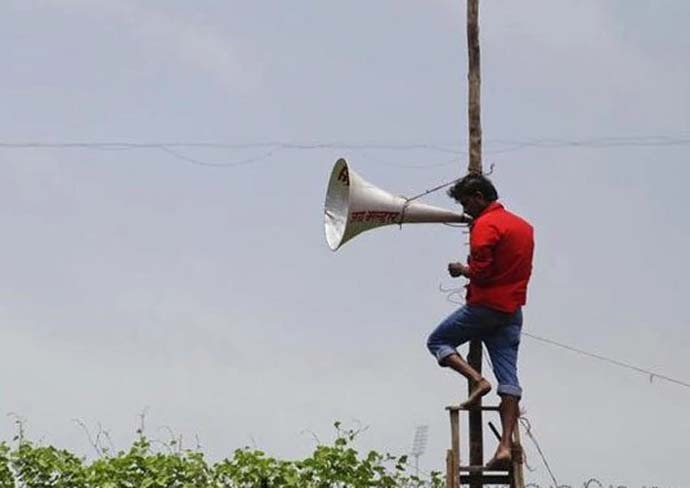 Noise pollution can also lead to other health issues aside from hurting our ears. (Source: Reuters)
Note:
1) Day time shall mean from 6 am to 10 pm
2) Night time shall mean from 10 pm to 6 am
3) Silence zone is an area comprising not less than 100 metres around hospitals, educational institutions, courts, religious places or any other area which is declared as such by the competent authority
4) dBA (A - weighted decibel) is unit of noise
There are different noise limits for vehicles as well depending upon the capacity of their engines.
The 'threshold of pain' is pegged at 140 db (the sound of an aeroplane). Much of the festival noise in Mumbai comes perilously close to this. For those who wish to do more than just bellyache about the horrible singing of the aunty next door over the loudspeaker during Navratri, or the maddening banjo wailing away in the small hours, it is incumbent upon us to be proactive for our sheer survival, pick up the phone and dial 100.
Also read: Thugs of Hindostan releases this Diwali: Are movie launches during festivals good for families or not?
The views and opinions expressed in this article are those of the authors and do not necessarily reflect the official policy or position of DailyO.in or the India Today Group. The writers are solely responsible for any claims arising out of the contents of this article.