Letter to PM Modi: Why India needs to go back to Gurukul
The world is gaining strength from Indian culture and traditions. And we are rejecting them.
Dear Prime Minister Modi,
I hope your new year had a good start.
On January 7, when a Delhi court issued death warrants against the four death-row convicts in the 2012 Nirbhaya gangrape case, the New Year surely began with some great news.
Like millions of others, I too am happy to know that the long and painful ordeal of a disheartened mother seeking justice for her daughter will end soon.
But this isn't enough to make this year, or any other year great, for that matter. Because time and again, several rape cases shook the nation, and they continue to do so — be it the recent Hyderabad rape case or the long-forgotten Kathua or Unnao cases.
These are just some of the horrific crimes against women that became the subjects of public outrage because of the media's attention. There are thousands of such cases that fail to come to our notice. After all, studies reveal that over 90 rapes occur in a day in our country. And they happen in all parts of the nation, irrespective of the ruling state or central government.
No matter who is in power, the incidents of sexual assaults don't stop rearing their ugly heads. (Representational image: Reuters)
No matter whether it is the BJP or the Congress government, these incidents of sexual assaults don't stop rearing their ugly heads. So, blaming a particular government is pointless here. And I believe that the fault lies somewhere in the society.
Passing the buck for the deteriorating moral and ethical values in India is easy. The challenge is identifying the root cause and fixing it. The harsh reality is that our nation's moral conscience has degraded over the years. It didn't happen overnight. I feel that the only way to subside this ongoing moral degradation is to bring a paradigm shift in our education system.
I think it's about time our country paved the way for Gurukul school of learning.
We have come a long way in making India a global country with an education system that can compete with the best educational institutions across the world, but at what cost? Progress doesn't mean we have to forget our culture, traditions, and the rich heritage that we have been blessed with. Our schools today don't focus on moral values anymore. And unfortunately, our dharm prachar is getting negative too. Thousands of Indian millennials have reduced themselves to liberal, convent-educated, western-influenced minds who are gradually drifting away from their culture, their soul.
Today, we see an education system that focuses on raising liberals to such an extent that some universities have become a hub of unpatriotic activities. It forces me to ask: what have we come to? There was a time when Indians laid their lives on the line to protect their country. Today, we see students raising 'Bharat tere tukde honge' slogans in their college campuses. This India is not the India our ancestors imagined it to be.
I do realise that ideological battles will continue to rage on, irrespective of the era you are in. But it is difficult for me to absorb the fact that a majority of our youngsters today know nothing about Gita, Ramayana, Vedas, Puranas or the Hindu religion in general. And that's a strong contributing factor to the sorry state of our nation.
Back to Gurukul
When you compare Hinduism to other religions, it seems a bit too flexible, isn't it? I mean, it's not bound by compulsion, and everyone is free to find their peace in any Hindu scripture or God they want. In contrast, other religions are guided by set instructions or teachings. Take the five daily prayers and the Friday prayer of the Islamic faith or the Nitnem paath in Sikhism, for example. Christianity also requires its believers to attend the Mass at the church every Sunday. To that end, Hinduism is too flexible, yet too vast with a plethora of spiritual scriptures that make it a treasure trove of knowledge. In fact, our Vedas, Upanishads and Puranas contain knowledge of the entire universe.
It is about time our country paved the way for Gurukul school of learning as a part of mainstream education. (Representational image: Reuters)
But what is the use of this knowledge if it is not spread?
Mr Modi, I appreciate that your government's focus has been on education and culture for long. And there is no denying that you want to strengthen spirituality in the country. So, why don't we go back to our roots by starting a Gurukul-based education system in the country? When we have Madrasa schools as the Islamic system of education and convent schools as the Christian system of education, then why can't we have Gurukul schools as the Hindu system of education?
Gurukul had been a way of life since ancient times. Mainly, a residential schooling system, it originated around 5000 BC and rose to prominence during the Vedic age. It focussed on instilling discipline among students and fostered the guru-shishya (teacher-student) tradition that India was once proud of. And it is the same guru-shishya relationship that goes back to the time of Ramayana. It's been a part of our Hindu culture and identity — something that we are consciously letting go. And this needs to stop. We must reclaim our traditions, our heritage.
Importance of Gurukul
From teaching life lessons on humanity, love, and brotherhood to including yoga, meditation, and spirituality in education, Gurukul was all this and much more. Over the past few decades, India has been focusing on an education system that is rather commercial in nature. Rather than developing a child holistically and ethically, our present education system emphasises on creating materialistic beings. Needless to mention, the desire to be a good human being is lost.
Worse, the top-grade centric education system of today has also robbed many students of the real joy of learning. The sense to explore things to learn something new is somewhat missing at present.
Rabindranath Tagore was one of the visionaries who sensed the importance of Gurukul decades ago. He set up a school along the lines of the traditional system of Gurukul. And today, we have one of the world-renowned academic institutions in Shantiniketan, Visva-Bharati. His open-air school emphasised on not just studies, but also on culture, art and human values. To raise individuals who are knowledgeable, responsible, and carry a sense of obligation towards the civic community, he ensured that the school curriculum was developed in the right manner.
He aimed at imparting education while building the overall personality of the students. And he succeeded brilliantly in doing so.
It was a breath of fresh air in a country that was losing its touch with its roots due to the tangles of the European model of education that was too focused on textbooks and examinations.
Now, when we say that our young generation is moving away from our moral values, there is a reason for it. And the reason is that the British education system softly abolished our values. While English was undoubtedly needed to compete with the world, and we naturally got attracted to the English education system, we forgot to carry our roots along. As a result, parents got into a race of enrolling their kids in convent and English-medium schools. These schools, in turn, were racing amongst themselves to imbibe the western culture into their education system. Consequently, the vicious circle never ended.
Today, when Bhagavad Gita and other ancient texts are being used to guide the students at the world's top business schools, we need to get a little closer to the moment of introspection. Thousands of global business school graduates find their way to self-improvement and corporate enlightenment through Hindu scriptures.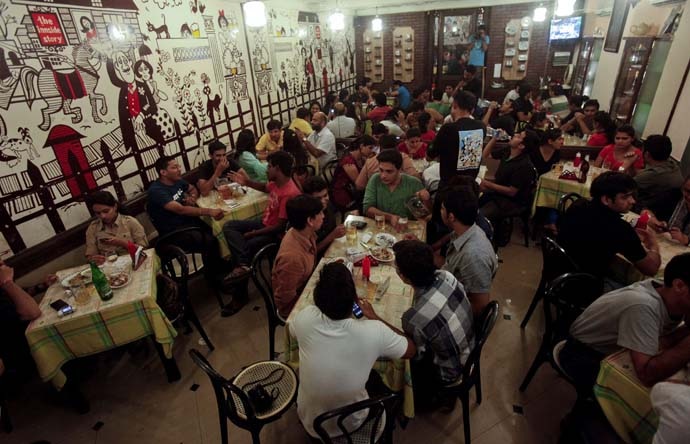 Indian millennials have reduced themselves to western-influenced minds who are gradually drifting away from their culture. (Representational image: Reuters)
But what about Indians? We must pause and reflect on why we are forgetting the Indian philosophy. India, which was once known as the land of spirituality, which gave Gautam Buddha, Swami Vivekanand and Mahatma Gandhi to the world, is no longer the same. The truth is: while we may be teaching high moral values to the world, we are disowning them ourselves. The world is gaining strength from Indian culture and traditions. And we are giving up on them.
This is the reason why I strongly recommend bringing Gurukul residential schools in every state. These schools will be as per the global standards of education, so that modern parents don't hesitate to admit their children to these schools. The only, and perhaps, the biggest difference will be that the environment will be like Gurukul. The guru-shishya relationship and teachings of our holy scriptures will take precedence over grades. These schools will have their focus on Gita, Vedas, Ramayana and other ancient scriptures that have been left out by us Indians.
We must remember that only education can help our kids to be spiritually enlightened. Otherwise, going by the current trends and the increasing Western influence, it won't be a surprise if Hindu kids forget about their religion in the next 20 years. And so, we must preserve our religion, culture, and legacy. We owe it to it.
I hope you will consider this suggestion and come forward with a definite action plan to reintroduce the Gurukul school of learning in India. Our country needs it. Our youth deserves it.
Also read: Abuse of Indian culture: Dear Indian politicians, you descended into 'gaali-politics' and shamed us all
The views and opinions expressed in this article are those of the authors and do not necessarily reflect the official policy or position of DailyO.in or the India Today Group. The writers are solely responsible for any claims arising out of the contents of this article.