How fake news of Rahul Gandhi eating chicken before temple visit spread
The regional media too picked up the unverified story and it spread like wildfire.
I was covering the four-day campaign trail of Congress president Rahul Gandhi in poll-bound Karnataka. Throughout his tour of the state in the Hyderabad-Karnataka region, Rahul Gandhi ate and stayed at a state government guesthouse.
In the media van, there was a reporter from a regional channel who started a conversation with me and a few other reporters and cameramen from national TV channels. After a brief chat about the Congress, he said: "This could be a good story. During the tour, Rahul Gandhi ate meat before visiting a temple."
Well, well. Firstly, what a person eats before he visits any place shouldn't be anybody else's concern. Anyway, I asked him how did he come to know that Rahul Gandhi ate meat? He immediately said: "While the SPG personnel carried food containers, I asked them what was in there. They told me there was fish."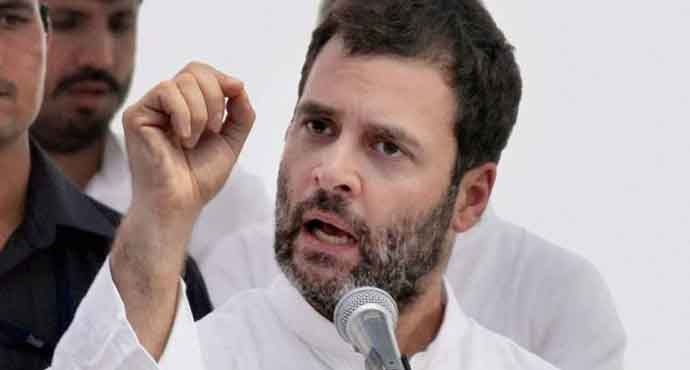 I stopped him right there and asked him how could he confirm if the fish was meant for Rahul Gandhi or anyone else in his team or for the SPG personnel themselves. Without batting na eyelid, he said: "I can run the news. It's up to Rahul Gandhi to come out and give a clarification."
It completely shocked me. The rest of us looked at each other in utter disbelief. What was this person saying? Since when did they start fighting elections in Karnataka over food habits? The conversation continued and all of us questioned him what if Rahul Gandhi didn't eat the food that the "SPG personnel were carrying". I clearly remember telling him, "Let's for a second assume that meat was indeed carried for rahul. What if he looked at the meat and said 'no it doesn't look tasty. I won't eat this now. Just give me bread and butter'."
With a disappointed look, I told him this isn't journalism, how can one run a news without confirming it. He retorted: "Who is doing journalism? It' has been long dead."
Many newspapers carried similar stories of Rahul having chicken biryani. BJP state president tweeted about it with screenshots of one of the articles. The regional media too picked up the story and it spread like wildfire.
I don't know if there were more reporters who ran the story without verifying the facts. But I had met one of them.
Every time Rahul ate food, it was in a closed enclosure with heavy SPG protection. No one from outside were allowed inside. At times, even state AICC leaders were made to wait.
Speaking to senior Congress minister DK Shivakumar, when I told him about BS Yeddyurappa's tweet, the minister said whenever Rahul Gandhi went he too was present and at no point was any non-vegetarian food served.
Also read: Why online dating isn't for girls like me
The views and opinions expressed in this article are those of the authors and do not necessarily reflect the official policy or position of DailyO.in or the India Today Group. The writers are solely responsible for any claims arising out of the contents of this article.