Dear Neighbourhood Auntyji,
Let's get this straight, we don't like each other. You complain about us, each day, to our landlady. We understand that according to you, everything about us is wrong, so we don't even explain ourselves. Our landlady too does not take you seriously. But today, I wanted to write to you. I promise you, before I leave this place, I will give this piece to you.
You watched PV Sindhu win today. I heard your TV blaring. In fact, it was a celebration for our entire building. It was all cheer and applause. But Aunty, did you see something? PV Sindhu was so aggressive on the court and the way she screamed, she slayed her opponent.
Aunty, this is how some women are, they are aggressive and they scream. Not all women are calm and silent. Just like boys - some scream, others are calm. You have a four-year-old granddaughter. Your life's motive is to tame her. You yell at her all the time, to sit in one spot, to not run around.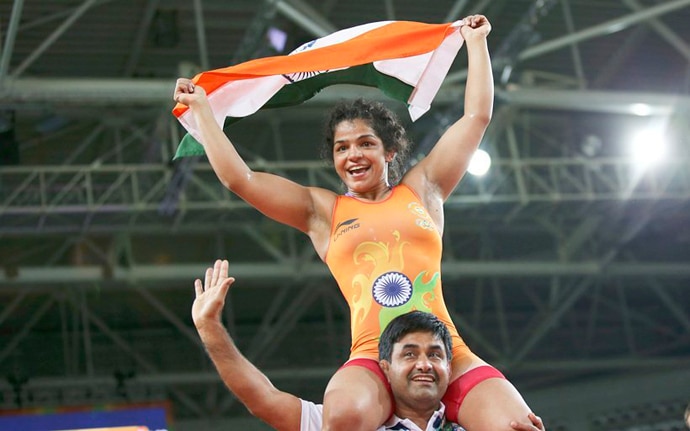 You need not be the damsel in distress, looking like Snow White, to be a woman.
Aunty, these little girls know better. She watches the games with her dad. Who knows she might perfect the vault of death as a gymnast, someday. Aunty, today, little girls know they can be more. They have many possibilities before them. Being a gymnast is one. They could perform death-defying stuns as the world stands up to watch them someday.
You don't like the colour of my skin, do you? If we run into each other near the stairs or in the park, you ask me to try home remedies for a lighter complexion. You do it each time. Last week, when Madhu came home after her outdoor photography session, you almost fainted because her skin had turned dark in the Sun.
But did you see Sakshi Malik, her skin glowed as she punched her opponent, and struck her down. Sakshi is not fair-skinned, Auntyji. Some girls are just not fair-skinned, and they shine.
Auntyji, in the flat below ours, boys live on rent, just like us. But you always bless them. Every Thursday, when you visit the mandir, you offer them prasad and bless them so that they can take care of their parents and be prosperous. You always taunt us and ask us why we are not married. How come our parents just sent us away? Are our parents poor, to just ask us to earn? Mehr travels across the world for work, you make funny faces at her.
You taunt us, you probe us, you forever keep an eye on us, but you never bless us like you bless the boys. Why Aunty?
You make strange complaints to our landlady. We went out for Jeena's birthday. You complained to her that our high-heels made too much noise as we climbed the stairs. And also how we would fall and break our legs someday. You assured our landlady that we would fall and cry. Aunty, did you see how Sakshi Malik's coach raised her on his shoulders and walked around the podium as she held the tricolour? No, she did not fall. No, Aunty. All those who rise don't invite a fall.
Aunty, Jasmine goes to the gym everyday; she has well-built muscles. You call her "Mard jaisi". Of course, we had a row over this. Aunty, did you watch Vinesh Phogat in the ring? She was injured while wrestling. She hurt her leg badly. She had to quit midway.
Some women build muscle. They hurt. They bleed. They injure themselves. Yet, each one of them is no less of a woman. You need not be the damsel in distress, looking like Snow White, to be a woman. You can be what you choose and still be a beautiful woman.
Do you know Aunty, what has been the best part of this Olympics? The girls are winning. Forget the women, the men are calling them heroes. Heroes - not sisters, mothers or goddesses. This country has always favoured boys. Girls are not supposed to be their equals. Now the game is changing, Aunty. I feel the winds of change.
Aunty, none of the girls I mentioned in this letter is fair or fragile. They are dusky, they are not asking for saviours; they want to win it all against the world's best. They are slaying it all, on their own.
That gives immense confidence to women like me. It has boosted our morale no end. Also, now little girls know they have so many things to choose from. Little girls become what they see. When they see these girls barely in their 20s win, they dream big. And, with time, their dreams will grow.
You take pride over having raised an amazing daughter. She quit her studies after pursuing graduation and got married. She is now settled in Amreeka. But here is a secret: Do you see what happens to the dupatta you force your grand-daughter to wear on any pooja or festival - she wraps it around her neck like Superman.
And now, she has seen all these women making their dreams a reality. She knows she too can be a superhero if she chooses to be one. For her, to bleed, to scream, to be aggressive and to hurt is okay. She has seen women doing it and winning it all.
When the future looks back to this day, it will applaud these girls who came from nowhere and created history. And remember, your granddaughter will be a part of this history.
(That's what you call me, when I am not within earshot.)
P.S. This might be a work of fiction, but I know most readers have seen a version of this Auntyji.