As a journalist, who extensively reports on Kashmiri Pandits, Shikara indicates to me an assuring development. A deliberately silenced exodus, expected to be forgotten in Jammu camps, has risen now to commercial cinema. The film, directed by Vidhu Vinod Chopra, is a critical indictment against communal bigotry and a timely reminder of Kashmiri Pandit narrative.
Non-Kashmiri film watchers thronged to the theatres to watch eye-witness accounts dramatised into fictional appearances. This must be considered a development from simply fleeting references in Mission Kashmir and Haider.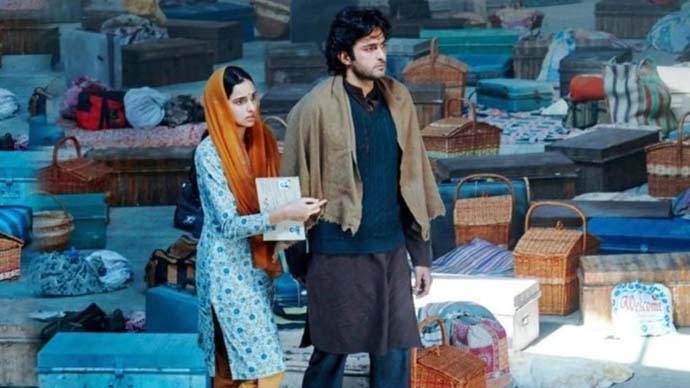 Shikara captures social hypocrisy, intelligentsia's criminal silence and political disregard for a persecuted minority. (Photo: YouTube screengrab)
The film may not fit 30 years of horror and survival and will raise counter-arguments, but it successfully captures incredible sequences that are exclusive to Kashmiri Pandit narrative but were never highlighted in a visual mass medium.
The first time I saw a refugee camp of Kashmiri Pandits was in Jammu, more than a decade ago — an experience that enlightened me about a grossly underreported human rights violation.
The resident's gate in Jammu had an "Aum" insignia painted with the address of a village in Pampore, Kashmir. I entered the slum-like quarter with a decrepit low ceiling, where a girl sat studying. Engrossed in her school work, she looked up at us nonchalantly and returned to her books. Trunks were piled around her; the room had no cupboard. I noticed her teenage sister change clothes, hidden behind the trunks. My male friends noticed it too and walked out. The trunks, I realised, was the only privacy divider the family had at the camp.
Their mother, flaunting a tired but precious smile, welcomed us in. Their space, barely enough for us to squat in, was a house for a family of five. This family once resided in a palatial house, flanked by orchards. The woman went to the kitchen and I followed to assist her, but saw no kitchen. Outside their room, a small extension was created as a makeshift cooking area. The fragrance of rogan josh spread across the room but could not overpower the stench of a nearby communal lavatory.
I walked out in tears, shocked at how such lives were not reaching national headlines. Despite hailing from the same community, my privileged background and fortunate upbringing were in stark contrast to girls my age in refugee camps. This broadened my horizon to understand the resilience of a people forgotten and betrayed. 
Over the years, I have interacted with many Kashmiri Pandits to realise how they beat the odds to survive. Their permanent address remains the same, that of Kashmir, while every few years they are forced to update their temporary houses — moving from tents to quarters. For many, the education has paid off and children have successfully moved their parents out of wretched dwellings to houses in the city.
The ones, who lost even their permanent address, will find their story in Shikara. 
This famed resilience is also chronicled in Shikara, where a generation confronted with brutal hate, nevertheless ensures their children are not engulfed by the storm. The child who grows up to become a neurosurgeon in the film is every Kashmiri Hindu refugee — denoting the rebuilt vision of a people, who were otherwise expected to perish in the unknown.  
Political journey to find a voice 
To a Pandit visitor in Kashmir, empty houses in ruins are a reminder of their suppressed history. Walls that were once home to dreams of their parents now stand as a metaphor of majoritarian rule. From days of dismal protests at Jantar Mantar to montages of abandoned houses projected on the big screen in 2020, Kashmiri Pandit voices have travelled a long road in the last three decades.
En route, they have battled lies and denials, sarcasm and even dismissive justification for the violence heaped on their people. The survivors — while rebuilding their life — watched jihadi secessionists eulogised on prime-time television and listened to university lecturers convey manipulated facts to impressionable students. Young Kashmiris, of the third generation in exile, now pen regular columns and record videos recounting survival experiences. They are documenting on digital footprints, breaking through echo-chambers, that had denied an expression to their parents.
Rahul Pandita's book Our Moon Has Blood Clots became a seething factual memoir, on which Shikara is partly based. Ahead of Shikara's release, all national news channels conducted discussions, while campaigns trended on social media. The demands of acknowledgement to ethnic cleansing generated curiosity and deliberations. This was witnessed never before on mass media.
Helplessness, confusion, fear and targeted killings of Hindus in the 1990s were not collateral damage. The exodus of Pandits is not "the other side". It is precisely the account that brings Kashmir's problems in perspective. Shikara captures social hypocrisy, the intelligentsia's criminal silence and political disregard for a persecuted minority.
A phone call by Shiv Dhar from Jammu's Mutthi refugee camp to reprimand an unsympathetic house-buyer reflects this uprooted group's decision to finally grab the bull by the horn. "Hamare ghar pe aapka koi haq nahi (You have no right over my home)" is the first brave admonishment by the lead character, reflective of gradual resolution to not be a spectator anymore.
Shikara is the personal journey of a Kashmiri Pandit couple and political journey of the community to discover its voice. But, the distance is still to be measured.
In the final scene of Shikara, the protagonist returns to his dilapidated village house and interacts with a group of curious children. 
Unfortunately, as I observe regularly, a section of local reporters in Kashmir will goad and extract positive reactions from this lone Pandit, and go on to praise kind Muslim neighbours. Dhar's tears and tribulations will find no mention in the news report. He will simply be portrayed as a minority prop in a conflict zone, with no struggle or grievance of his own.
This is the reason mass films like Shikara are crucial, to put the focus back on Kashmiri Pandits as human beings who survived a tragedy of betrayal. They are resilient and have returned to stand their ground, not to be used as fleeting references anymore.