Arnab was fair, chubby and about five feet six inches tall. I never saw him dwell over a math problem for more than five minutes, no matter how difficult it was. He was soft-spoken and often read Bengali novels by Sunil Gangopadhyay and Abul Bashar, his favourite authors. 
We were both in Class XI. On days, we would talk as we walked back to our hostel rooms from our high school, some 50 metres away. We would talk about unimportant topics like what happened that day. Mostly, I would ask for his help with math problems. Being a humanities student, math was always a bother for me — and Arnab was a great teacher.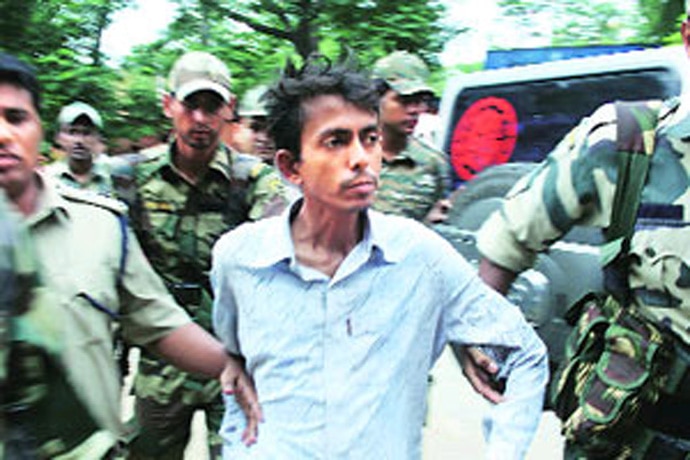 This is my friend Arnab, after his arrest in 2012. (Photo courtesy: The Indian Express) 
We would sit on his bed in the hostel and he would help me solve the problem over a frugal tiffin that was served to us in the afternoons, just after school. In an hour or so max, my math classes would be over. On days, he wouldn't be in the mood to teach. But, on other days, he would be extra generous and would teach me properly.
This routine went on for a few months. We became great friends. Once he became a famous "mathematician" in our batch, several of my friends started going to him, math books in hand.
This was in 1996, and the high school I am referring to is Ramakrishna Mission, Narendrapur, arguably one of the best residential schools in India. It was a tradition that boys with the best Madhyamik (Class 10) results took admission at Narendrapur. 
Arnab was from Barasat, and the very fact that he got admission at Narendrapur showed that he was one of the best students in West Bengal.
Back in the day — much like today — cracking the IIT entrance exam with a good rank was regarded as one of the standards of being a meritorious student. There was immense emphasis on getting a good rank because then, one could choose the IIT they wanted to study in. The students of Narendrapur mostly chose IIT Kharagpur because it was nearer home. 
Arnab cracked the IIT exam comfortably with a good rank, and got admission at IIT Kharagpur. 
I remember him sharing the good news with me with a customary smirk on his face. He was super-confident of himself, and dissatisfied with the "pathetic standards" of education in West Bengal. 
His father was an honourable Judge at the Sessions Court, and we were sure that Arnab would be an academic after IIT. We knew that he was destined to excel in his career as a scholar.
Arnab did indeed excel in his "career" — but not as an academic.
He dropped out of IIT Kharagpur after the very first year — to pick up arms against the government. He quickly rose up the ranks among the Naxalites and operated from the Purulia-Burdwan belts. 
When Arnab was finally arrested on July 16, 2012, newspapers reported that he was one of the top-ranking Naxalite leaders of West Bengal. 'Comrade Bikram' now, he had more than 30 cases slapped against him by successive Left and TMC governments, which included the reported murder of Intelligence Branch officer Partha Biswas and his own childhood friend, Soumyajit Basu, a school teacher. The mutilated bodies of the two were found in a pit in the jungles of Purulia. 
It was also reported that when he was arrested, there was an AK 47 Assault Rifle on him, along with live ammunition. 
Arnab, since then, has been lodged at the Kolkata Presidency Jail, and is going through trial. Arnab, alias Comrade Bikram, is the only son of his parents.
That's what the Ultra-Left, or the Violent Left doctrine, can do to you. It changes the person you are.
Before you sympathise with anybody, remember that the most dangerous Ultra Lefts are not the ones who have picked up the AK 47s against the armed forces of our country. The most dangerous ones are those who mobilise them, strategise for them, collect money for them, and most importantly, indoctrinate new, vulnerable students from schools, colleges and universities. 
Arnab alias Bikram has been charged with all the above.
He was allegedly a master strategist and an expert in getting new recruits.
It is widely believed that my friend Arnab was radicalised while he was at IIT Kharagpur, and he dropped out after the first year. I am also told that in the first semester of IIT, he was among the best students in his class. But after he was radicalised, there was nothing to stop him. He disappeared from the hallowed seminar rooms of IIT Kharagpur, into the jungles of Purulia's Ayodhya.  
When I saw his picture in the newspaper (attached, courtesy The Telegraph), he was just a bag of bones. The Arnab I knew was quite chubby with plump cheeks I loved to pull. The cheeks had sunken into a depth that had merged with deep, dark circles under his eyes. 
The Arnab I knew had a chubby face. The man whose picture I saw had hollow cheeks and sunken eyes. (Photo courtesy: Mita Roy of The Telegraph) 
That was not my Arnab. That was Comrade Bikram.
Before you sympathise with the Ultra Left doctrine, remember that Arnab was not an exception. He is a product of a well-organised machinery of Naxalites who operate with the vulnerable student community, enticing them to take the path of violence, all in the name of "greater public good" or "overthrowing the system". Their targets are students like Arnab, who are geniuses, but are easily swayed by an ideology that seems enticing at the surface, if you are a young student with high adrenaline.
The saddest part of the story is that the Naxalite movement survives because somewhere down the line, the most brilliant students of India are getting exposed to its doctrine and accepting it.
The most brilliant minds may become the most dangerous.
The movement has survived because of these marvellous minds.
Most of these minds who are running the movement from the top are well-educated, even scholars, in their respective fields.
This is why it is more than necessary today that India protect its students from getting exposed to this ideology. We need to prevent more Arnabs from dropping out of IITs and IIMs to join Maoist movements.
If we can stop people like Arnab from joining it, the movement will automatically die down, as without generals, the soldiers will be like headless chicken.
But this is an ongoing tussle as some of the best educational institutions have many sympathisers of the Maoist doctrine, who, in turn, hunt for talent among their students. We now have a term for them — "Urban Naxals".
Unless we stop the process of exposing our vulnerable students to violent Maoist doctrines, this deeply embedded assembly line will keep churning out an unending supply of more Arnabs.