Since the 2014 Lok Sabha elections, all constitutional posts come as rewards for sycophancy towards the Sangh Parivar. The President, vice-president, and governors in India enjoy palatial homes, offices, elaborate entourage with little accountability to the people as they operate on the fringes of the Indian Constitution.
The constitutional offices have lost their credibility over the years and have become institutions through which the Centre maintains its hegemony over states. In a smart political move, the BJP had nominated former Union minister Venkaiah Naidu for the vice-president's post. Naidu belonged to the Rashtriya Swayamsevak Sangh (RSS), the BJP's ideological mentor. His election to the high office ensured that for the first time since independence, all four constitutional posts are being held by lawmakers from the Sangh.
After the appointment of Uttar Pradesh born Ram Nath Kovind as President, the BJP also had regional balance in mind. The RSS has long been trying to expand its ideological footprint across south India, and it intended to expand its reach through appointing a vice-president from Andhra Pradesh. These are instances where the constitutional positions have been misused for political needs of parties.
In 2016, RSS chief Mohan Bhagwat, declared: "Now the time has come when we have to tell the new generation to chant 'Bharat Mata Ki Jai'. It should be real, spontaneous and part of all-round development of the youth." Bhagwat, while demanding chanting of "Bharat Mata Ki Jai", also stated that this was necessitated as some forces were telling the youth not to say raise the slogan hailing "Bharat Mata".
Naidu assumed office on August 11, 2017, and after one month he was invited to deliver an address at the Indian School of Business (ISB) Leadership Summit in Mohali wherein he stressed upon the fact that "we also call our country Bharat Mata or Mother India", emphasising women empowerment and giving them equal opportunities. He asked students to be proud of their heritage and said: "From Puranas, we find that the education minister was Goddess Saraswati, defence minister was Durga Devi and finance minister was Laxmi Devi."
He also said that "Ram Rajya" is still hailed as the greatest period of Indian history because of the ideal governance it delivered.
Later, he also took a not-so-veiled dig at Congress vice-president Rahul Gandhi by saying, "Dynasty and democracy can't go together. Dynasty is nasty but tasty to some people."
In October 2017, the vice-president said that Lord Rama was an embodiment of Indian culture and that we must all work for Ram Rajya. He claimed that Lord Rama is our identity and we must let the younger generation learn about Ram, Rama Rajya, and direct them towards a "fair path".
Speaking on a day when the GST Council was meeting in Delhi, the vice-president said that people must understand that any transformation, any reformation faces "some initial hiccups, some teething troubles, but at the end of the day, Prime minister Narendra Modi's mantra of reform, perform and transform has a meaning and GST is India's most revolutionary tax reform ever." The constitutional post holder didn't shy away from openly praising the prime minister.
Advancing the RSS agenda of Hindi, Hindu, Hindustan, at an event in Telangana, Naidu said, "no element is more powerful" than the Hindi language to unify Indians and Hindi has played a historic role in the development of India's unity, integrity and linguistic goodwill. The remarks came during the 16th annual convocation of the Dakshina Bharat Hindi Prachar Sabha in Hyderabad.
Naidu took only about three months to disqualify the rebel JD(U) MPs Sharad Yadav and Ali Anwar, who stood staunchly against Modi government, on a JD(U) petition. Traditionally, such cases would keep pending for years together. However, Naidu altered it. The disqualification plea was filed before him on September 2, the vice-president's order came on December 4.
During the same time, a mayor in Uttar Pradesh ruled that singing of the national song, "Vande Mataram", before local body meetings was not a necessity, and vice-president was quick to respond by asking "Vande Mataram means salute to the mother. What is the problem with it, if you don't salute your mother, who would you salute, Afzal Guru?"
It is important to note that he asked this question while releasing a book on late VHP leader Ashok Singhal in New Delhi. He further emphasised that Hinduism was "our culture, our tradition" and some people were trying to give narrow meaning to it and attacking patriotism, and nationalism.
In January 2018, speaking at an event to mark Uttar Pradesh Diwas in Lucknow, he said that the name of Lord Ram should not be related to any particular religion and he should be seen as an ideal person. Hinduism is not a religion but a lifestyle and that is why India is named Hindustan. He further said that Ram Rajya is governance minus fear, corruption and discrimination, and everyone should rise above caste, religion and politics, and unite to make it a reality.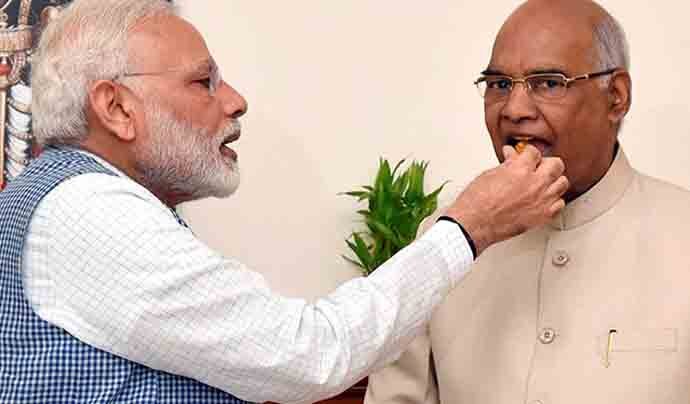 The RSS' false consciousness about Vedic science and its hatred towards western science is in the news almost daily.
At a time Goa chief minister, Manohar Parrikar, is battling pancreatic cancer in USA, our vice-president called upon all medical professionals and researchers to come up with path-breaking advances for exploring Ayurveda for alternative solutions to prevent and treat cancer in his address at the Graduation Ceremony of Tata Memorial Centre.
The BJP in-charge of Tripura Sunil Deodhar, clarified that in Tripur there are lots of Christians and Muslims, there are also some Hindus who consume beef and there shouldn't be a ban on consuming beef. But the vice-president again had a problem with beef festivals. He questioned the rationale behind holding a "beef festival" saying one could eat beef if one wanted, but there was no need to organise a festival for it. But it must be noted that the BJP candidate for Malappuram Lok Sabha by-poll, Sreeprakash, promised quality beef if elected.
The latest hint proving that Naidu is still in his RSS boots came when he compared Bihar government's initiative of "Sharab Bandi" (liquor ban) with Indira Gandhi-led Congress government's "Nasbandi" (forced vasectomy). He was speaking at the inaugural ceremony of Bihar Diwas in Patna.
A holder of a constitutional post should ideally be a person who is above the lure of active politics. With the change of government at Centre we have got individuals whose qualification is not excellence in their disciplines but their proximity to ideology of the ruling dispensation. The Opposition has failed on insisting on a candidate who could help steer the country away from divisiveness and hate towards the pluralism and diversity that Indian society rests on. Citizens expected the NDA to uphold the dignity of the office by choosing a non-political impartial candidate. The previous NDA government did set an example by nominating APJ Abdul Kalam. I believed that they could set an example again. Sadly, I was wrong.