The condemnation that participation of Muslims in Ganesh puja and cleaning of temples in Kerala has drawn finds its root in the teachings of a Wahhabi book, Taqwiyat-ul-Iman: Strengthening Faith, which Sufis say should be banned.
Two shocking incidents over the past couple of days have blown to smithereens the essence of secularism and Ganga-Jamuni Tehzeeb (a celebration of India's multiculturalism).
In Mumbai, AIMIM MLA Waris Khan Pathan, a familiar face on TV debates, had to issue an apology to Wahhabi Muslims for chanting "Ganpati Bappa Morya" during a Ganesh immersion function in his constituency, Byculla.
Waris Khan Pathan has received flak for chanting Ganpati Bappa Morya. (Source: India Today)
Byculla has for long been known as a major centre of Wahhabism and even ultra-Wahhabism. He had to do so under pressure from religious preachers belonging to the Indian schools of Wahhabism, Deoband and Ahle Hadees.
About 1,500 kms south of Mumbai, another Wahhabi preacher based in Kerala used harsher language to condemn a group of Muslims cleaning temples after the recent floods in the state. He described it as one of the worst acts for a true Muslim.
The two condemnations are rooted in the contents of Taqwiyat-ul-Iman, a book being taught in all Wahhabi madrasas in the country for over 150 years now which preaches hatred.
Taqwiyat-ul-Iman also condemns Sufism and the Sufi practice of worshipping saints at dargahs and offering chadars at their tombs as un-Islamic and calls it an import from other religions, including Hinduism.
Significantly, in Pakistan terrorist Masood Azhar follows Deobandi tenets, while LeT founder Hafiz Saeed follows the teachings of Ahle Hadees. The two ideologies are very similar and have only minor disagreements.
The book was written in 1820s by Delhi-based Wahhabi Maulvi, Shah Ismail, who was a disciple of Syed Ahmed Barelvi Wahhabi. Ismail has another proud connection. He was the great grandson of 18th-century Islam revivalist Shah Waliullah Dehlvi, who was the cause of the Third Battle of Panipat.
Waliullah had exhorted Afghan invader Ahmed Shah Abdali to crush the 'kafir Marathas' and re-establish in India a rule based on puritanical Islam that had been 'vitiated' by emperor Akbar with his doctrine of Hindu-Muslim unity.
Both Ismail and his guru Barelvi died in 1831 during a battle against the Sikh army led by emperor Ranjit Singh's son Sher Singh at Balakote in today's Pakistan Occupied Kashmir. The tomb of Ismail can still be seen at Balakote. It is a simple tomb with no decoration around it in keeping with the Wahhabi tenets.
Incidentally, Shah Ismail and his book are favourites of all Deobandi and Ahle Hadees leaders since for more than 150 years now, starting with founders of Deoband school, Muhammad Qasim Nanotvi and Rashid Ahmad Gangohi, and founder of Ahle Hadees, Syed Nazir Hussain.
Ismail and his book were also revered by Jamiat Ulema-e-Hind (JUH) founder Ahmed Hussain Madani. Shockingly, Ismail and his hateful book also earned praise from the great nationalist Muslim leader, Abul Kalam Azad, who was president of Congress for more than seven years in two terms. In his Arabic writings, Azad has praised Ismail and his book.
Interestingly, to students of Islamic history, Madani is famous for his historic statement certifying his radical brand of Islam that he made in the 1940s virtually condemning emperor Akbar's syncretic brand of Islam. He said: "If Dara Shikoh (the Sufi son of Shah Jahan) had become the Mughal emperor in his fight with Aurangzeb, the Mughal throne would have survived but Islam would have been finished. But since Aurangzeb became the emperor, both Mughal throne and Islam survived."
Taqwiyat-ul-Iman: Strengthening Faith is a book which has been condemned by Sufis for promoting hatred. 
On another occasion while addressing the 1945 JUH conference in Delhi, Madani had said that by demanding just a part of India in the name of Islam, Mohammed Ali Jinnah was doing a great disservice to Islam because he was restricting Islam's right to proselytisation. So, in one sense he wanted entire India for Islam.
Both these episodes involving Madani are well described by late reformist Muslim leader Hamid Dalwai in a book called Muslim Politics in Secular India. The book is a collection of Dalwai's articles.
A Konkani Muslim, Dalwai died in Mumbai in 1984 and is even today respected as the symbol of moderate Islam.
Significantly, Shah Ismail is regarded as a great figure in Saudi Arabia where Taqwiyat-ul-Iman is freely distributed at airports and public centres by the Wahhabi groups.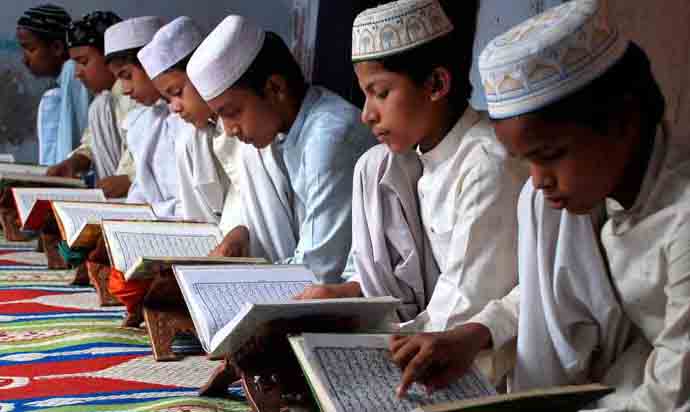 Taqwiyat-ul-Iman is taught in Wahhabi madrasas. (Source: Twitter)
Darussalam Publishers headquartered in Riyadh, that has published Taqwiyat-ul-Iman, describes Ismail as a great figure with few parallels in the history of Islam as 'he had waged jihad with both pen and sword and was ultimately martyred in the service of true Islam'.
The publishers say: "The Indian Muslims under the influence of Hindu mythological faith had entered such rituals and beliefs in Islam that even surpassed those that were there before the birth of Islam. Shah Ismail Shaheed's religious sense of honour could not tolerate the spectacle that Islam should be infiltrated with gnawed concept of associating partners to Allah. So, to root our un-Islamic practices and bring Muslims on the true path he compiled Taqwiyat-ul-Iman."
Sufi followers have condemned this book as virtual poison.
Wasim Shaikh, president of the Sunni Youth Wing who has been preaching against Taqwiyat-ul-Iman, says: "This book should be banned as it preaches hatred against Sufism and other faiths. It encourages terror traits among the Muslims in their formative years."
According to Shaikh, Taqwiyat-ul-Iman is also being distributed by the ISIS. Shujat Ali Qadri, president of Muslim Students Organisation, a Sufi body, said: "The sooner the book is banned, the better it will be for Ganga-Jamuni Tehzeeb in the country."
Is the government listening?
Are the torch-bearers of secularism — or pseudo-secularism — listening?