Is minority intimidation the new state policy in Yogi Adityanath's UP?
The recent incidents in the state show it is apparently okay to attack Muslims because they are Muslims.
Strange things are happening in Uttar Pradesh. On November 25, there were reports in some media houses that Muslims in Lakhimpur Kheri had celebrated the release of Hafiz Saeed. Local residents said they had put up green flags for Juloos-e-Mohammdi, which falls on December 2. However, in a matter of a few hours, social media was afire with reports of "a community celebrating the release of an anti-India terrorist".
On November 23, the BJP asked the Election Commission that identities of burqa-clad women casting votes in the ongoing civic body elections in the state be verified.
This was a day after a Muslim cleric and two of his relatives were assaulted in a train in Baghpat district, because the attackers did not like them wearing a keffiyeh (scarf). A few days ago, chief minister Yogi Adityanath, campaigning for civic polls, had raised the bogey of the Kairana "exodus" again, and a woman was asked to take off her burqa at one of his rallies.
Prior to this, BJP leader Ranjeet Kumar Srivastava had openly threatened Muslims from a stage he was sharing with two UP government ministers. "Bheekh nahi maang raha hun. Agar vote doge, to sukhi rahoge. Agar vote nahin doge, to jo kasht jheloge uska andaza tumko swatah lag jayega, (I am not begging for your votes. If you vote [for us], you will be better off. If you don't, you will find out the difficulties you will have to face)".
Meanwhile, on November 24, RSS chief Mohan Bhagwat in Karnataka decided he was above the Supreme Court, and announced that only a Ram temple would come up at the disputed site in UP's Ayodhya, on which the apex court is yet to give its decision.
Times are changing
Till a few months ago, some trouble was taken to show a "pretext" for mob attacks on Muslims - cow slaughter, cow smuggling. Now, as the recent incidents in UP show, it is apparently okay to heckle and attack Muslims because they are Muslims.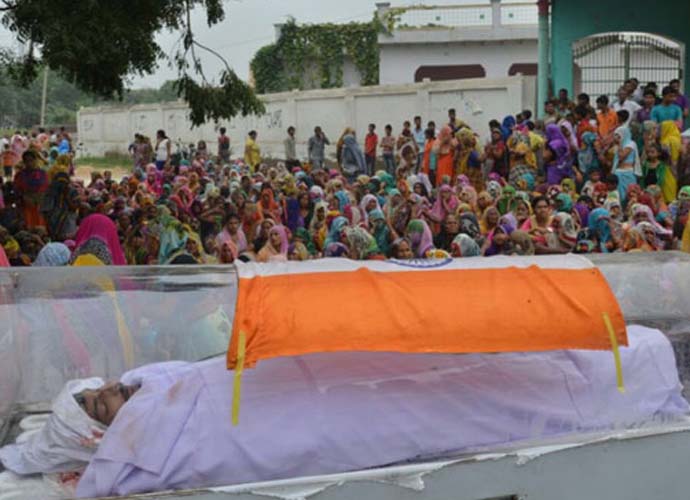 In violation of the Flag Code of India, the coffin of one of the Dadri lynching-accused was draped in the Tricolour.
And the attacks are not just about physical violence. Slowly but surely, a message is being sent out to Muslims.
In 2015, Mohammad Akhlaq in Bisada village was beaten to death because his neighbours thought he might have killed a cow. BJP MLA and Muzaffarnagar riots-accused Sangeet Som then publicly proclaimed he would try to get bail for all the accused. By August this year, only three of the 18 accused were left in jail.
When one of the accused died in October 2016, his body was draped in the Tricolour, an honour the Flag Code of India reserves for "State/Military/Central Paramilitary Forces". Union culture minister Mahesh Sharma, the Dadri MP, paid respects to him.
People are suddenly discovering they have a problem with the azaan (call to prayer). Madarasas are being asked to video-record and keep the proof of Independence Day celebrations.
The singing of Vande Mataram is being pushed aggressively, even though BJP leaders are unable to sing it themselves.
Muslims are thus being told that the majority gets to decide how they dress, what they eat, how they worship. That they are lesser citizens, that any member of the majority community can "discipline" them whenever fancy strikes him.
Attempts are being made to glamourise this behaviour – which is nothing more than cowardly schoolyard bullying escalated to lethal levels – by calling it the protection of Hindu identity and levelling of historical wrongs.
Republic of fear
So, at least in Uttar Pradesh, has the BJP abandoned the fig leaf of "vikas"? Is it finally, lustily pursuing what had been its dream all along, of building a Hindu Rashtra, of showing Muslims their place and keeping them there?
Or are incidents such as the one in Baghpat isolated occurrences, perpetrated by some people who have lost all sense of proportion due to the heady feeling that their "time is here"? If so, who is responsible for instilling this feeling in them?
Communal politics is not new to India. All parties have exploited identity fault-lines to win elections. But with an Opposition yet to gather itself and a hugely popular prime minister, the BJP is in no real danger of losing elections anytime soon.
In both Gujarat and Himachal Pradesh, it is enjoying a clear edge. Uttar Pradesh is witnessing civic body polls, hardly the occasion to bring out the big guns. Then what's the need to keep the communal pot at full flame?
Is it just cautionary polarisation of votes? Or is that the party has been carried away by its own rhetoric, and is now enjoying communalism for communalism's sake?
Cultivating poison
Under the benign patronage of the government, communal passions are being stirred up at an unprecedented rate. Anyone who is a member of any WhatsApp group in Uttar Pradesh knows the amount of poison being spread to corrupt minds, the blatant lies being peddled to influence opinions.
Suddenly, Hindus who had lived in peace all this while are waking up to the "wrongs" committed against them by Muslims throughout history. Through fake stories and videos on social media, public rallies, strategic use of the "fringe elements', a narrative is being built that Hindus so far had been living subjugated and under threat in their own homeland, but the BJP is now here to liberate them and give them their true place in the world.
If the BJP is indeed fomenting so much poison only to win elections, it is terribly short-sighted. A fire once spread cannot be doused easily.
Lynching of democracy
Any crazed mob derives strength from numbers. The problem is that in Uttar Pradesh, members of such mobs now seem to be running the government.
The BJP, as a political party, has every right to have its own ideology. But when it is part of the elected government of a "secular, democratic republic", it cannot use the government's offices and resources to empower and patronise the most dangerous foot soldiers of its ideology.
Most BJP leaders, starting from party chief Amit Shah, have been quick to condemn the "Left-perpetrated violence" in Kerala. No such criticism has so far come forth for the happenings in Yogi Adityanath's Uttar Pradesh.
Among many others in a similar vein, Adityanath has to his credit statements like "If they kill one Hindu, then we will kill 100 Muslims". He had let the audience finish the sentence. As the mahant of a temple, Adityanath held certain views. But today, he is the CM of a state with an almost 20 per cent Muslim population. If these Muslims feel threatened, can they turn to him with the confidence that they will be heard and their grievances addressed?
Lately, people have taken to tweeting their complaints and tagging various government authorities. Can a Muslim tag the UP government in a complaint of communal persecution, without the fear that he is inviting a saffron mob to descend on his home?
If a community is feeling disempowered and threatened in their own country, if intimidation is slowly becoming state policy, it is indeed the death of democracy.
Whether it likes it or not, the government is duty-bound to guarantee the right to life and the right to practise any faith to every citizen of India. By abdicating these responsibilities, it is betraying the very Constitution it derives its authority from.
Also read: Why Arun Shourie still thinks a united Opposition can burst the Modi balloon in 2019
The views and opinions expressed in this article are those of the authors and do not necessarily reflect the official policy or position of DailyO.in or the India Today Group. The writers are solely responsible for any claims arising out of the contents of this article.