December 8 is the birthday of two famous film stars who have entertained us down the years and created magic together on screen.
Dharmendra and Sharmila Tagore share their birthdays besides having shared a wonderful on-screen chemistry that led to the success of films like Chupke Chupke, Yakeen, Anupama and Devar. Their film Mere Hamdam Mere Dost was released fifty years ago (in 1968) and is one the most beautiful films they starred together in.
Though it was felt that they were quite dissimilar, they really hit it off as a Bollywood pair – perhaps due to them being different in many ways. She was the poised, elegant, a little anglicised and sophisticated lady while he was the true blue Punjabi "munda" who, even in his roles of a simple and soft-spoken person in the 1960s, exuded a raw sensuality that made him a heartthrob right from the beginning of his career.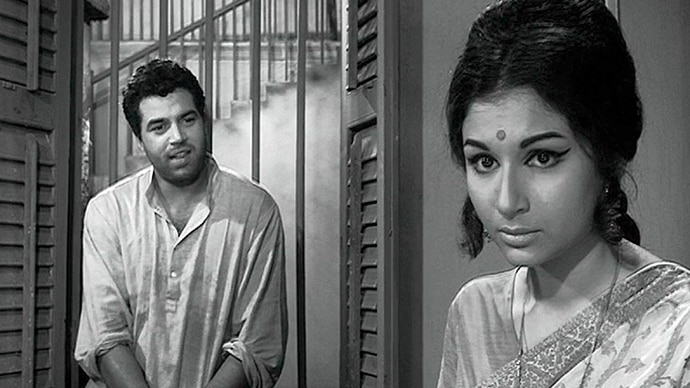 Dharmendra and Sharmila Tagore share their birthdays. (Photo: Screengrab/Anupama)
A bit rough and yet soft – that was Dharmendra for you. Sharmila Tagore may have had great success in films in which she paired with the phenomenon-Rajesh Khanna, and Dharmendra had many hits with Hema Malini. However, the two truly shined in films during the 1960s, 1970s and 1980s in which the Bengali beauty Sharmila and the "son of the soil" Dharam starred opposite each other. 
When one looks back, their pairing goes back to the year 1966 in Anupama directed by the great Hrishikesh Mukherjee. A black and white gem, this film can be labelled as a classic which saw this young pair in extremely subtle and serious roles. 
The songs of this critically acclaimed film continue to echo in our hearts – Dheeray Dheeray machal, aye dil-e-beqaraar, koi aata hai, Kuchh Dil ne kahaa, kuchh bhi nahin, aisi bhi baatein hoti hain, ya dil ki suno duniya waalo, ya mujhko abhi chup rehne do). All eternal melodies that became only more memorable because of the good-looking actors whom we see in this film.
Devar (1966) also had some extremely beautiful songs and an interesting story of childhood sweethearts getting separated and meeting again as a brother and sister in law. Mere Hamdam Mere Dost saw them, two years later, in a more "colorful" avatar. 
The two shared the screen in many movies during the 60s, 70s and 80s. (Photo: Screengrab)
A typical 1960s film with lilting melodies that have kept alive the magic of this lovely "jodi" till today, half a century after it was released! Who can ever forget songs like "Chalo sajna jahaan tak hawaa chaley", "Chhalkayein jam, aapki aankhon ke naam, honton ke naam" , "Allah yeh adaa, kaisi hai inn haseeno'n mein" and "hui sham , unkaa khayaal aa gaya"... Timeless classics, all!
The 1969 thriller Yakeen has Dharam Ji in a double role. It was an important film as with it began Dharmendra's transition towards being the all-time "He-Man", an action hero – as we would see him quite often in the 1970s... Sharmila looks amazingly beautiful in Yakeen. The duo looks picture perfect! Satyakam in 1969 was not a box-office success but from the point of view of their acting, it is a memorable Dharam-Sharmila film.
Chupke Chupke in 1975 restrengthened the audiences' belief that Dharam ji and Sharmila ji made a truly charming and vibrant pair and could play any kind of roles with ease. Considered one of the finest comedies ever made, this film had a huge star cast. And yet, the lead pair could shine with their perfect comic timing and comfort with each other.
One can make out from this film what a great sense of humour these two stars have. It can be due to their being born on the same day! There are some memorable scenes in this film where they share screen space with actors like Om Prakash, David, Asrani and the great Amitabh Bachchan.
From Anupama in 1966 to Sunny in 1984, Dharmendra and Sharmila, have been on a journey of dreams. (Photo: Screengrab)
This is one film of Dharmendra and Sharmila which will be watched and re-watched by successive generations. It is a brilliant testimony to their being a "hit pair" of Hindi cinema.
Sunny in 1984 was the last film in which we saw this screen pair together. Again, the songs made this film of theirs stand out in the 1980s. "Aur kya ahd-e-wafaa hotey hain, log milte hain, judaa hotay hain" is remembered till date as the song that plays an important part in the story. The dignified charm of Sharmila Tagore and the suave looks of Dharam ji added greatly to the weight of the love story of the younger pair-Sunny Deol and Amrita Singh.
From Anupama in 1966 to Sunny in 1984, Dharmendra and Sharmila, on this journey of dreams, have given us some beautiful films  with equally beautiful songs that always remind us of the fascinating romance they created on the silver screen. A romance that has been captured forever. For people to watch and rejoice in... Wishing both these stars a very happy birthday. May their presence light up our hearts for years to come!