Having lost the opportunity to fictionalise the story of thug Feringhea and thug-hunter British officer William Sleeman, you would think at least Vijay Krishna Acharya's Thugs of Hindostan would give us a movie that was as exciting as the lives of the bandits.
But no, that is too much to expect from a movie intending to be a Diwali blockbuster — as noisy and as self-consciously spectacular as this one is. What you have instead is a movie that has allowed me to contemplate the many virtues of Katrina Kaif.
In 2011, when I did a profile on Katrina Kaif for India Today, based on a series of interviews with her and those around her, the ever-insightful Shiv Visvanathan told me: ''She is part of the new Indian epics enacted abroad, from New York to Singh is Kinng, which convey a new sense of the Indian, who is definitely global, urbane, mobile and tactical. She smells new and conveys the new. She is so easy with all the men, and yet seems to move beyond all of them."
As Indian cinema has turned inward, looking to its own stories and its own homegrown epics, Hindi cinema has used her less, but one look at her filmography and you will agree with him.
Whenever a male superstar has needed to posh-up, he has relied on the 35-year-old, beginning with Akshay Kumar, who gave her the first break in 2007 after the disastrous Boom, in Humko Deewana Kar Gaye. She is an heiress, he a middling, a middle-class automobile engineer.
They meet in Canada, and of course love ensues.
In Jab Tak Hai Jaan (2012), she is a London-based businesswoman, Meera Thapar, who allows street-singer and sometime-soldier Shah Rukh Khan to move up the social chain.
And in Ek Tha Tiger (2012) and Tiger Zinda Hai (2017), she is the ultimate outsider, a Pakistani who also happens to be a superspy.
That's a pattern for Katrina.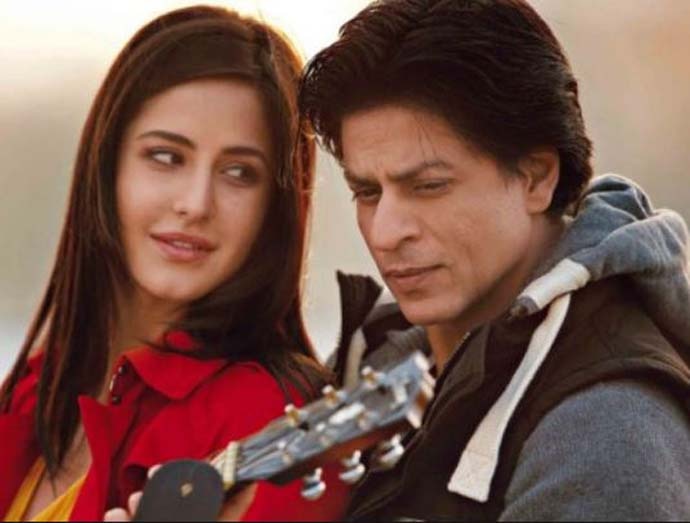 Katrina falls into a pattern and goes beyond. (Screenshots)
An irresistible love object, with indefinable 'angrez' accent, very identifiable white skin in a nation — obsessed with fairness — and with  usually a residential status that is trans-national.
She is such a shorthand for everything that Indian men obsess about that in some films she is not even given a surname. So, she is Sheila in Tees Maar Khan (in what is meant to be a meta move, she is Anya Khan, starlet, playing Sheila, star), Aaliya in Dhoom 3 and Suraiyya in Thugs of Hindostan.
Listen to the lyrics of 'Sheila ki Jawani' from the song that cleverly tapped into Katrina's appeal and you will understand why she is the ultimate male fantasy:
But You Never Gonna Get It
Maane Na Maane Koi Duniya Yeh Saari
In Dhoom 3, she is a circus artiste, which makes the best use of her distinctive dance style.
Unlike the Madhuri Dixit-Sridevi generation, whose dance styles were rooted in the classical tradition, the younger actors have tended to learn on the job.
Katrina is no different, having speed-learnt kathak from Viru Krishnan when she came to Mumbai.
Her freestyle dancing, most obviously on display in the Thugs of Hindostan songs 'Suraiyya' and 'Manzoor-e-Khuda', borrows less from conventional Indian dance forms and more from gymnastics and acrobatics.
The attire is as fittingly athletic — the skirt is less of a skirt and more a half dhoti in 'Suraiyya' and in 'Manzoor-e-Khuda', a pair of sequinned shorts which would have definitely stopped the East India Company in its tracks in 1795, when Thugs of Hindostan is set.
In Thugs of Hindostan, we don't know much about her except what the song Suraiyya tells us about her quite suggestively:
It mirrors the lyrics of Dhoom 3 in the song 'Kamli' (which means crazy)
Main to pehan ke saafa kesariya (I'll wear a saffron turban)
Jugni jogan ban jaaun (and become a nun)
Surme de kaale jaadu se (I can make you forget your aceticism)
keh de to jog bhulaoon (With the magic of my kajal)
Here is a woman as a complete seductress, swaying on a pole, stripping items of clothing, and managing to look happy about it.
This is what makes Katrina so interesting in today's Bollywood.
She is quite unabashed about playing the sex object, and manages to do it while being a sport about it.
With her perfectly sculpted body and her quite carefree display of it, she exudes an oomph that is yet unreachable on account of her being the archetypal "gori", always somewhat intimidating to the Indian man.
In the West, this was the kind of body-worshipping feminism that the young Madonna embodied in the 90s.
"Madonna is the true feminist. She exposes the puritanism and suffocating ideology of American feminism, which is stuck in an adolescent whining mode. Madonna has taught young women to be fully female and sexual, while still exercising total control over their lives. She shows girls how to be attractive, sensual, energetic, ambitious, aggressive and funny — all at the same time.
American feminism has a man problem.
The beaming Betty Crockers, hangdog dowdies and parochial prudes who call themselves feminists want men to be like women. They fear and despise the masculine. The academic feminists think their nerdy bookworm husbands are the ideal model of human manhood.
But Madonna loves real men. She sees the beauty of masculinity, in all its rough vigour and sweaty athletic perfection. She also admires the men who are actually like women: trans-sexuals and flamboyant drag queens, the heroes of the 1969 Stonewall rebellion, which started the gay liberation movement.''
This was before Madonna decided to join the #Metoo movement, and in Paglia's eyes, committed the worst sin of "maudlin self pity" at the Billboard Woman of the year award in 2016.
Katrina doesn't have the agency that Madonna had. (Screenshots)
Here is Katrina celebrating her physicality in Thugs of Hindostan, confessing she likes "sirphire" and even getting the best line of the film, which goes something like this: Dussehra ka dastoor hai, Ravana ko jalana hai, those si aag hum bhi senk lain.
The obvious argument against Katrina being the Madonna of our times is that she doesn't have the agency that the '90s Madonna had.
Katrina is very much a product of masculine imagination, designed by men, to be consumed by men, but it is in her unique interpretation of this that she shows a spirit and spunk that has often not been given enough credit.
By taking the sleaze out of the item song, she has not only injected some humour and dignity into one of the most exploitative aspects of Hindi movies, but also ensured she is the best thing in a movie that on paper boasts of Hindi cinema's biggest male stars, Aamir Khan and Amitabh Bachchan, but is in reality a gigantic soggy, wet blanket.