In a fascinating new novel about the rise of Delhi and its many cultures, Half the Night is Gone, (Juggernaut) Amitabha Bagchi tells the story of Lala Motichand of old Delhi, the death of the feudal culture of kings and nobles and the subsequent rise of shopkeepers, who know the price of everything and the value of nothing.
In using Ramcharitmanas and Hanuman Chalisa as texts, he has liberated those "religious texts" from the narrow box in which they were trapped by the fundamentalists. Even as politics tries to simplify the world, he believes literature should complicate it, capture it in all its complexities.
Here, Bagchi answers questions posed to him by Kaveree Bamzai.
Your use of Hanuman Chalisa and Ramcharitmanas is exquisite. I felt it was also a way to take them out of their narrow religious connotations. Why did you use them?
Ramcharitmanas is probably the most widely known text in North India: the most widely read, memorised, recited, sung, discussed and referred to.
The Hanuman Chalisa has a similar status, although it is different because it is small and it is an invocation, while the former is a narrative and is massive.
This whole novel began when one day I found myself unconsciously humming the famous bhajan "mangal bhavan amangal hari". The words are from Ramcharitmanas. Clearly, these texts have such tremendous power on people in our part of the world that even those of us who don't actively seek them out are affected by them. In some sense, you can say that unbeknownst to me these texts invaded my sensibility, and led me to this project.
It sounds like a cliché, but it feels like we need to remember the fact that religion is an integral part of life for many, many people. It is perhaps due to the fact that religious sectarianism has been the bane of the Indian state that we have begun to view religion itself with a jaundiced eye. I feel this is a mistake that we need to stop. We need to not just understand what texts like Ramcharitmanas mean to people, we need to actually feel what those texts make them feel. It's a tough task, but perhaps not impossible.
The relationships among wrestler-turned-servant Mange Ram, Nawab Mansoor Ali and Khuda Baksh point to a composite culture we are in danger of losing. How did you see this decline happening?
I feel the term "composite culture" is part of a political tug-of-war.
One side claims that two groups can be nothing but enemies and the other side tries to establish that these groups are inextricably intertwined in culture.
I think these two extreme positions are neither historically justifiable, nor particularly productive as we try to shape a future in which we all get along under the Constitution. I don't believe in the tragic narrative of decline either.
Relationships between different groups and sub-groups have ebbed and flowed as historical circumstances have changed. But there is a story beyond that as well.
This story overlaps with the story you are referring to but is greater than that story.
Mange Ram, Mansoor Ali and Khuda Baksh are also wrestlers, patrons and gurus, apart from having some religious affiliations of their own. I feel that politics simplifies the world to enable one group or the other to grab power. And so, literature must strive to complicate that same world, lay it out in as close to its full complexity.
Half the Night is Gone, by Amitabha Bagchi, Juggernaut Books
Vishwanath in his letter seems terribly disappointed in the rise of the BJP and the ruination of the Nehruvian/Gandhian way of life. Do you agree with him when you look around? Especially, when you talk of those who have drunk the water of tradition only so that they may urinate on Muslims?
Personally, I am someone who always finds himself confused, unable to create affiliation with any particular grouping or ideology.
Vishwanath, being a novelist, is no different. He has spent his whole productive life, railing against the establishment, which would be the Congress, since his writing life began in the early sixties, but he does not like the BJP's ideology either.
And since his letters are set in 2008, he can't be an AAP follower either!
There are places in the book where you will find issues of political affiliation being held up for examination with no definite conclusions being reached.
As I have said earlier, I feel that for literature to be powerful it must raise questions, not answer them. Different characters may have definite points of view, but the novel itself works by putting these points of view into play with each other, not by declaring one or the other the winner.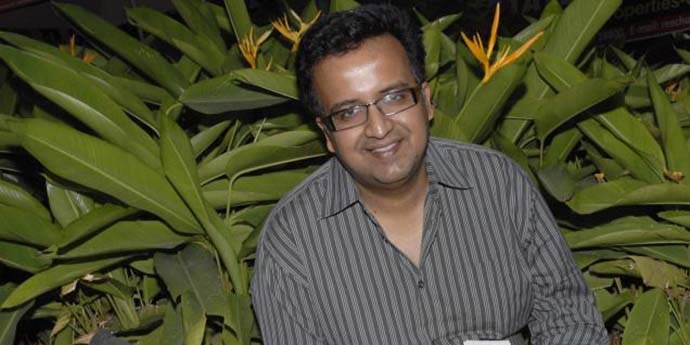 Amitabha feels literatute should raise questions; it should not answer those questions (Photo: IIT website)
The other wonderful theme in the book is the art of being a servant and the dignity of labour. That is again a deeply contentious issue. Why did you feel compelled to write that story?
I guess all such compulsions come from some deep-rooted understanding that the world is a deeply unequal place. I belong to a class of people who were indoctrinated with the ideologies of equality to the extent that we began to believe that the world was a just place where every person had the right, and the ability, to live their lives with dignity. It makes me sound naive, I know, but I have found myself bitterly disappointed by the realisation that this cherished belief is not grounded in reality. Of course, this realisation can also be the starting point for a different kind of discourse about justice and equality.
In Vishwanath's anger about English-speaking types, there is also resentment about the emerging India and some of the reasons why a new modified India has emerged. Do you agree?
In our times, when we look around the world, not just in India, we see that elitism, even well-meaning elitism, brings strong responses.
The Trump phenomenon and the Me Too movement are both examples of the kind of explosion that happens when a particular elite dominates a large population for a long time.
I deliberately put those two together, because it is possible that most of us approve of one of those explosions and not the other. Elitism rules for a while, populism pulls it down, and often, a new elitism is born. That, in fact, is probably a simplified version of the history of decolonisation. And Bhagat Singh warned us against this in the pamphlet, where he outlined his opposition to the Congress.
One of the great presences in the book is the absence of Jaggu, and the passage when he comes to India and Vishwanath sees him is so emotional. Why did you choose to make Jaggu a shadow, albeit a loving one? The same Ram and Bharat and Ram and Lakshman theme is repeated in the relationship between Dinanath and Diwanchand. You seem to be reclaiming both Lakshman and Bharat. Is that so?
The Bharat-Milap sequence of Ramcharitmanas is one of the most popular sequences, especially when Ram Leela is played. I have read that Bharat Milan used to be played near the Ghantaghar in Delhi and people would turn out in droves to watch it. I don't need to reclaim either Lakshman or Bharat, or rather, I should say neither Lakshman nor Bharat need me to reclaim them. They are there, and have always been there, in their multiple significances, in proverbial formulations, film titles and all the other kinds of discourse that draw on stories and their characters. Regarding your question on why Jaggu is a shadow, I will cite narrative exigencies: not all characters can be fully treated.
Talking of reclaiming, Bhagat Singh makes more than a cameo appearance in your book. His words "the only thing that would change if the Congress achieved the kind of Independence it sought was the colour of the skin of the rulers" is so relevant. This truly is a novel of our times and I was so pleased to read it.
One of the tragedy's of our decolonisation experience is that a clear-eyed commentator like Bhagat Singh already foresaw many of the problems that would arise, and explained their fundamental nature to us.
His analysis works, with some caveats, for many other decolonisation experiences, in Africa for example, where white elites handed over power to non-white elites.
But it is the nature of our world that the complex systems we have built are easy to critique and very, very hard to replace with other systems that are more just.
Perhaps, it is because our world simply does not have enough resources for every one to get a fair share. Which then makes me wonder why over the last couple of hundred years we started pushing the idea that justice and fairplay are ideals that we could one day achieve.
Perhaps, it is because there is some kind of natural urge built into us, some urge that draws us to wish well-being for others, and even sacrifice ourselves, the way Bhagat Singh did, to achieve that well-being.
But then why are we also so quick to oppress others when we get a chance?
At this point in the argument the contradictions inherent in our human situation typically tire me out and I don't know what to do except to quote Muneer Niazi when he says:
Kahaan tak sochte rehte use sham-e-ghareeban mein/thakan itni safar ki thi ki sona bhi zaroori tha
(How long could I think of him in that night that followed the lost battle in which Imam Hussein died/I was so tired from the journey that sleep, too, was necessary).