At 62, Madonna continues to provoke
The adage goes, "women do not get to be sexual in old age". On August 16, 2020, Madonna turns 62. And she continues to provoke by daring to be an ageing woman exhibiting her desires and the need to be desired.
"Ahahu purusakaram sankha cakrasi, Ahahu purusakaram sankha cakrasi, Dharinam dharinam sahasra sirasam, Dharinam dharinam sahasra sirasam, Vande, Om Shanti, Om Shanti, Shanti Shanti, Shanti Om"
This Sanskrit shloka is taken from the opening hymn of Yoga-Taravali of Acharya Shankara. Shlokas can be chanted or rendered in musical form. One would expect the musical form to be sober and contemplative. But to deliver it in an upbeat techno form, over a hot driving dance rhythm, and doing a fantastic job of it, requires oodles of courage and self-belief. To sing the entire song in Sanskrit (a foreign language) beginning with "I worship the Guru's lotus feet, awakening the happiness of the self-revealed" (English translation) respectfully, by not sounding theatrical, but personal and sincere, requires talent and devotion of the highest order.
Madonna is all of that. And then some. The song is 'Shanti/Ashtangi' from the album Ray of Light (1998).
Also, consider her work ethic — when she was told that her pronunciation was incorrect, she took no time to take Sanskrit lessons from a Banarasi scholar Dr Bhagirath Prasad through telephonic talks organised by BBC, London.
Empowerment, innovation, reinvention, identity — Madonna has blended all of these and much more into a career in music, fashion, movies, and beyond that has crossed boundaries and obliterated the status quo while courting controversies along the way. When a musician achieves massive success, she has three options. She can either stick to what she knows until the public grows bored. Or she can maintain her popularity by adopting the latest commercially guaranteed formula. Else she can leap into the aesthetic unknown, confident of her instincts.
Madonna could not have selected option number one — she would have gone insane from the repetition. She could have — like plenty of her superstar peers — chosen option two. But Madonna did not take the most direct route to the bank.
To understand why Madonna is Madonna, we need to start from her early years.
Madonna Louise Veronica Ciccone was born in Bay City, Michigan, on August 16, 1958. Her parents' strict observation of the Catholic faith played a large role in Madonna's childhood. Many elements of Catholic iconography — her mother's statues of the Sacred Heart, the habits of the nuns at her Catholic elementary school, and the Catholic altar at which she and her family prayed daily — later became the subject of Madonna's most controversial works. She found more than one way to aggravate the Vatican. But Catholicism kept a close watch on Madonna, too. The Vatican condemned her Like a Prayer video, and Pope John Paul II urged a boycott. In 1989, the video had been aired on MTV which featured interracial relationship themes, burning crosses and a blending of sexual innuendo and religious ideologies.
In 2004, the church wasn't crazy about her embrace of kabbalah, and when her Confessions tour made its way to Rome — with Madonna singing Live To Tell tethered to a disco-ball cross — she was accused of blasphemy.`
Another large influence on Madonna's early life was her mother, who died when Madonna was only five-years-old. The loss affected Madonna's adolescence badly. Haunted by the memories of her mother's frailty and passive demeanour during her final days, Madonna was determined to make her voice heard. She fought hard against the rules imposed by her stepmother. She rebelled against her traditional upbringing by turning her conservative clothing into revealing outfits, frequenting underground gay nightclubs, and rejecting her religious background.
However, with intensity and determination — two of her several abiding characteristics — Madonna balanced the insubordinate side of her personality with a drive for perfectionism and high achievement. She was a straight-A student, cheerleader and a disciplined dancer. In 1976, her hard work earned her the attention of the University of Michigan, which offered her a full scholarship to their dance program. In 1977, during her undergraduate studies, Madonna was awarded a six-week scholarship to study with the Alvin Ailey American Dance Theater in New York City, followed by a rare opportunity to perform with choreographer Pearl Lang in 1978. At the urging of her dance instructor, she dropped out of college to move to New York and further her dance career.
Madonna is an exceptional dancer. Many opine that she is not a singer who dances, but a dancer who sings. She is blessed with a highly coordinated body and natural rhythm that allow her to get inside any groove. In fact, her career has been like a dance, with its rigour and free-spirited abandon. Singing may have been her main artistic channel, but her performance has been a passionate piece of choreography.
In 1979, Madonna began dating Dan Gilroy of a pop-punk band called Breakfast Club. Gilroy introduced Madonna to the head of a vaudeville review in Paris, and she spent some time in France working as a showgirl. During this trip, she fell in love with the combination of singing and performing. When she returned to the United States in 1980, she joined Gilroy's band as its drummer and later became the lead singer. Madonna formed several different bands of her own over the next few years, including Madonna & The Sky, The Millionaires and Emmy.
In 1981, Madonna decided to go solo with Everybody, which hit No. 1 on the dance charts in 1982. Her first full-length album was Madonna in 1983. The album included the hit singles Borderline, Lucky Star and Holiday. Soon, girls all over the country were imitating Madonna's distinct sense of fashion, which included fishnet stockings, lace lingerie, fingerless gloves, and large crucifix necklaces. Her 1985 follow-up album, Like a Virgin, hit No. 1 on the Billboard Chart and went platinum within a month. She had two other Top 5 hits from the record: Material Girl and Angel.
Her singing career was truly up and away. Hit albums after hit albums followed — from True Blue (1986) to her last release Madame X (2019). The albums, the hits, the awards are too many to list.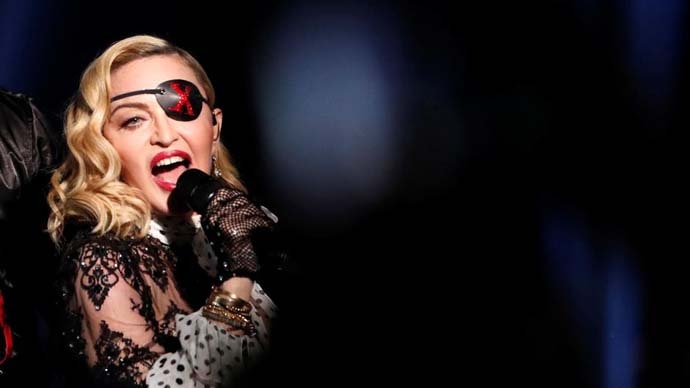 Madonna's last release was Madame X in 2019. (Photo: Reuters)
She created a wave of iconic music videos, constantly recrafting her persona. She put the 'M' in MTV. Madonna's clips gave the network more media headlines than any other artist. No other performer has used music video to elaborate their personas with a finer mix of creativity, beauty, and edge. Some of her videos were even deemed unsuitable for broadcast.
Her first music tour was The Virgin Tour. Over the next decades, she set the tone, and the bar, for modern pop mega tours. Donna Summer and Michael Jackson had both fused popular music and theatre in service of live performance. But the scale of her tours was bigger, bolder and more imaginative. There would be dancers, backup singers, her band, a variety of sets and costumes.
She also starred in her first mainstream feature film, Desperately Seeking Susan (1985), and many thereafter, including Shanghai Surprise (1986), Who's That Girl (1987), Bloodhounds of Broadway (1989) and Dick Tracy (1990).
Madonna mixed her drive for success with her penchant for scandalous behaviour. It started with her 1985 performance of her hit single Like a Virgin on the MTV Video Music Awards, which involved writhing around suggestively onstage in a wedding dress. And the wedding dress was not your typical wedding dress, but a lace corset cinched by a belt that said 'Boy Toy' on the buckle. And underneath she wore a white garter belt that was seen by all the viewers.
Then there was the Like a Prayer controversy, mentioned above.
On her tour to support the record MDNA in 2012, she courted controversy again. She occasionally flashed her audiences and used Nazi imagery while performing in France. At a concert in St. Petersburg, Russia, she spoke out in support of LGBT rights, which landed her in legal trouble. She was sued for more than USD 10 million for breaking a law against promoting homosexuality to minors, but charges were later dismissed.
But the controversies made not one dent on her popularity and she kept moving on an ascendant path, creating records after records.
She also continued to gain attention by pushing social boundaries. First came the film Truth or Dare (1991) — a revealing documentary about her Blonde Ambition tour. This was followed by the publishing of Sex (1992) — a softcore pornographic coffee-table book featuring her in a variety of erotic poses. Despite its controversial nature, Sex sold 1,50,000 copies on the day of its release in the United States alone. Three days later, all 1.5 million copies of the first edition were sold out worldwide, making it the most successful coffee-table book ever released.
But the attention-grabbing was just a collateral spin-off. There was something deeper going on. She made us look at nudity from another perspective. When Madonna posed fully, frontally naked for Sex, the shocking part was not the nudity. It was the point of view: she subverted the viewer's leering gaze by putting the focus squarely on her defiant character. There she stood — with a cigarette dangling from a sneering mouth, as she stuck out a finger to hitchhike on an open highway. Her pose turned inside out the way sex was commonly used in pop culture nudes, expressing not a sexual lure but the power of personal confidence.
Similarly, in the music video for Express Yourself, Madonna, in a double-breasted suit, is dancing on a platform at the top of a staircase. When she sings "Baby, ready or not" she slowly slides her hand to her crotch and grabs it. It is a move that Michael Jackson made famous, but when she did it, it was an act of empowerment, a celebration of women taking ownership of their sexuality.
By 1996, Madonna had proven her versatility as a star in both film and music. She starred in the musical Evita (1996) and won a Golden Globe.
She then made the move from the big screen to the London West End stage in the play Up for Grabs (2002) and wrote her first children's book, The English Roses (2003). Madonna was inducted into the inaugural UK Music Hall of Fame in 2004, and her next album Confessions on a Dancefloor came out the following year in 2005. Around this time Madonna became the artist with the most gold certified singles in the United States, beating The Beatles' longstanding record.
Her professional life continued to boom: In January 2008, she was named the world's wealthiest female musician by Forbes magazine.
Madonna's ability to transform herself for albums, videos, photoshoots, tours and movies made her a master of perpetual transformation. Her rolling from one aesthetic to the next, switching up her hair, her choreography, her accent, could be described in one word: reinvention.
Celebrities donate money at benefits and serve as the face of charities. But Madonna's dedication to bettering the lives of at-risk children in Malawi is an indelible part of her life. She adopted David Banda from an orphanage thereafter meeting him in 2006, returned in 2009 for Mercy James, and again in 2017 for the twins Estere and Stella. She co-founded Raising Malawi, a nonprofit focused on helping the county's orphans by supporting education and health initiatives, and made a documentary — I Am Because We Are (2008) — to raise awareness about children's needs there.
The leaflet announcing that on May 9, 2003, Madonna would be performing a one-off gig in London in front of a select group of fans. (Photo: Madonnalicious)
I had the pleasure to be 'present' in one of Madonna's gigs in the most bizarre circumstances. I was in London, on a training program, when I read in the newspaper that on May 9, 2003, Madonna would be performing a one-off gig in London in front of a select group of fans to promote her new album American Life (2003) that very day. Only 750 tickets had been made available for the intimate show at HMV on Oxford Street which had only been lapped up by her fans. Fans had to queue for a wristband two days before the show, then come back and queue for the show. As usual for Madonna, lots of queuing was involved.
That did not stop thousands of other fans from gathering outside the store including me. She pulled up outside the store in her bulletproof BMW and made her way past the crowds. Once on stage — dressed in a black beret, polka-dot blouse, black trousers, and heels — she sang live in an acoustic set backed by a five-piece band.
She opened with the title track to new album American Life. Four more songs from the album — Hollywood, Nothing Fails, X-Static Process and Mother and Father — were followed by her classics Like A Prayer and Don't Tell Me, the hit-single from her then last album, Music (2000).
The gig brought the surrounding area to a standstill. Here was a large crowd of fans, with their ears to the shutters, listening to the concert inside. Not the ideal way perhaps, but when the entertainment goddess drops in for a free concert, no amount of pain and discomfort was going to stop anyone to eavesdrop on the proceedings inside.
Women do not get to be sexual in old age. Or so goes the adage. So, while Mick Jagger and Rod Stewart happily thrust their way into their 70s, female artists field questions about "ageing gracefully" and "acting their age."
Today (August 16, 2020) Madonna turns 62.
If you are Madonna though, you will continue to provoke by simply daring to be an ageing woman who exhibits desire (and a need to be desired). There has never been a pop star writing and performing at her level, and demanding a seat at the table at her age. Why wouldn't Madonna demand it? For her broad and deep influence in the world of entertainment for four decades, she deserves a celebration.
Also read: This short film narrated by Madonna pays a beautiful tribute to Qandeel Baloch
The views and opinions expressed in this article are those of the authors and do not necessarily reflect the official policy or position of DailyO.in or the India Today Group. The writers are solely responsible for any claims arising out of the contents of this article.