The poster of Mission Mangal faced much criticism on how Akshay Kumar's image dominated it and raised questions about Bollywood needing a superstar to sell women's success stories. 
Mission Mangal is based on the real-life story of ISRO scientists who spearheaded India's first interplanetary expedition to Mars. The film features Vidya Balan, Sonakshi Sinha, Kirti Kulhari, Nithya Menon and Taapsee Pannu — but to many, it appeared as if Kumar was unduly given a more prominent display.
Mission Mangal: Many stars, one superstar? (Photo: Fox Star Studios)
The criticism notwithstanding, Kumar would probably be the only A-List Indian film star who doesn't shy away from sharing space with co-stars.
If one were to look at Kumar's career, his penchant for surrounding himself with great co-stars has been a common phenomenon — and something that has always held him in good stead.
At the onset of Kumar's career in the early 1990s, he would often feature in two-hero projects and went on to form a great on-screen pair with Suniel Shetty and Saif Ali Khan.
In the wake of the release of Rajiv Rai's Mohra (1994), a film that, in many ways, established Kumar's leading-man credentials, Anil Kapoor had famously attributed the film's success to the 'two half-heroes' who joined hands to fill in for a single hero. This was also a period where Kumar's name was regularly splashed across film glossies in stories that claimed how he would go to great lengths to get his co-star's roles chopped.
Not alone: Akshay Kumar has shared the spotlight with other heroes and heroines from day one. (Photo: India Today)
In spite of it all, Kumar continued to feature in films along with other male stars even though he might have had a smaller or less meaty role. The few films that come to mind here are Suhaag (1994), Yeh Dillagi (1994) and Dil To Pagal Hai (1997). In Suhaag, Kumar almost played the colourful sidekick to Ajay Devgn, who, back then, was considered to be the better actor, but ended up getting great paise.
Similarly, Yeh Dillagi, a loose remake of Sabrina (1954), featured Saif Ali Khan in the better-written role and also had the chartbuster Ole, Ole — which became synonymous with the film.
While the attention was on Khan, Kumar's chemistry with Kajol and the restrained performance saw him benefit more from the success of the film.
In the same way, Kumar's cameo in Dil To Pagal Hai helped him show his softer side when he was largely seen as an 'action star'.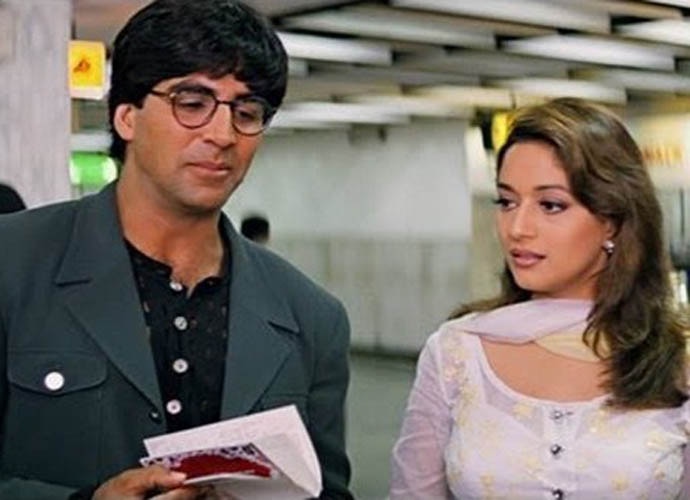 Down to earth: Akshay Kumar agreed to play the 'second lead' to the main hero quite often. (Photo: YRF/Dil To Pagal Hai)
In addition to sharing the screen with Suneil Shetty and Saif Ali Khan, Kumar also shifted gears to be the 'second lead' with Salman Khan in Mujhse Shaadi Karogi (2004), Amitabh Bachchan in Ek Rishtaa: The Bond of Love (2001), Bobby Deol in Ajnabee (2001), and also feature in ensemble projects such as Awara Paagal Deewana (2002) and Aankhen (2002)
In a career that has witnessed many crests and troughs, Kumar has always focused on interesting onscreen experiments that go beyond co-stars too. The other distinctive pattern in Kumar's filmography besides sharing screen space with somewhat more illustrious contemporaries is how he has constantly endeavoured to feature in stories that break the mould while being within the realm of popular cinema.
He was slated to feature in Deepa Mehta's Water but the film ran into choppy waters and later played the lead in Nagesh Kukunoor's 8x10 Tasveer (2009) — a departure of kinds from his usual fare.
In this aspect, Kumar has also done films where women play the more traditional protagonists.
What makes this more interesting is how these films — Sangharsh (1999), Toilet —  Ek Prem Katha (2017) and Naam Shabana (2017) had come at a time when the star wanted to reinvent himself. Sangharsh might have been a bad copy of The Silence of the Lambs (1991), but it helped Kumar come out of a phase where he hadn't had a successful film in nearly two years. In the same way, Toilet — Ek Prem Katha took Kumar's socially conscious star brand a notch higher while not being too dependent on his screen presence.
In the case of Naam Shabana, the film was a sign of mainstream Bollywood getting used to the idea of thinking outside the proverbial box. Ideally, the sequel to Baby (2015) would have meant Akshay Kumar reprising his Ajay Singh Rajput role and being packed off on a new mission where, much like Ethan Hunt of the Mission: Impossible series or Agent 007 from the James Bond franchise, he would be supported by a whole new cast.
By focusing on Taapsee, 'Naam Shabana' broke the 'Baby' mould. (Photo: Reliance Entertainment)
But Naam Shabana departed from the norm — and the inclusion of Kumar in a parallel story with a Taapsee Pannu at the center hinted at Kumar's ability to look at things in a different light.
There is no denying that the manner Hindi films might still seem shackled in terms of being too dependent on the conventional male lead even in films such as Mission Mangal is a letdown. Although, as a typical Hindi film hero, it'd be near impossible to imagine a character played by Kumar to be just a part of the mise-en-scène but when compared to others, Kumar is trying to go beyond mere lip service. He might not have gotten eyeballs for insisting that women in his films get first billing or some such — but he has put his weight behind films that need to be made and deserve a wider audience.