Why the voice of Mukesh, who sang of loss, pain and pathos, will always ring true
The legend began his career by rendering songs that sounded quite like KL Saigal's, but emerged from that shadow soon.
Every voice has a soul behind it, and in the case of Mukesh, the great singer born 95 years ago on July 22, there was something extremely special about the soul that came across in his singing. In fact, we can easily say that his voice was entirely soul. The term "soulful singing" describes his art more fittingly than any other singer's.
One of the three dominant male singers of our film industry for many years, (the other two being Mohammad Rafi and Kishore Kumar), Mukesh left a void when he passed away while on a foreign tour in 1976.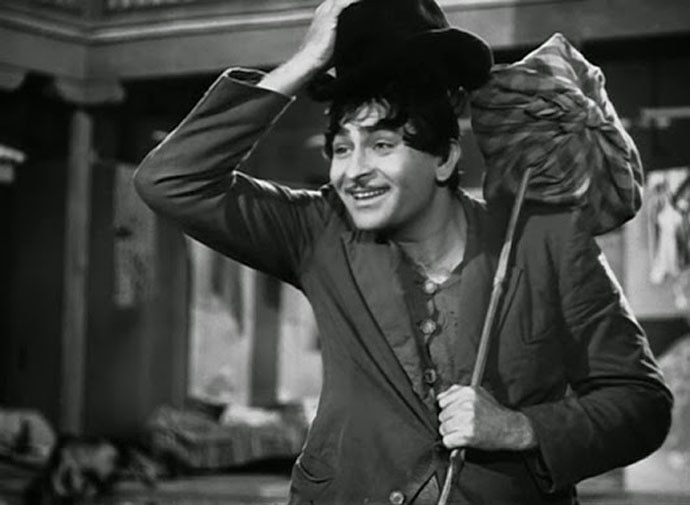 Mukesh became the voice of Raj Kapoor after movies like Aag, Awaara, Shri 420 and Barsaat. (Photo: Screenshot)
His sudden death came as a great shock to the industry and his innumerable fans spread all over the world. He was truly different from all others in his art as well as his conduct. The gentleness of his temperament came through effectively in his singing, and added to his persona. He would have turned 95 today. However, he left this world at the age of 53.
Beginning his singing career by rendering songs that sounded quite like KL Saigal's, Mukesh managed to emerge from that shadow when he became the voice of Raj Kapoor in his films Aag, Awaara, Shri 420 and Barsaat. His song "Mera Joota Hai Japani"(from the film Shri 420) became like an anthem (sung all over India as well as Russia), and there was not a single doubt left in anyone's mind about Mukesh being a singer with his own personality.
He was a strong artiste while having a wonderful softness in his singing, and the "uncrowned king" of rendering ditties of pain ,loss and pathos. The magnanimity of spirit he possessed can be felt immediately in the depths of emotions he touched with every song he sang. There were no inhibitions, no hesitation, no effort to check his feelings,no holding back.
First, it is evident, he sank himself completely into the situation and became one with it. Only after that did he give full expression to the sentiments that the lyrics embodied.
Songs that have been a special part of our growing up include "Jaane Kahan Gaye Woh Dinn, Kehte Thhe Teri Yaad Mein Nazron Ko Ham Bichhayenge" (which always moves me to tears with its haunting pathos), "Jis Gali mein Teraa Ghar na ho Baalma", "Jo Tumko Ho Pasand Wahi Baat Kahenge", "Chandan Sa Badan ,Chanchal Chitwan,Dheeray Se Tera Yeh Muskana (which shows he could sing a classical composition though he was not trained in classical music).
There are more. "Chaand Aahein Bharega , Phool Dil Thhaam Lenge, "Main Na Bhoolunga" (from the film Roti Kapda aur Makaan – this song has a strong sense of the sadness of passing time and the beauty of memories), "Koi Jab Tumhaara Hriday Tod De" (a beautifully composed song in its music as well as picturisation) and "Chaand Si Mehbooba Ho Meri Kab Aisa Maine Socha Thha". The ring of truth in his voice is what touches one most. The feeling that a pure-hearted,simple person is singing always prevails.
The list of his enchanting songs is indeed long. The songs he sang for Manoj Kumar are as memorable as the ones he did for Raj Kapoor. It would be no exaggeration if we call him Manoj Kumar's voice too. In the film Kranti, Manoj Kumar used the voice of Nitin Mukesh, for himself but it was not half as effective as the voice of Nitin's father, the great Mukesh who had passed away by the time Kranti was made. There is no doubt that this soulful and true voice contributed greatly to the success of Raj Kapoor and Manoj Kumar as actors as well as film makers.
The ring of truth in his voice is what touches one most. (Photo: India Today)
In songs like "Hamne Apna Sab Kuchh Khoya, Pyaar Tera Pane Ko" , "Tum Agar Mujhko Na Chaaho Toh Koi Baat Nahin" and "Ham Chhod Chale Hain Mehfil Ko", we can feel the pain of a dejected lover who has given up on his efforts of wooing a lady who is not too responsive. It is true that Mukesh was the singer whose voice had that particular quality which best expressed the feeling of loss, rejection and defeat in love.
He also expresses nostalgia beautifully through the sad hues of his rich voice — "Jaane Kahaan Gaye Woh Din", "Aaya Hai Mujhe Phir Yaad Who Zaalim Guzra Zamaana Bachpan Ka", "Suhaani Chaandni Raatein Hamein Sone Nahin Deti" and "Aa Laut Ke Aaja Mere Meet, Tujhe Mere Geet Bulaate Hain".
Mukesh always succeeds in pulling at our heartstrings — whether he is the voice of an unsuccessful lover ("Chaandi Ki Deewaar Na Todi, Pyaar Bhara Dil Tod Diya") , a betrayed friend ("Dost Dost Na Raha"),a philosophising vagabond ("Kisi Ki Muskuraahaton Pe Ho Nisaar") , a man who is pondering over his past (Kahin Door Jab Din Dhhal Jaaye , Saanjh Ki Dulhan Badan Churaaye,Chupke Se Aaye") or singing a lullaby to his disturbed ladylove (Ram Kare Aisa Ho Jaaye, Meri Nindiya Tohe Mil Jaaye, Main Jaagun, Tu So Jaaye). When we hear Mukesh, we tend to understand best the words of Shelley:
"We look before and after, And pine for what is not: Our sincerest laughter With some pain is fraught; Our sweetest songs are those that tell of saddest thought".
Also read: Why Bollywood biopics fail
The views and opinions expressed in this article are those of the authors and do not necessarily reflect the official policy or position of DailyO.in or the India Today Group. The writers are solely responsible for any claims arising out of the contents of this article.