'Tripathi bach jayega!' Decoding Pankaj Tripathi and why India's drooling over this middle-aged guy
Shah Rukh Khan and Nawazuddin Siddiqui are passé. There's a new heartthrob on the bloc.
The only thing worth remembering in the Abhishek Bachchan-starrer Run (2004) was Vijay Raaz and his impeccable comic timing. 'Kavwa biryani' and 'chhoti Ganga' have become inside jokes between friends at informal get-togethers.
But while Raaz was surreptitiously making his way into our hearts, Pankaj Tripathi was standing right there, a witness to it all.
If I tell you now that Run was Pankaj Tripathi's debut — where he had just two scenes, his voice dubbed by someone else and his character wasn't even given a name — you will believe me because Tripathi has never kept his humble beginnings a secret. Another thing he has no qualms admitting to is the failures he's had to withstand in order to reach where he is today.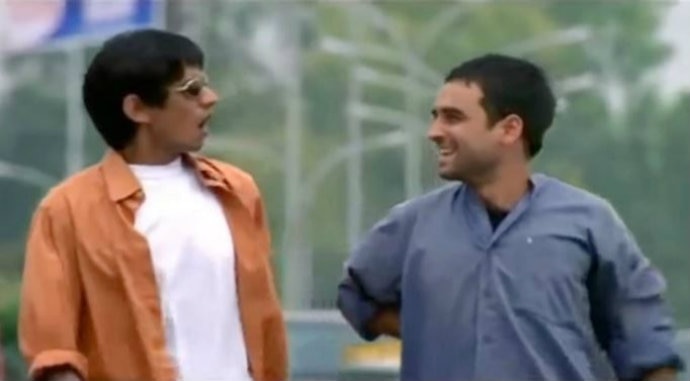 Blink. You missed him: Tripathi started off with playing a character that wasn't even given a name. (Photo: YouTube screengrab)
Apart from this blink-and-you-miss role in Run, Tripathi had a role in Lakshya — the Farhan Akhtar directorial, the Hrithik Roshan-starrer — which was eventually chopped off on the editing table. Today, he is one of Excel Entertainment's biggest stars, thanks to the phenomenal success of Mirzapur, an Amazon Prime Original.
Bollywood is full of such stories, to be honest.
We love to hear about an actor's rags-to-riches rise as much as we like to hear about those of privilege. Examples of Shah Rukh Khan, the self-made superstar, to Nawazuddin Siddiqui, the struggler who finally got his due, are thrown around in passing reference.
What makes Pankaj Tripathi stand out amidst similar inspiring stories?
Like a trainee bringing coffee to your desk, asking you if you have any work for them on that day, then settling for photocopying a few pages for you because he wouldn't take no for an answer, Pankaj Tripathi made his way into cinema with sheer determination. It took him forever to move from the trainee role to a junior role — and that meant continuing to do what he did best — a small-town man with a heavy UP accent, sometimes with a stern face, like in Newton, or with an overdose of humour, like in Stree. Bringing more coffee, photocopying more pages, continuing to do whatever was asked of him — hoping that his potential will be noticed one day and he'll be given more responsibility.
Vivid is the name: From Stree to Mirzapur, Newton to Sacred Games, Tripathi's love for his work pours out in every role he essays. (Photo: YouTube screengrab)
To many, this phase of Tripathi seems repetitive. But we've all been there — doing a job we love just because we love it, even if it isn't particularly fulfilling or challenging every day.
Like Tripathi, we've all gone home with a meagre paycheck, knowing that we'll probably have to borrow some money this month too or rely on someone else to foot the bill — Tripathi's wife, Mridula, supported him when he was still a struggling actor on the salary of a school teacher. In an interview, he admitted that the money he'd make was so little and so irregular that it couldn't be relied on to run a home. He'd spent it on planning a family trip once in a while, rather than contribute to running the house.
His first big break was in Gangs of Wasseypur 1, and then 2, a dream come true for him. Tripathi has since proven himself with performances like Gurgaon, Mirzapur and Sacred Games. In our daily struggles, we have a lot more to contribute ourselves, a lot many steps to climb on the ladder — and so does he. Yet, there's no hesitancy in picking up a chore at work that's perhaps below your payscale — Tripathi still does a Luka Chuppi even after carrying Mirzapur to success on his shoulders.
Zara sabr toh kar, mere yaar: Tripathi teaches us that a reward awaits, however long it might take to get there. (Photo: YouTube screengrab)
What sets Tripathi apart from the Siddiquis and Khans of the world is just that — the ability to love the job at hand, however big or small that may be.
Like thousands of number crunchers like us, inspiring us to believe that a reward awaits us — it's just taking a little bit longer to get there.
After a decade from now, when Indian cinema as we know it, would have turned on its head, both in terms of content and technology, everything will perish but — 'sirf Tripathi bach jayega!'
Also read: The Second Time Curse: 'Sacred Games 2' with Saif Ali Khan, Pankaj Tripathi and Nawazuddin Siddiqui, hit by Netflix's season two syndrome
The views and opinions expressed in this article are those of the authors and do not necessarily reflect the official policy or position of DailyO.in or the India Today Group. The writers are solely responsible for any claims arising out of the contents of this article.