The Castaways
Why must we label Sridevi - the star - a lonely, unhappy woman?
I never wanted to know about her personal life, her wealth, her addictions, her surgeries. I loved her on screen.
"And the seventh sorrow is the slow goodbye of the face with its wrinkles that looks through the window as the year packs up like a tatty fairground that came for the children." - Ted Hughes
That's perhaps the way to sum up the strange grief at the loss of someone who I never met. I grew up watching her sad big eyes and they seemed to me the most beautiful. I don't know if I ever wanted to meet her. Love is greater when there is distance. I was always afraid of the law of diminishing returns. I watched her films on cable television. I rewatched them. Like Lamhe. She had this childlike innocence, a majestic arrogance about her and all the male energy around her could not cage her. You didn't know if you should look at her expressions or her movements when she danced. And I knew her as so many people - Pallo, Chandni and Manju. She was flawed. Like me. Like everyone else.
Someone said yesterday, "Stars, we love them for their flaws…"
I woke up to a message on Sunday from a boy I knew long ago. "…Sridevi. I suddenly realised how much I loved her. Grew up watching Lamhe almost 150 times."
All the male energy around her could not cage her.
I remembered how I would get upset if he criticised her. He remembered that too. Back then, I wore pink ribbons in my short hair and wondered how Sridevi had such big beautiful eyes. I wanted to look like her. Lamhe remains my favourite film. Ahead of its time, it didn't do well because people felt it was about incest. It was released in 1991. I was in class 6 at the time.
He had sketched a portrait of me. "I wasn't Picasso Kumar," he wrote. He said he had kept an old photo of Sridevi as he sketched. Only because I insisted I looked like her. I didn't. And then, he wrote that he would appreciate people more now because you never know who will leave and when. And maybe that's what death should teach us. To appreciate the living more.
As I think more of the "seventh sorrow", I know all losses are personal. How you memorialise someone is an art called obituary writing. The almost voyeuristic obsession with people deemed important in the society because of their wealth, personalities, fame, etc is not new. Obit writers are "instant experts", as Margalit Fox of the New York Times said in an interview. But in death, the writing is about the life of the person and in doing so, we must remember the task of writing with dignity. For our sake and for the sake of the departed. They aren't there to correct the speculations. Facts are even more sacred in the face of death.
"Saturday night", I saw the updates on social media. I slept. For a long time now I have believed that sleep can take care of all grief, all fears.
I don't know why we should not give her the privacy she wanted all her life.
I liked Sridevi a lot. As a mere fan. To me, she was a storyteller. In those days when there was no internet, the cable television network played her films in afternoons and we watched during the great lull of the summer vacations the magic of Sridevi and possibilities opened for us.
Other than daydreaming, there wasn't much to do during those days in a city called Patna. We imagined ourselves dancing in the snow in chiffon saris. In fact, there was that little dream I have preserved from those days. To be photographed in a chiffon sari in snow. I am a nostalgist. Sridevi is part of my growing up years. I watched all her films. And I cried when she was hurt in a film knowing full well that it was "fictional" and yet I would. There was that kind of love for her. When she took a hiatus from her film career, I almost stopped watching films because she made me laugh with her comic timing. I didn't watch her comeback film. She was a part of the "then" and I didn't want to overwrite the memories. But that's from the point of view of a fan.
***
Sridevi had died. According to reports, the 54-year-old accidentally drowned in the bathtub at the Dubai hotel where she was staying during a family wedding. That was no way to die. But I can't fight the facts of her death. All day I read through numerous obituaries rife with speculations and allegations even before the forensic report came in. I read through updates about her "body" and the numerous surgeries she underwent to remain eternally young, the countless trips to California, the lip job, the nose job, the stress, etc. The "civilian drones" as Alex Merritt, who wrote Impromptu Scribe would call them, were working overtime.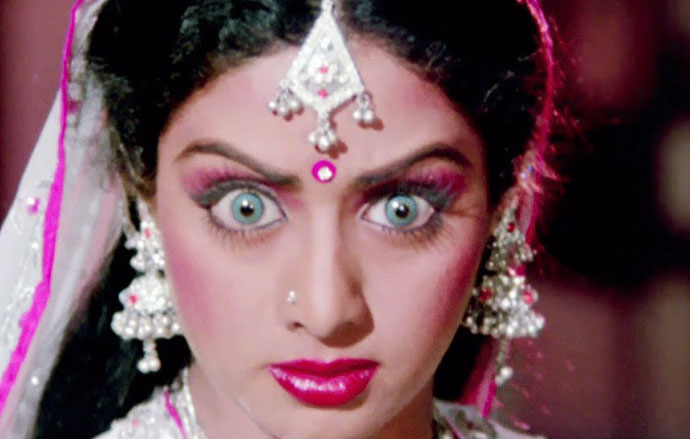 Screen diva. Showstopper.
That's no way to write an obituary. There were cosmic/karmic connections being explored. Boney Kapoor's former wife had died before her son's debut film's release and Sridevi passed before her elder daughter's first film. A writer asked, "Is there a connection?"
They were speculating her life, circumstances of her death on national television channels. A journalist even lay down in a bathtub to demonstrate how she could have drowned. They debated whether she drank wine or vodka. They alleged she must have been unhappy in her personal life. They even recreated the bathroom scene with a glass of wine.
And now they are busy finding out how much money she left for her daughters.
This is not new. This is why I have never switched on the television my father got installed in my barsati. In fact, I stopped watching television a long time ago.
But how can I escape watching the clippings on social media of the new low that television news has hit. It is turning us into voyeurs. It reminds me of a book called Moonstone: The Boy Who Never Was by the Icelandic writer Sjón. You see, our realities are unstable because they are made up of dreams, hallucinations. They are infected/infested by cinema. We are forever encountering ourselves in cinematic characters. We are forever hungry, forever watching. Sjón wrote, "Anyone who has observed a child playing with a doll will know how intently the child examines it by touch as well as gaze. Fingers and eyes probe the physical form with the precision of a master surgeon who has been assigned the duty of dissecting a body to the bone. Every nook and cranny is inspected; nape of neck and ear, groin and instep are caressed.
In the same fashion, the cinema audience scrutinizes the light-puppets on the silver screen, and whether it is the curve of Asta Nielsen's back, Thede Bara's naked shoulders, Pina Menichelli's sensual eyelida, Clara Kimball Young's slim ankles, Musidora's Cupid's bow, Gunnar Tolnæs' strong fingernails, Douglas Fairbanks' firm thighs, or Max Linder's soft eyes, the body part in question and its position will become the focus of the viewer's existence and etch itself into his psyche, while the size of the image and the repeated close-ups of lips, teeth, and even tongues will exacerbate the effects until few have the strength to resist them.
Film is thus immoral by its very nature, transforming the actor into a fetish and fostering perversion in the viewer, who allows himself to be seduced like a moth to the flame. The difference lies in that the cinema audience's appointment is with the cold flicker of the flame rather than the searing fire itself."
Perhaps it sums up our engagement with an actor, a star. But beyond the body, we are now aiming for the details of her loneliness, her unhappiness. The perversion has expanded. We observed her enough on screen. And now we click the links and read up everything that's there. There are no filters, no ethical guidelines, no standards.
It has been three days and I have been trying to keep the news at bay. I never wanted to know about her personal life, her wealth, her addictions, her surgeries. I loved her on screen. And I want to remember her as the actor who made me laugh. I want to mourn this loss with dignity.
I am a journalist. I don't know if this deluge of information and minute-by-minute update on her mortal remains and her private life is of national interest. Yes, she was a public figure. Yes, the news of her death deserved to be covered. And she deserved obituaries and some of those have been beautifully penned. One of those was by Ram Gopal Varma, who wrote about the time he first met her at her Chennai house. He then wrote how he had seen her serving tea and it angered him because her husband Boney Kapoor had brought an angel down to that level. He has now said Sridevi had been an unhappy woman. I understand his grief. And I know there is no measure of loss or grief. But I don't know why we should not give her the privacy she wanted all her life.
She is no more. We can mourn her in silence with our memories of her. Why must we judge her life? Why must we label her as a lonely, unhappy woman?
From my terrace in Delhi, I can seldom see the stars. And when I do, I name them after the people I have lost. And on some nights, they shine bright. And Sridevi is a star. And let her shine bright on such nights. Let it truly be rest in peace.
Also read: How we killed Sridevi twice
The views and opinions expressed in this article are those of the authors and do not necessarily reflect the official policy or position of DailyO.in or the India Today Group. The writers are solely responsible for any claims arising out of the contents of this article.