On his birthday, my ode to Ruskin Bond
The long queue outside the Cambridge Book Depot to meet the children's favourite author was an assurance that fans of literature still exist and thrive.
Ruskin Bond turns 84 today. Books written by him have been appreciated by readers of every generation, providing innumerable glimpses into an adventurous and memorable childhood. I had the good fortune to meet Ruskin Bond last year as he celebrated his birthday among a huge crowd of well-wishers.
I had to endure a long wait of over four hours in a queue outside the Cambridge Book Depot in Mussoorie, only to meet the author. I walked uphill through the local market and asked the bookshop owner, "Will Mr Bond visit today?"
"By afternoon, if his health permits," was a quick and polite response.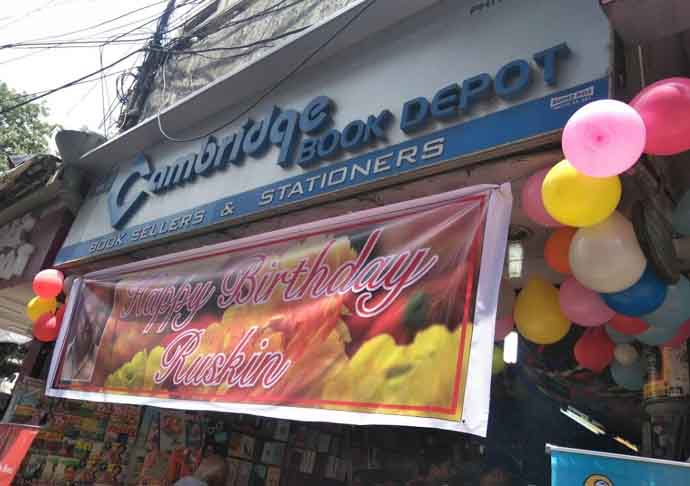 Happy Birthday, Bond! [Photo credit: Pooja Shali]
The bookshop was decorated with greeting cards sent by readers and a colourful banner held by iron nails on the entry door wishing him "Happy Birthday". May 19, 2017, coincided with the release of his two new books, including an autobiography.
Looking for the Rainbow, My Years with Daddy was an ode of remembrance to the time spent with his father who, the author says, "gave me all his spare time, who brought me books, took me for walks, shared his interests with me and held my hand in the dark".
Young staff members at the Cambridge Book Depot were swiftly making arrangements. Cardboard boxes crackled as piles of new books were being taken out, similar to a baby chicken breaking open the egg shell. The books were set on the shelf and waiting to be devoured by the readers.
The bookshop faces the SBI branch that was gearing up for its own visitors. I grabbed some space at the bench near the bank and waited for my turn, watching curious passers-by. A few stopped to browse through books while the uninterested simply walked past.
An ode of remembrance to the time spent with his father.
The fragrance of freshly brewed coffee, a Tibetan restaurant opening shutters for mouth-watering thukpa and the usual tourists began to show up on the quiet lanes of Mussoorie.
The next few hours were spent reading Bond's Collected Fiction, which I had carried from Delhi while the books to be autographed were safely packed inside my bag.
By afternoon, the queue had reached the end of the road. The shop owner signalled the arrival of Mr Bond, saying "expected in a short while". At 3pm, a vehicle pressed its brakes and a radiant face shone through, slowly attempting to get out of the car. The crowd erupted in collective cheer and wished the birthday boy with applause. Parents held their toddlers on their shoulders while adults were jostling around to catch a glimpse. The ambience was filled with exuberance as lovers of mountain stories stood together watching the author in awe and admiration.
He did not seem in the pink of health and even appeared a little grumpy. Softly acknowledging the well-wishers, the writer walked into the shop and sat on his designated chair across a table.
Mission accomplished. [Photo credit: Pooja Shali]
A blue-coloured cake was brought out, shaped like a book with the cover of his soon-to-be released book. A chaos ensued as mobile phone cameras started clicking pictures and children started to cry. The queue was beginning to break. Many book readers, like me, had waited for hours to meet Mr Bond.
The staff struggled to keep people from crowding near Mr Bond. "He is prone to mood swings and will leave and if he feels claustrophobic. He is not feeling well," remarked one young volunteer.
I quickly opened my bag, took out the bundle of books, neatly bookmarked in front page. I was the first one to be allowed in and I rushed.
A cordial exchange of greetings and congratulations broke the ice. Then, one by one, I set the books on table and requested him for autographs.
"No personal message, that would take time," he told me firmly when I requested to mention names. He did not look up, instead focussing on the choice of books I had brought. He smiled and continued to turn pages to pen down his signature. An approval, I presume.
I watched his face as he exuded patience penning autographs. Rimmed glasses on a striking white face, wrinkles reflecting age and experience. I was standing next to the man who had influenced generations of children, encouraging them to read books. The anecdotes so memorable, these stories may well have happened in real.
As he was signing the last book, he casually asked me what do I do for a living. "I am a television news reporter," I replied. Suddenly, he looked up through the heavy frame of glasses and flashed a big smile. My day was made. The striking radiance in those eyes will remain etched in my mind forever. "Good luck with your work," he said.
He readily posed for a photograph, as I hurriedly requested a staff member to click from my mobile phone.
The next visitor was already closing in. So, I hesitantly picked up my books and walked out of the store. (In my mind, a slow motion walk like in the movies suggestive of a mission accomplished.)
The sight of a long queue outside the Cambridge Book Depot was an assurance that fans of literature still exist and thrive. This huge crowd had gathered not for a film star, but for their one and only Ruskin Bond.
Also read: The interview that Ruskin Bond called his finest
The views and opinions expressed in this article are those of the authors and do not necessarily reflect the official policy or position of DailyO.in or the India Today Group. The writers are solely responsible for any claims arising out of the contents of this article.