The tale of Dante "Tex" Gill is one that rightfully deserves to be immortalised on the silver screen. After all, there aren't many transgender mobsters who rose to control "a criminal empire in the male-dominated underworld of 1970s Pittsburgh".
Born Lois Jean Gill in 1931, "Mr Gill" — as he liked to be addressed during his lifetime — the mobster ruled a string of brothels, under the cover of seedy massage parlours, with an iron fist, while undergoing a sex-change, and was hated and hounded by both the authorities and the Mafia. According to many profiles chronicling his life, Gill, at the pinnacle of his mob-boss career, raked in millions, travelled the world, dined at top restaurants and owned rare pets.
The law did manage to catch up with Gill in 1984 and a federal jury convicted him of under-reporting his personal income. In that same year, the Pittsburgh Press awarded Gill the "Dubious man of the year" and "Dubious woman of the year" title, writing: "In Tex we see the perfect symbol for the upscale androgyny of the 1980s. She embodies business savvy, sexual confusion and an eye for fashion like no one since Michael Jackson."
Meet 'Mr Gill'. (Photo: Post-Gazette.com)
Gill, sadly, was not accorded his rightful gender in his death in 2003, at the age of 72. Pittsburgh, Pennsylvania's Post-Gazette referred to him as "Short and dumpy, she wore men's suits and short hair, she talked tough…" in a brusque obituary.
Almost 15 years later, his memory, his legacy and his gender find themselves being mistreated again.
In Rub & Tug, a movie about Gill's life and times, the transgender mobster is going to be played by a cisgendered — people whose experiences of their own gender agree with the sex they were assigned at birth — actor Scarlett Johansson.
Transgender roles have been stolen from transgender artistes by cis men and women as a rule. From Elle Fanning in 3 Generations (2015), to Hilary Swank in Boys Don't Cry (1999), to Jared Leto in Dallas Buyers Club (2013), to Eddie Redmayne in The Danish Girl (2015) to Matt Bomer in Anything (2017), to Jeffrey Tambor in the critically acclaimed series Transparent, to Michael Caine in Dressed to Kill (1980), cisgendered (often heterosexual) actors are not just cast but also praised for their performances as sexual and gender minorities.
Is there a dearth of trans actors?
Or are trans folk less gifted in the field of stagecraft?
Actor Laverne Cox, who received widespread praise for her performance as a transgendered inmate in Orange is the New Black, is certainly an example that would dismantle that notion. She isn't the only one.
Scarlett Johansson, on that count, is a repeat offender. Johansson's casting in the Hollywood remake of cult-classic Japanese anime Ghost in the Shell, as cyborg policewoman Major Kusanagi, was the centre of much debate over Hollywood's penchant for "whitewashing".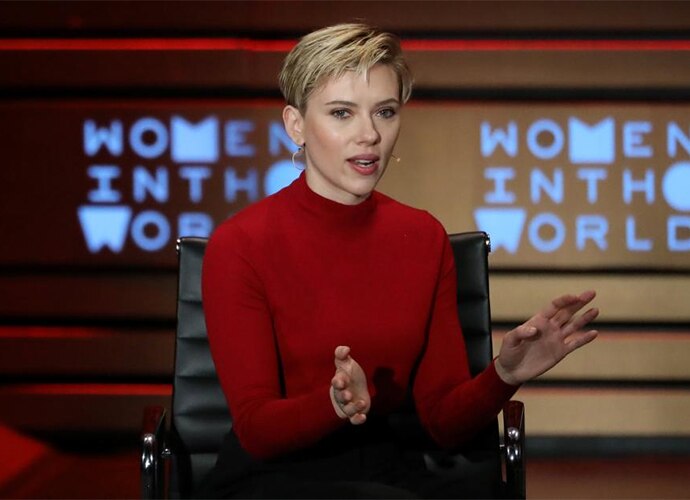 But what about Jared Leto? Or Felicity Huffman? Scarlett's defence is no defence at all. (Photo: Reuters)
On the other end of such blatant acts of refusing representation — and popular culture and media are guilty of this ever so often — are actors of colour, racial, gender and sexual minorities facing backlash when they are cast in roles that were, perhaps, originally written for white men. A black Hermione Granger in the play Harry Potter and the Cursed Child, a black Gunslinger in the film adaptation of Stephen King's The Dark Tower, an all-female reboot of Ghostbusters, or the addition of people of colour in Star Wars, all have received absurd amounts of backlash from "fans".
Basically, "fans" don't want straight white cis-males to be played by anyone but them.
So, between that and filmmakers not even feeling comfortable about offering minority roles to minorities themselves, where does one turn?
Scarlett Johansson's response to the backlash she has been receiving — "Tell them that they can be directed to Jeffrey Tambor, Jared Leto, and Felicity Huffman's reps for comment" — says it all. She has no defence. It is a systemic problem in the world of entertainment that needs to be addressed and any and all defences come down to simple self-serving whataboutery.
Nick Adams of GLAAD (formerly the Gay & Lesbian Alliance Against Defamation), an American non-governmental media monitoring organisation, wrote in a 2016 op-ed: "…in spite of the critical and commercial success of projects that put trans people front and centre — Hollywood is having a very difficult time letting go of the idea that putting a male actor in a dress, wig and makeup is an accurate portrayal of a transgender woman."
In this case, it is a slender, cis woman in roughcut suits, but the idea still remains the same. Hollywood wants to profit off minorities, without really wanting to have them become part of the behemoth.