"What a strange life you lead. You who were once a seeker, a man in search of his true self, see how your life is passing you by."
— Shashi Kapoor in Siddharta, 1971.
It was as if he was prescient: about his life, his love for theatre, his reluctant entry into movies, the choices he made, the roads he travelled, the life that he led.
I was in middle school when during one long summer holidays at my mamoo's house in Lahore, I watched Vijeta. Being a huge Indian films' fan, of the usual naach-gaana, rona-dhona, action, comedy fare, I remember being riveted in front of a bulky VCR and a bulkier television watching a film that I knew was not like any other film that I liked. Being a fangirl reader of Stardust and Filmfare, the terms "art" movies and parallel cinema were familiar to me, and although I occasionally found the film slow-paced, there was something about Vijeta that endued me with a lifelong love for meaningful cinema. And without full comprehension, my love for that one actor grew, the star who produced Vijeta: Shashi Kapoor.
"Mere paas maa hai." Shashi Kapoor's acting career is so much more than that one Salim-Javed line from Yash Chopra's Amitabh Bachchan starrer, the 1975 iconic superhit, Deewar. And it would take a book of multiple volumes to completely encapsulate the significance and strength of Shashi's cinematic work.
Deewar wouldn't be without Shashi Kapoor.
One thing remains unarguable: Shashi Kapoor was the best-looking leading man Indian film industry had, before or after him. That achingly gorgeous face enhanced by his thick-lashed eyes that had many a twinkle and the depth to sweep any woman off her feet, that gorgeous smile, that chiselled perfection, that sensuous mouth. The Indian Gregory Peck who you want to have a passionate love affair with, do crazy things with, and tie the knot with. Shashi was not a Greek god, he was that one thing only a very few men would ever be described as: beautiful.
Bombay Talkie
And then there was his unusual love story with his wife, Jennifer Kendal, that made him even more alluring and irresistible to all those who loved him as an actor. In his own words, he fell in love with her the first time he saw her when he was 18. She was four years older than him. He waited for a few years, and asked her to marry him. Until her death in 1984, he was with her: in a love-filled marriage, three children, and a shared love for theatre and good cinema.
Irreplaceable in the formation of Shashi the star was his unadulterated love for theatre. "After having done Prithvi Theatre and having done Shakespeareana, both very different kind of plays, I was not very happy running around trees. Though, I did. And eventually I was a success at that."
While his commercial successes like Jab Jab Phool Khile (one of his personal favourites), Kabhi Kabhie, Waqt, Deewar, Trishul, Namak Halal, Shaan, Sharmeelee and dozens of other spectacular and some inane movies, it was his avatar as a producer of his six films — Junoon, Kalyug, 36 Chowringee Lane, Vijeta, Utsav, Ajooba — that had him do roles that stand out for their brilliance, and not the length and the how-will-I-look-to-my-audience denominator of cinematic success.
Avante-garde. Artist.
In The Householder (1963), a Merchant Ivory production, Shashi was Prem Sagar, a college professor who struggles to make ends meet in an arranged match, and to find his own identity being pushed by everyone in his personal and professional life. The low-key performance is magnificent in its nuanced profundity and minimalism. That was just the first of the many.
The Sanju of Merchant Ivory Productions' Shakespeare Wallah (1965) was suave, a flirt whose simultaneous affairs with a film and a theatre actress make him hard to pigeonhole into any box of propriety and monogamy, and a visual treat as his gorgeous face makes it hard for you to take your eyes off him even while mentally chastising his behaviour. Shashi sparkled in the film, overshadowing a brilliant cast.
Playing a leading man in the 1970 Merchant Ivory production Bombay Talkie, Vikram, a two-timing man torn between his obsession for a footloose foreigner, played by Jennifer Kendal, and a normal life with his unhappy wife, Aparna Sen, Shashi's silences speak volumes of the tug-of-war between his moral dilemma and his uncontrollable desire for a woman.
The Householder (1963)
In Conrad Rooks' 1972 Siddharta, in a role that had many transformations – walking barefoot in search of moksh to copulating bare-bodied with a naked Kamala (Simi Garewal) to falling prey to vices of material luxuries to giving it all up as Siddharta — Shashi gave a performance that was multilayered yet so simple it was magnificent.
The Nawab of the 1983 Merchant Ivory Heat and Dust is one of Shashi's finest performances to me. His superbly enacted emotionally and materially bankrupt Nawab whose face never reveals the plans his mind hatches, the grudges his heart holds, and the lives he schemes to destroy. Evil was never more handsome, and so in control of his expressions and situations as Shashi as the Nawab.
With Shabana Azmi in Junoon.
Shashi, in his first personal production, Shyam Benegal's Junoon in 1978, displays his versatility in a role that is complex, complicated and so ordinary it's extraordinary. Set in the background of the 1857 mutiny, Shashi's Javed Khan is obsessed with the young daughter (Nafeesa Ali) of an Anglo-Indian woman (his real life wife Jennifer) while trying to balance a life full of domestic drama and a fight for freedom against the British.
In the modern-day adaptation of Mahabharata, Benegal's Kalyug (1981), Shashi as Karan Singh was brilliant. Dignified in his scheming cleverness, his unruffled ability to find solutions for material power of the family he worked for, his silent enmity with the family whose destruction he unleashed, wittingly and then unwittingly, and his wordless loneliness and alone-ness, Shashi shone in a huge cast.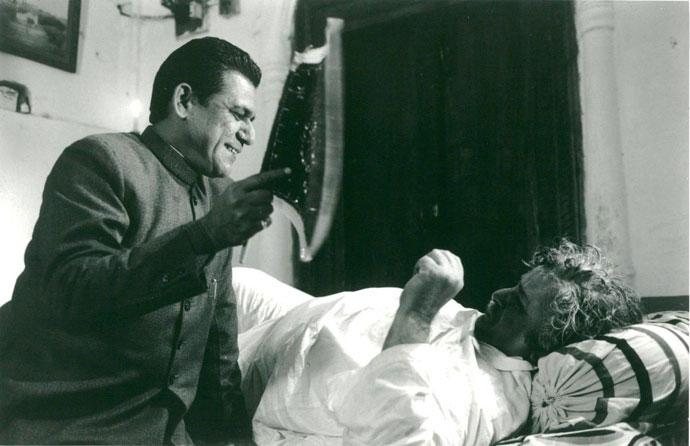 Muhafiz/In Custody (1993)
In the 1982 Govind Nihalani-directed Vijeta, playing Nihal Singh, a careless husband who mends his ways, and a distant father to his real life son, Kunal Kapoor, Shashi is the part of a film that is one of the most memorable and splendidly scripted tributes to the heroism of men serving in the military in the history of Indian cinema. At 44, Shashi played the role of the father of an Air Force pilot while his contemporaries were running around trees and bashing villains. Heroes older than him are doing the same even today.
One of Shashi's most nuanced and unforgettable performances is as Vikas Pande in Ramesh Sharma-directed New Delhi Times (1986). The film deals with issues of moral integrity, journalistic ethos, editorial freedom, power games of politicians and manipulation of narratives by powers that be. Issues that were relevant then, and are even more so today. The minimalistic acting with the maximum effect, that's Shashi in NDT.
The directorial debut of Aparna Sen in Shashi's 1981 production 36 Chowringee Lane showcased his farsightedness for giving a rare platform to a woman in the male-dominated world of direction globally. Highly acclaimed, it is a film that is breathtaking in its simplicity, and the magnificent character of Violet made unforgettable by Jennifer Kendal is one of the best performances I've seen in cinema anywhere.
Son of Prithviraj Kapoor, brother of Raj and Shammi, husband of Jennifer Kendal, uncle of Rishi, Randhir and Rajiv, father of Karan, Kunal and Sanjana, and grand-uncle of Karisma, Kareena and Ranbir, Shashi Kapoor belonged to a galaxy of stars that has dazzled cinemagoers for decades.
And amidst those stars, he radiated a luminosity that was and always will be singularly Shashi Kapoor. 
Shashi Kapoor... you'll always be missed.