Anyone who saw Anil Kapoor dancing at his daughter's wedding — in one of the several videos that went viral — could be forgiven for thinking it was a scene from Dil Dhadakne Do, the Punjabi-family-on-a-cruise-looking-for-a-bride movie by Zoya Akhtar.
In fact, anyone who has seen the "Bhangra ka Sajda" teaser in which four girls twirl like they don't give a damn could be forgiven for thinking it was from #SonamkiShaadi and not from the forthcoming movie, #VeereDiWedding. The jury is still out on whether #SonamKiShaadi was the smartest marketing move of the year to promote #VeereDiWedding or just the #BiggestFattestPunjabiWedding, but one thing is clear — it has done more to consolidate Sonam Kapoor's star power than any of her 15 movies so far.
Here's why. Like the other powerful actress who got married recently, Anushka Sharma, it was a wedding that seemed entirely organised by Sonam and her producer sister Rhea. Indian weddings are often an occasion for families to flaunt their wealth and for parents to give one last shot at controlling their children — from how many guests to invite to, where to have it. But as Virat Kohli and Anushka Sharma showed with their getaway wedding, with carefully calibrated Instagram posts, the torch has passed to the Generation Next.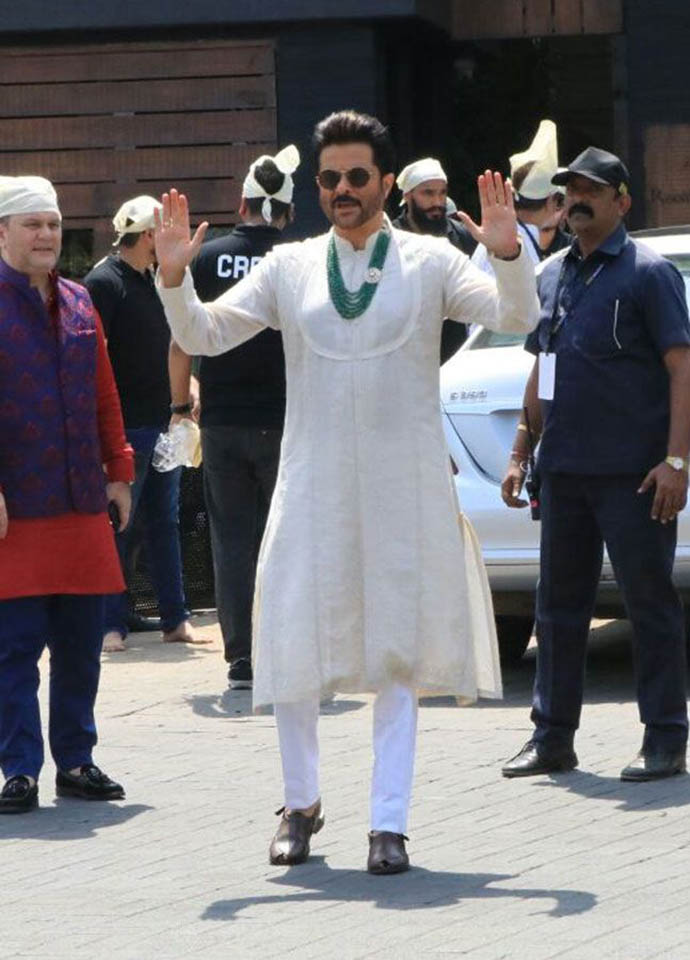 Was it a scene from Dil Dhadakne Do?
It even made cousin Arjun Kapoor look good.
This did not make her less of a feminist. (Photo: India Today)
Anyone making rude jokes about him wearing sneakers at his reception should know that it was the ultimate product placement. (Photo:Twitter)
Yes, parents are part of the celebration, and perform the key functions, but they aren't the ones driving the celebrations. Bye bye Dilwale Dulhania Le Jayenge, hello #SonamTakesAnand. Unlike the Virushka wedding, #SonamKiShaadi was virtually Instagrammed and hashtagged live, with friends posting pictures, videos, oops and whoops moments, whether it was the bride's kaleere getting stuck in the groom's sherwani or the groom standing on tiptoe in his Nikes to appear as tall as his wife. Ahuja, clearly, is as savvy as his wife when it comes to promoting his brand - anyone making rude jokes about him wearing sneakers at his reception should know that it was the ultimate product placement as he owns Veg Non Veg, a multi-brand store where he retails international footwear brands like Nike and Adidas and lesser-known labels, like Visvim. 
Add to that Sonam's genuine joy at embracing every aspect of the traditional three-day wedding. In true Karan Johar tradition of mixing modernity with ritual, she had a mehndi, did the pheras, and much to the shock and awe of her habitual baiters on Twitter, even wore a mangalsutra and sindoor (albeit exactly as she wanted so her husband would not mess up her make-up). No, that did not make her less of a feminist and more of a good Hindu woman, as the right wing imagined, just a young woman in love wanting to please her parents. And her in-laws: her social media handle quickly changed to @SonamKAhuja. 
And then, there was the turnout of stars, our very own MetGala.
Photos: India Today
And then, there was the turnout of stars, our very own MetGala, with many staying beyond the photo-op to dance and sing with abandon, from Salman Khan to Shah Rukh Khan to Ranveer Singh (who was probably taking notes for his own rumoured wedding-to-be with Deepika Padukone). It is a measure of how popular Sonam and her family is that everyone enjoyed themselves with abandon. It's not easy, given how divided Bollywood is.
But then, neither Anil Kapoor nor Sonam has been part of any camp, choosing to create their own opportunities. Apart from taking to production fairly early on in her career with Aisha in 2010 and then Khubsoorat in 2014, Sonam has worked with some of the best independent directors in the country, from Sanjay Leela Bhansali to Rakeysh Om Prakash Mehra to Aanand L Rai. 
Will #SonamKiShaadi make #VeereDiWedding look like an anti-climax when it releases on June 1? Or, will the "friends be like family" vibe that was such a strong current in #SonamkiShaadi carry over into the wedding? It will be tough to beat the real thing. It was cute, spontaneous, the groom wore sneakers, the bride laughed, all the uncles were drunk dancing and no one said f*** or tried to translate orgasm into Hindi (a very old party trick). It certainly had better clothes — with everyone from Abu Jani to Manish Malhotra being represented.
And it even made cousin Arjun Kapoor and brother Harshvardhan Kapoor look good. What's more, for the less famous Kapoor Khandan which had just suffered the terrible loss of Sridevi, it seemed a moment to heal and be happy. Now, tell me who doesn't like a little khushi after so much gham? Coming to you live on Instagram?