The PMJAY is one of PM Modi's most ambitious schemes yet. (Credit: Screengrab/YouTube)
In our recent paper titled, 'Crossing Five Hurdles on the Path to Universal Health Coverage', my colleague Oommen C Kurian and I explore these five hurdles, and argue that PMJAY has the potential to transform two wayward and almost free-for-all sectors — health insurance and healthcare.
This is the first big opportunity to address the problems in both these troubling sectors — and one that Modi, or his successor in May 2019, must follow through.
The PMJAY could be a huge help to underprivileged Indians needing medical care. (Credit: PTI photo)
Entitlements include financing of pre- and post-hospitalisation expenses and a defined transport allowance per hospitalisation. The coverage is portable across the country and beneficiaries are entitled to secondary and tertiary healthcare from any empanelled public or private hospital in India through cashless insurance. The financing mechanism is through either insurance, or trust, or a mix of both.
But, in order to be effective, PMJAY needs to cross five hurdles and turn them into opportunities — reduction in health insurance premiums; rationalisation of healthcare costs; absorption of technology to bring stakeholders together; addressing Centre-state jurisdictional issues; and ensuring that the politics of nomenclature does not get in the way of outcomes.
Governments (it is a scheme financed by both the Centre and states) need to use the law of large numbers to ensure that health premiums reflect the reality of scale. That is, cost per individual needs to fall.
Here, we examine the RSBY experience and point to several red flags.
In an analysis of 278 districts in 15 states covering 36,332,075 families for which data is available, the average premium paid is Rs 379. But the range of premiums — from Rs 182 in Karnataka and Rs 217 in Bihar to Rs 799 in Mizoram and Rs 738 in Kerala — is too large to be explained away.
The range of premiums is just too large across states like Kerala and Bihar. (Credit: PTI/Twitter) 
Since the bids are invited on a district-wise basis, in a deeper analysis of district execution, we observe these differences widen — the number of premiums vary from one in each district of Kerala, Uttarakhand and Chhattisgarh to seven in Gujarat, 17 in West Bengal and 25 in Bihar.
Both the price as well as the number of premiums need a rethink.
There are three big issues here. First, the public-private pricing needs to get closer — the four-fold gap between the two is too wide: the average medical expenditure per hospitalisation for rural households in a public hospital stood at Rs 5,636 versus Rs 21,726 in a private hospital.
These differences show up across states as well: at Rs 8,520, hospitalisation costs are the lowest in Assam and the highest in Punjab (Rs 29,779).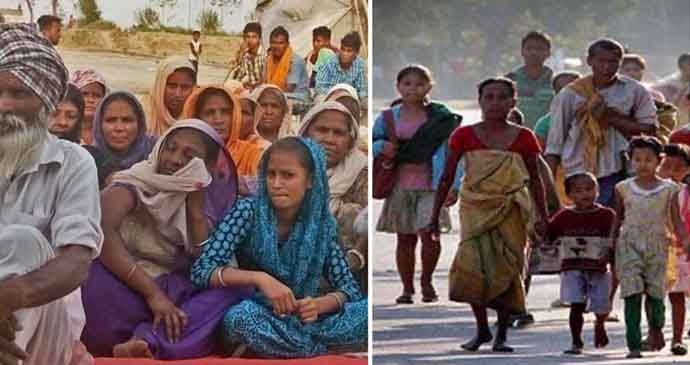 Falling sick costs much more in Punjab than in Assam currently. (Credit: Indiatoday.in)
Second, given that India's out-of-pocket expenses are among the highest in the world, and for many, a single hospitalisation can push a household into debt, a policy intervention is necessary. PMJAY has brought in a 'package rate' that includes all costs associated with the treatment, defined by the government in advance. This brings transparency into the system and is a step in the right direction.
Third, while transparency and low costs are good for citizens, the policy must attract private investments into the healthcare sector through incentives.
Here, while the PMJAY package rates are 15-20% lower than those under the RSBY scheme, the scheme allows hospitals to make up to 35% extra by meeting criteria such as adhering to accreditation requirements or serving 'aspirational' districts.
Given the enormity of taxpayers' money involved in the mission and the potential for malpractices — levels of delivery, charges, settlements, claims and so on — it is crucial for the PMJAY infrastructure to create an information technology ecosystem that facilitates free and robust flows of data and embeds accountability into it. In previous healthcare experiments, this lack of information and accountability has been the missing link to outcomes.
Here, the scheme can ride the infrastructure created by the Goods and Services Tax Network, a system that tracks and monitors every invoice for every transaction digitally, thereby minimising the leakage of taxes and reducing transaction costs of doing business.
In the case of PMJAY, instead of taxes, the network could track claims; instead of invoices, it could follow procedures; instead of entrepreneur behaviour, it could analyse doctor practices; and instead of transactions, it could follow protocols. This needs to be done at the level of hospitals, doctors, insurers, and beneficiary households.
Using tech similar to GST, PMJAY could also track doctor practices. (Credit: Reuters photo)
At the back-end, trends emerging from 100 million or so households need to be captured by big data to ensure that: 1) entitlements reach beneficiaries; 2) out-of-pocket expenditure of poor households — which constitutes most of the health expenditure and eats into their savings — is reduced; 3) beneficiaries get satisfactory healthcare; 4) middlemen have no place in the system; 5) collusion to harvest unfair benefits is preempted; and 6) a data protection mechanism is put firmly in place.
Although states have jurisdiction over hospitals and dispensaries, the 42nd Amendment of the Constitution in 1976 added "population control and family planning" and "medical education" as Item 20A and in the Concurrent List. Despite states contributing a major proportion of finances in health, central initiatives have come up through the inclusion of health-related issues in the concurrent list, particularly through the inclusion of population control. 
Over the past decade, however, the focus of centrally-led initiatives has expanded beyond this narrow objective and now covers a wider spectrum of healthcare issues. These include the RSBY and Pradhan Mantri Bhartiya Jan Aushadhi Yojana in 2008, and Ayushman Bharat, PMJAY and Health and Wellness Centres in 2018. 
Political friction between the Centre and States can be made more manageable if the subject is shifted to the Concurrent List.
Perhaps the time has come to revive this debate, given the number of centrally-led initiatives in the health sector. Now that 19 states are governed by the BJP, directly or through coalitions, and the party is in power at the Centre as well, this is a political opportunity to streamline India's healthcare policy-making.
Four letters — M.O.D.I., such as 'MODIcare' or 'NAMOcare' — must be kept out of the nomenclature of PMJAY so it does not get in the way of execution in the states.
After all, the states, whether contributing 10% (eight North-East and three Himalayan states) or 40% (other states) to the scheme, will want their own political signature on the mission. Andhra Pradesh Chief Minister Chandrababu Naidu, for instance, is unlikely to bother sowing political gains for the Prime Minister, particularly after the public breakdown of their coalition.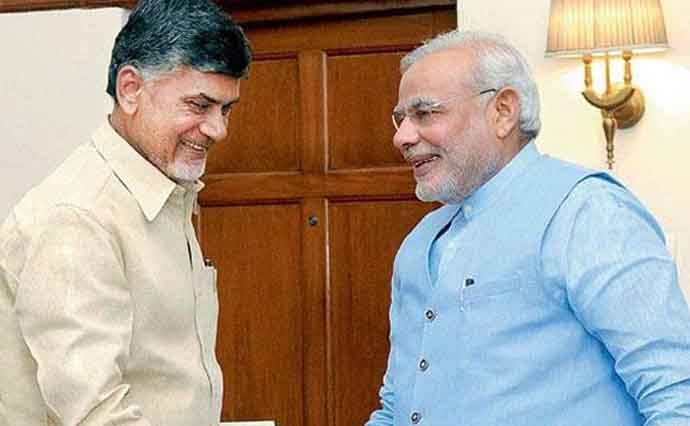 Allies in happier times.But Babu is unlikely to push 'Modicare' now.
Worse, the nomenclature debate has delivered five names in seven months.
In the run-up to Elections 2019, PMJAY could be to the BJP-led NDA what the Mahatma Gandhi National Rural Employment Guarantee Act of September 2005 was to the Congress-led UPA — a deliverer of votes.
But one month post-launch and six months to what will be the world's largest democratic expression through Elections 2019, there is no talk, no publicity, no credit-taking by the government. For a government that has arguably the best track record of communication, and is often prone to hyperbole, to hold back on what could be among its most direct citizen beneficiary scheme is intriguing.
Whatever be its reasons, if implemented properly - and the five hurdles crossed — this is a scheme that has the potential to change the face of India's healthcare.