Entertainment website Fandom recently surveyed over 5,000 pop culture enthusiasts from the US and the UK, most of them being self-professed fans of Marvel and DC comics and their associated properties. While the findings were many, a major conclusion was that at least 36% of the survey's responders (about one-third) are feeling 'fatigued' by the overwhelming number of annual releases in Marvel's roster.
With Black Panther: Wakanda Forever still in theatres, Disney (which owns Marvel Studios) has released three feature films, three live-action TV shows, one TV special, and an animated series of shorts all in this year alone. And this Friday, MCU fans would also get a Christmas special focusing on Guardians of the Galaxy. 
While the box office collections and streaming numbers (on Disney+) are still as high as ever, the pressure of keeping track of all films and shows in the interconnected Marvel Cinematic Universe is causing fans to show signs of exhaustion, the Fandom survey finds. 
It is to be considered that 81% of fans do feel they would still consider watching anything and everything that Marvel offers but 84% also agreed that Marvel is offering "too much content to keep up with".
Is Kevin Fiege focusing on quantity over quality? Avengers: Endgame was arguably a watershed moment for the Marvel Cinematic Universe as well as Hollywood itself, marking an emotional conclusion to Marvel Studios's Phase Three (with just Spider-Man: Far From Home adding a brief follow-up). 
It is from Phase Four when Marvel amped up its number of releases dropping sequels, prequels (Black Widow), anthologies (What If), and other Disney+ shows. Even though the details are still under wraps, Disney's acquisition of Fox also would introduce the X-Men in the MCU. It is already common knowledge that Deadpool 3 (which will mark the titular antihero's entry in the MCU) will feature the return of Hugh Jackman's Wolverine. While Tom Holland's Spider-Man gears up for sequels much like the other Marvel heroes, an animated series focusing on a Spider-Man in an alternate timeline is also in the works. 
With so much content (none of which is truly a standalone story) connected to each other, it is becoming a Herculean task for everyone to pay attention to "everything everywhere all at once". 
This is why many fans and observers are finding Marvel Studios's CEO Kevin Fiege's current vision to follow a "quantity over quality" approach. While Fiege deserves praise for envisioning such a massive franchise, revolutionising blockbuster cinema, but maybe Marvel can do good with a slowed-down pace of releasing content. 
The mixed reviews from recent Marvel productions also bear further testimony. While sexist and racist trolls did monitor some hate towards female-driven shows like Ms Marvel and She-Hulk, the general critical and audience feedback has also not been that stellar. Doctor Strange in the Multiverse of Madness was considered to be largely disappointing while even Taika Waititi could not bring Ragnarok's magic in his second Thor outing Love and Thunder which yet again opened to mixed reviews. 
There are exceptions like Wakanda Forever but the general consensus is that Marvel is losing its winning streak. And if we look back at the pre-Endgame phase too, Marvel has had its share of mixed reactions with Thor: The Dark World, Iron Man 2, and Avengers: Age of Ultron. But now, with the current oversaturation, the unevenness in the quality is getting more evident than ever. 
Even the VFX quality is getting memed and trolled: While Marvel still proves its visual mettle with the underwater realm of Talokan in Wakanda Forever or the multiversal psychedelia of the Doctor Strange sequel, it is also getting increasingly trolled for laughably mediocre (or downright bad to be harsher) effects. Some examples include the scene in which Black Widow's sister jumps off a burning plane...
...or a head popping out of nowhere in Thor: Love and Thunder
A major reason behind this fall in VFX quality might be the overburdening pressure and even exploitation of visual effects artists associated with Marvel projects. She-Hulk star Tatiana Maslany has herself gone on the record to state how Marvel's VFX artists are expected to "churn out content" at unrealistically short deadlines. 
Back in August, a Gizmodo article added more behind-the-scenes insights exposing how a bidding war arises among independent VFX studios hoping to get a contract with Marvel's latest production. But as Marvel vouches for the cheapest player in sight, the studios constantly undercut each other's bids to the lowest point of breaking even. 
Another major complaint among artists are that they have too many bosses above them with too much oversight.
To quote an anonymous animator's rant on the impossible deadlines, 
"Even up until the last week or so they still weren't sure what they wanted this gigantic set piece to look like. We were still doing concept art. Various parts of this sequence had already gone through the entire pipeline."
And, then, how can we forget Martin Scorsese's thoughts on Marvel? At one time, it was considered to be "cool" within the cinephile community to love Marve films. And ever since directors like Martin Scorsese, Francis Ford Coppola, and Quentin Tarantino have begun expressing their displeasure of the excessive commercialisation of the MCU, the cinephiles now love hating Marvel's productions.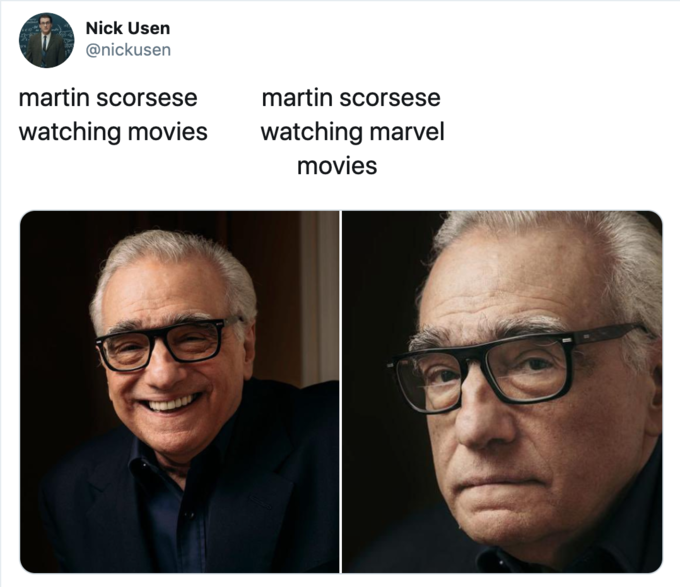 It all started in 2019 when the Oscar-winning director of The Departed (and more recently Netflix's The Irishman) expressed in an Empire interview on how he feels the MCU is more of an amusement park than actual cinema. 
In a follow-up piece to his controversial statement (published in The New York Times), the filmmaker opened up about his disdain for current franchises, especially in the case of the MCU, 
"They are sequels in name but they are remakes in spirit, and everything in them is officially sanctioned because it can't really be any other way. That's the nature of modern film franchises: market-researched, audience-tested, vetted, modified, revetted and remodified until they're ready for consumption.''
While some saw merit in his arguments, others dismissed his claims adding that the 80-year-old must understand how cinema has been rapidly changing since his time. The diehard Marvel fans (who were definitely less fatigued back in 2019) trolled Scorsese as a "boomer" while his own daughter Francesa Scorsese pulled a prank on him by wrapping his Christmas gifts in Avengers-themed wrapping paper!
Whether Scorsese is right or not, such debates would continue on subreddits and Letterboxd comments sections. But it definitely might have added to some of the gradually-growing Marvel fatigue. 
The survey also offers views on DC fans: Fandom's survey also included questions targeting those who consume the DC Extended Universe's content. MCU doesn't really face much competition given that DCEU in itself is in a messy state. 
57% of DC fans revealed that they are more inclined towards watching a movie relating to a specific character instead of focusing on the franchise aspect of DCEU. This is what explains the increasing fandom towards this year's The Batman (which although not a part of the DCEU was still produced by WB). As for Marvel fans, only 38% of fans hold this mentality as by now, they are programmed to catch up with the "infinite" movies and shows. 
What is the DCEU's issue? Most of the DCEU films have been subjected to negative reviews (way more than Marvel's titles) and even with enough fan support, the so-called "messiah" among DCEU fans, Zack Snyder, could not see his vision come into action. He was lucky enough that HBO Max agreed to stream his four hour-long extended cut of Justice League. With Discovery+ recently acquiring Warner Bros (which owns DC's entertainment properties), fresh new projects like Batgirl were also shut down amidst much backlash from fans. 
The most recent DC production Black Adam also didn't perform as well as Wakanda Forever opening to mostly negative reviews. In fact, the Black Panther sequel earned more in a week than what the Dwayne Johnson solo vehicle could earn in a month!
So, in the end, Marvel is still going strong holding its monopoly in the superhero cinematic world even as subversive takes on the superhero genre are slowly gaining popularity (Prime Video shows like The Boys and Invincible can be good examples in this regard). Still, given Marvel's ever-increasing slate of new releases, the fatigue among 36% of fans might only increase in the coming years.