A month ago, 21-year-old Michael Krumholz from Florida, US, accidentally slept with his contact lenses on, and woke up with allergies and a pink eye. After 5 different ophthalmologists, 2 cornea specialists and two surgeries, he was diagnosed with acanthamoeba keratitis. A condition where his right eye was eaten by a very rare parasite. 
I have had 2 surgeries so far called PDT relocation of conjunctival flap. And a corneal transplant. It is extremely painful and I have absolutely no vision in the one eye. 
- Michael Krumholz
According to Michael, due to his condition, he cannot work or go outside. He set up a Gofundme page on February 17.
Why? He wants to spread awareness about acanthamoeba keratitis and lens hygiene.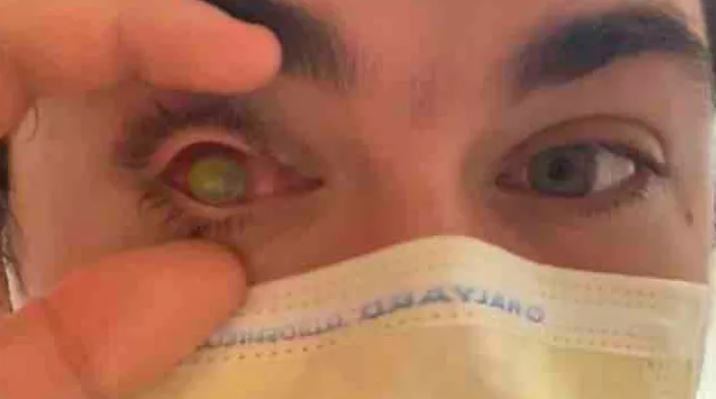 Can you get infected by acanthamoeba keratitis if you sleep with your lenses on?
We asked a doctor.
Dr Sridevi Haldar is a Cataract, Cornea and Lasik eye surgeon in Noida. She told dailyO, "Sleeping with your contact lenses on can always cause some or the other kind of infection or let bacteria grow. You should never sleep with your lenses on." 
However, Dr Haldar also pointed out that acanthamoeba keratitis is very rare.
According to CDC, the incidence of the disease in developed countries is approximately one to 33 cases per million contact lens wearers.
Dr Haldar also said that there is a certain kind of contact lenses called bandage lenses that are made of silicon. One can sleep with these lenses on, but they are not for daily use. 
Now: Lens hygiene is very important and often overlooked.
Here are some tips that you should follow to maintain lens hygiene, as suggested by Dr Sridevi:
While wearing the lenses: 
Wash your hands thoroughly with tap water. Dry them with tissue paper or a clean cloth.
Pour contact lens solution over your palm and gently clean the contact lenses and then apply the contact lenses.
While taking your lenses out:
Take off the contact lenses at the end of the day and place them in fresh solution.
Clean the lens case every week and dry it
Discard the lens case every month
Discard the solution within 3-4 months of opening the seal.
Avoid sleeping with contact lenses on as it allows bacterial flora to proliferate
The small points to remember: Wearing FDA-approved lenses or using a solution that is FDA-approved is really important, instead of going for just over-the-counter or random online finds.
Even before buying a pair of contact lenses, consulting your ophthalmologist regarding the brand and type of lens you want to choose is very important. Dr Haldar says that since there are plenty of different materials in the market, choose a pair that best suits your lifestyle needs.