Remember the Israeli model Kate Konlin we saw towards the end of The Tinder Swindler documentary on Netflix? When the documentary was released, Konlin was dating con artist Shimon Hayut AKA Simon Leviev. She even stood by him as the world learned of his cons. Now, Kate Konlin has a different story to tell. 
Konlin said that her story is not about a Tinder Swindler or losing money, though it's part of the story.
This is about emotional abuse.
- Kate Konlin to BBC
Who is Kate Konlin?
This is the picture Simon Leviev shared on his Instagram story after the release of The Tinder Swindler'. The woman with him is Israeli model Kate Konlin.
Kate Konlin is not just anyone. She is a model signed with the international modelling agency IMG. 
Konlin has also graced the covers of magazines such as Vogue Japan and Grazia Italy. 
And she also grabbed attention in 2022 for dating Simon Leviev during the time the damning documnetary, The Tinder Swindler, came out. 
Soon after the documentary's release, people were shocked to learn Leviev still had a functioning Instagram account (no more!) where he boasted of living a high-flying lifestyle and also had a model girlfriend despite the dating fraud allegations he faced.  
You would think that after the documentary, women in every corner of the world would stay clear of anyone named Simon Leviev or Shimon Hayut. But not Kate Konlin.
My god, it's like how someone can build such a fake story.
- Kate Konlin on allegations made by other women
When asked whether Simon Leviev had borrowed any money from her, she said this:
Of course no!
However, Kate Konlin has a very different story to share now.
Kate Konlin and Simon Leviev are no longer together. In an Instagram post, Konlin revealed the extreme horror she faced while in a relationship with Simon Leviev and how she's managed to pull herself together. 
Every morning I woke up with crazy hair loss and the extensions didn't hide the reality either.. the hair was all over the house, in the car, everywhere. Pills in the morning to wake up pills in the day to be calm pills before bed...
- Kate Konlin on Instagram
In an interview with the BBC, Konlin revealed that she had been in an emotionally abusive relationship with Leviev.
She even revealed that they watched The Tinder Swindler together and she felt compelled to believe him at the time and had no choice. 
At first, our relationship was a love bomb. The love was so strong from his side. He was so obsessed, and so attached that I was his whole world, his whole life.
- Kate Konlin
Konlin told the BBC that Leviev later started comparing her to other women, belittling her, body shaming her, telling her what to wear and what not to wear and more, in a type of coercive or mental control without physical abuse.
Addressing the public response to her relationship with Simon Leviev even as the documentary came out, she said this:
Half the world thinks you're stupid. And the other thinks you're a crook like him...
- Kate Konlin on Instagram
Did Simon Leviev borrow money from Kate Konlin?
Contrary to the Inside Edition interview, Konlin says Leviev owes her around $150,000 or Rs 1.24 crore. 
The banks rip up my phone on a daily basis at least 8 calls...
- Kate Konlin on Instagram
She told BBC that Leviev would tell her that his money is stuck and that she's too dumb to not understand. 
Konlin said the tipping point came when Leviev pushed her and she cut the heel of her feet while trying to leave him. She complained to the police. 
Simon Leviev told the BBC in response to the allegations that Kate Konlin is lying and nothing really happened to her, just like he's called every other woman who called him out before Konlin a liar. 
Where is Simon Leviev now? 
He's still in Israel, but it is unknown whether he's dating someone else. 
In Israel, he has at least one case filed against him by the real Leviev family and LLD Diamonds company for data theft, misuse, and impersonation. 
Simon Leviev, originally, Shimon Hayut, changed his name after the diamond magnate Lev Leviev and told his victims he was the son of the billionaire. Though in the Inside Edition interview, he rejects the claims. 
Simon Leviev does not have a public Instagram account anymore, but he seems to be active on TikTok according to the BBC. 
He also has an account on Cameo - ironically titled 'The Tinder Swindler' (sure Netflix didn't expect THAT) - where he sells personalised videos for a fee.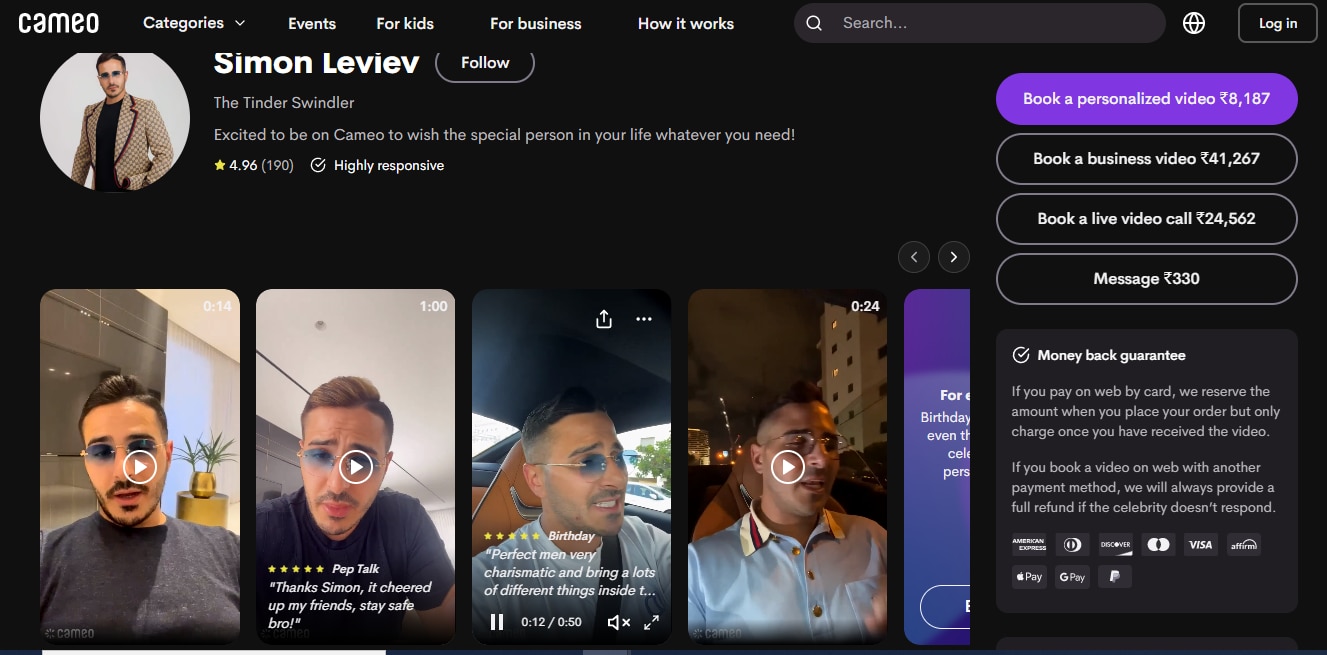 Moreover, he is also signed with Hollywood agent Gina Rodriguez's Gitoni agency which seems to collaborate on shows such as Jimmy Kimmel Live, Dr Phil, Selling Sunset and more.   
Simon Leviev reached notoriety last year after The Tinder Swindler revealed that he conned at least three women from different European countries out of millions of dollars. He lured his victims by 'love bombing' and presenting a fake millionaire jet-setting lifestyle. 
He then asked the victims for money and even convinced them to take credit to give him the money saying that his business rivals are after him and his money is stuck. He did all that to fund his lavish lifestyle. However, so far, the law has been unable to catch up to him.