Bad Heir Day: The strange tale of Mamata's kin's standoff with customs officials in Kolkata
Kolkata customs officials and Mamata Banerjee's nephew's wife's reported altercation proves how nothing is beyond political power in India.

DailyBite
In India, politicos' high-handedness is nothing new. It's not just seen accompanying the politician himself or herself, it's observed with everyone remotely known to a leader, their world and their wife.
We have a variant of "Tu janta nahi mera baap kaun hai!" ('You don't know who my father is (hence my clout)' in every language and region in this country.
The latest additions to throwing this statement around, with its political clout, are reportedly Trinamool MP and nephew of Bengal Chief Minister Mamata Banerjee, Abhishek Banerjee, and his wife Rijura Naroola.
According to media reports, a complaint by Additional Commissioner of Customs SK Biswas alleged that Naroola — along with a fellow passenger and police personnel — apparently resorted to criminal intimidation and voluntarily/intentionally obstructed Customs officials, posted at the Netaji Subhas Chandra Bose International (NSCBI) Airport, from the discharge of their duties.
According to the complaint letter, the incident took place on the intervening night of March 15-16, when Naroola arrived at NSCBI airport from Bangkok on a Thai Airways flight — and was reportedly held for carrying excess gold without a declaration. "They were interfering in the discharge of duty by customs officers and pressurising them to release the passengers," the complaint said.
But Banerjee was quick to jump to his wife's defence and pin the blame on anyone but her.
"A number of news portals, websites and a few national publications have published the news that my wife was detained with 2 kg of gold. There is no truth in the news and we will take legal action against these publications," Banerjee said. The Diamond Harbour MP questioned why the gold (that his wife was allegedly caught with) was not confiscated. "Was the chowkidaar sleeping?" he asked.
On being asked about police intervention in the matter, Banerjee said that a single lady personnel was there to assist his wife since she was suffering from "some medical conditions". The Customs complaint, however, mentions apparently the presence of several policemen — including a sub-inspector — from the airport police station.
Banerjee has reportedly alleged that the Customs officials tried to extort Rs 50,000 from Naroola, which she apparently refused. He's apparently further alleged that the whole case was "highly politically motivated".
Of course.
The incident is nothing new if one looks at innumerable such examples from the past.
India has a rich cultural tradition of dynastic politics and heavy-fisted politicos, seeking preferential treatment by virtue of being — even remotely — connected to a politician, their political clout interfering with the official machinery, including often executive and legislative workings.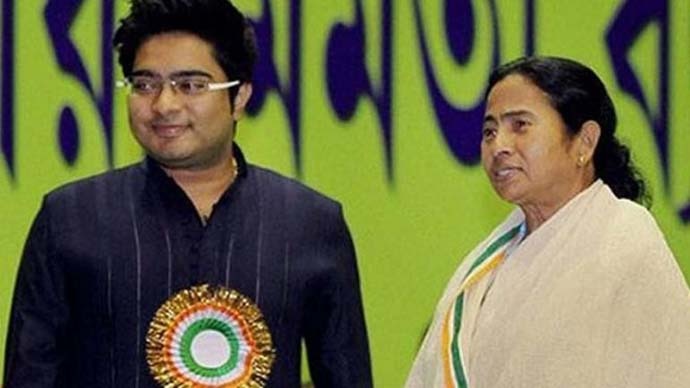 Mamata (R) and Abhishek Banerjee (L): The CM's nephew is widely considered to be the de facto Trinamool heir. (Photo: PTI)
What is different this time, and disconcerting, is that Abhishek Banerjee is himself a 31-year-old MP — the youngest MP in the 16th Lok Sabha.
One might have hoped that a younger, newer outlook might have left the ugly traditions of the past behind — including the weight of "Tu janta nahi mera baap kaun hai".
However, with the younger brand of politicians apparently resorting to a blatant misuse of power and nepotism, the future of non-preferential politics seems bleak.
To prove his (and his wife's) innocence, Mamata's de facto heir, Banerjee has reportedly said that he will quit politics if the charges are proven.
Of course that day shall never come — possibly, an aunty' power will ensure that.
Also read: Priyanka Gandhi Vadra and the perils of dynasty