Amid the raging debate over the scrapping of Article 370 and the clampdown in Kashmir, some stories are not reaching our readers. 
Certain communities, including the Gujjar Bakerwals, Sikhs and Valmikis, are celebrating their first 'Independence Day' — in 2019.
I was in the Jammu division from August 5 to 12 and witnessed a number of emotions being played out. 
The initial euphoria among the Jammu residents was not unexpected. Largely, residents felt that the government had finally stepped up in the face of various threats.
A few days on, anxiety began to creep in regarding property rights and employment plans.
Below, I write what I saw and felt during my week-long stay in the restive Valley.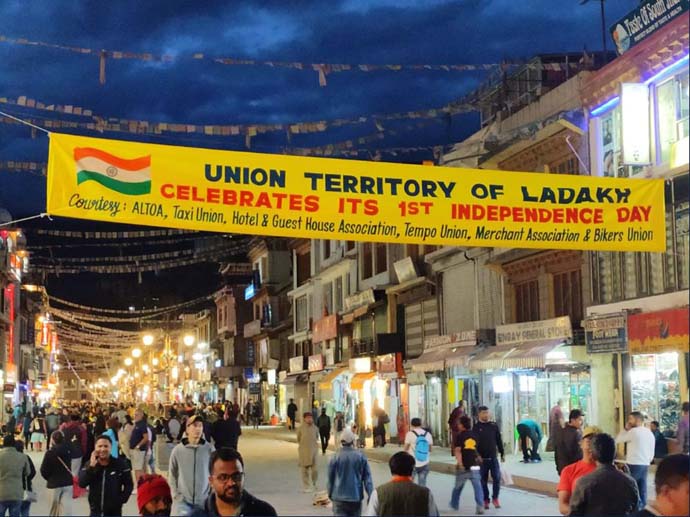 Happy August 15th! For many here, today is the first Independence Day. (Photo: Twitter)
The residents of Jammu welcomed the decision. They saw it as an end to the separatist narrative, working in collusion with Pakistan hegemony.
But there are also emerging concerns.
"Finally, there will be development. Jammu was always ignored in funds and resources. Now, we hope peace will prevail and soon Kashmir will also be normal," said a group of residents in the Lawrence Road market.
Jammu has 37 seats and Kashmir has 46 in the Assembly. For a long time, the people of Jammu felt they were given a raw deal.
"J&K's relationship with India is strengthened now. Residents will welcome this as they hope for employment opportunities and addressing terrorism, fuelled by Pakistan. I am from Doda which doesn't even have a medical college or university. A new political dispensation is awaited," said Syed Junaid Hashmi, a Jammu-based journalist.
Fears, apprehensions, joys: Sensing the mixed emotions of Jammu. (Photo: Aaj Tak)
"As a woman, I am happy because now properties can be transferred to my children. Why was the law not amended earlier to become gender-neutral? We now have hope for Jammu in delimitation," said Manu Khajuria, an activist who married outside J&K and campaigned for the scrapping 35A.
"Today, I am free and this will be my real Independence Day," said Eklavya, who had to quit studies in the absence of a Permanent Residency certificate. "My dream was broken. I cleared the physical examination for BSF but had no PRC. I dropped out of my studies and appealed to the court — today, I can restart and dream again," exclaimed 20-year-old Radhika.
In 1957, the Valmikis were brought from Punjab to J&K by the state government to quell a union protest and clean the streets.
Three generations later, they continued to be forced into sanitation work as no other government employment was possible by law.
Eleven-year-old Anaadi aims to become a lawyer.
He will be the first in three generations to explore the profession of his choice.
Similar to Valmikis are the West Pakistan refugees who have been residing here for decades — with no rights as citizens of J&K.
Life in a refugee camp: Not many were lucky enough to see an end to this ordeal. (Photo: Reuters)
Despite telecommunication being shut in the border areas along the Line of Control (Loc), people appreciated the move and wished for peace.
"Our villages faced mortar shelling for decades and we have suffered so much. Only Modi could do 'aar ya paar' — and he did. We now hope for peace," said Narendra Gangwal, a resident of Nowshera district.
"We hope the PM will visit border areas. He must think of us now — living a life of constant tension on the border," said Suneeta Devi.
Villages along the LOC and IB have been bombarded with mortar shelling that ripped apart houses, hurt animals and caused serious injuries to civilians.
Residing along the International Border in RS Pura sector are the Gujjars of J&K — the community was excluded from the SC/ST representation applicable in the rest of India.
"We now expect political representation and reservation, especially education for children. We expect the government to work for us," said Liaqat Ali, the village chief.
Their livelihood is dependent on dairy products — and the selling amount is low.
"We get no profit. Instead, we have huge debts. We want provisions to improve business," said Quasimuddin.
Living in Jagti Refugee camp for 30 years, these Hindu refugees feel that the scrapping of the special status will bring government attention to their rehabilitation.
"I was 28 years old when I fled. Three families ruled us — and even then, Kashmir saw no development. Our celebration is not to mock anyone in Kashmir. Muslims are our brothers. I hope they realise they also are free now and will benefit," said Veer ji Dulloo.
"We are farmers. Article 370 or not will make no difference... But Kashmiris and the people of Jammu will get better jobs. Everyone should celebrate," said Deshratan Pandita.
A woman started to cry in happiness.
"My father would have been elated to hear this news. He died hallucinating of our return to saffron fields in the Valley. There was no possibility of return then. Now, the PM has given us hope," said a woman in the camp.
Not happy if you're sad: Jammu residents didn't want anyone to feel victimised. The narrative should be development. (Photo: Reuters)
Jammu and Kashmir is at the cusp of a historic transformation, brimming over with mixed emotions across a state stretching 2,22,000 kilometres.
Celebrations in Jammu and Ladakh have a common link. Ladakh felt overshadowed by Kashmir and long fought for its own identity, especially Leh.
Jammu, meanwhile, felt bullied by the Kashmiri narrative of conflict. Many wanted to 'integrate with India' and felt ignored, despite this part staying peaceful.
The Jammu and Kashmir issue thus was restrained only to the Valley.
Diverse voices always existed in J&K — but only the louder voices were acknowledged.
Eventually, the pro-integration voices were heard. These voices got recognised — but sadly, with a clampdown on Kashmiri views.
It's pertinent to put on record that no Jammu resident has celebrated the shutdown in Kashmir. They, however, simply acknowledged the recognition of their own voices, once, for a change.
A brewing concern among people is an unplanned influx of outsiders and a dilution of property rights.
The Narendra Modi government will have to ensure development first for local residents while ensuring their authority in property decisions.
In the absence of clarity from the government, while rumour mills are working overtime, residents are worried.
A former deputy CM assured a domicile-like option that the government is apparently all set to consider, along the lines of Himachal Pradesh. This is expected to allay the fears of devaluing local rights.
Jammu residents have indulged in a gamble to support the decision.