Tarar Square
Christchurch terror attack: Terrorism has no religion, face or country
How many more people need to die before the world, united, will say: never again?
On March 16, when he was brought to the court, handcuffed, dressed in white prison clothes, there was one noticeable expression on his face: he was smiling.
On March 15, he, as a single shooter, massacred 49 people.
His name, as now the world knows, is Brenton Tarrant. He is 28 years old. He is an Australian national.
It happened in Christchurch, New Zealand.
How many more people need to die before we say in one voice: enough? (Photo: Reuters)
Armed with a semi-automatic gun, Tarrant entered a mosque and shot everyone he saw. Men, women, children. While he was shooting people in prayer he videotaped it all with a head-mounted camera and streamed it live. Clicking on that video is the nightmare that I know would be like the memory of that childhood horror that turned me into a lifelong insomniac.
It was like one of those scenes from a gory video game in which only the gun is seen, moving in a precise calculation to target the next victim, people made of pixels getting shot at, blood spraying everywhere, screams filling up the screen muffled by the methodical pumping of a gun whose only purpose is to blast every living thing to pieces, to make holes in human beings that are too big, too deep to be made by an ordinary gun whose primary purpose was to be used as a weapon of protection. The gun Tarrant held had one target: a Muslim.
The firing lasted for five minutes. According to one eyewitness, it lasted for 15-20 minutes. The eyewitness said: "What I did was basically waiting and praying, God please, let this guy run out of bullets."
His bullets did run out. After he had shot more than 50 people.
Another survivor said, "He started to shoot them. Anyone who he thought was still alive, he continued shooting them. He didn't want anyone to stay alive."
Another survivor, Farid Ahmed, who is in a wheelchair said, "I saw on the floor — the bullet shells — so many hundreds."
An eyewitness, Carl Pomare, who was driving by the mosque, said that he saw people running. And then: "The next second there was rapid fire. These people were being knocked down like ten-pins. I saw them being hit from behind and they were falling to the ground."
Pomare said: "It was a scene of carnage."
The massacre took place in two mosques, Al-Noor and Linwood Masjid in Christchurch, New Zealand.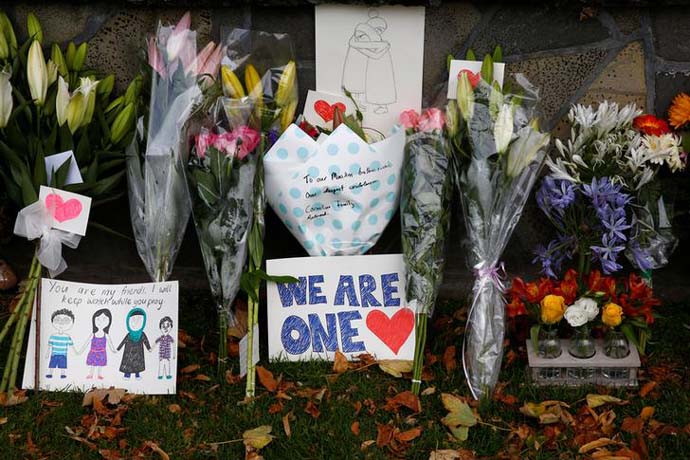 Islamophobia is real. We need to accept that. (Photo: Reuters)
Before the attacks with guns that are said to be modified to be made more lethal, and driving in a car that was said to be full of weapons that showed "his intention to continue with his attack," Tarrant posted an 87-page long "rambling" text titled The Great Replacement, full of "white supremacist references." The French-origin phrase is said to be a "rallying cry for European anti-immigration extremists."
In the text, Tarrant named the mosques he was going to attack, the reason for his radicalisation after his rage at seeing the events in France in 2017, and his anti-immigrant and anti-Muslim viewpoints.
New Zealand Prime Minister Jacinda Ardern termed the shooting as "one of New Zealand's darkest days. What has happened here is an extraordinary and unprecedented act of violence. [Attackers] have no place in New Zealand. For now, my thoughts and I'm sure the thoughts of all New Zealanders are with those who are being affected and with the families."
What has happened in Christchurch is an extraordinary act of unprecedented violence. It has no place in New Zealand. Many of those affected will be members of our migrant communities – New Zealand is their home – they are us.

— Jacinda Ardern (@jacindaardern) March 15, 2019
Who is Brenton Tarrant? A white supremacist? A "relatively normal man" who was radicalised for reasons not apparent to those who knew him? A gym manager with no "extremes of extremist views or any crazy behaviour?" Do words of Christchurch mayor Lianne Dalziel make it easier to understand Tarrant? "This sort of extremism is not something that we've seen here. But he is not from here. He came here with hate in his heart and intention to kill in his mind. So he did not develop his hatred here. He came here to perform this act of terrorism."
The response of New Zealand and most countries to the massacre of Muslims in two mosques in Christchurch is one of those rare heartwarming moments of global unity that is reflective of the best of humanity after witnessing the worst of humanity.
What is also different about this methodical barbarity by a white man on unarmed Muslim children, women and men is the way it has been described by the prime minister of New Zealand and other world leaders. It is plain and simple terrorism, and there is global acceptance of that reality instead of trying to give it a shade of a mass murder, an action of an unhinged mind, or an act of triggered madness of a frenzied mind.
True, this is not New Zealand. It is home to immigrants who chose it to be their home. (Photo: Reuters)
The massacre of 49 Muslims in two mosques is also a manifestation of the Islamophobia that is so commonplace in the West today that it is impossible to discard it as a figment of imagination of many Muslims who suffer some form of it every day, or which is used as a political tool for an exaggeration of Muslim victimisation. It is an indication of seeing Muslims as invaders "intent on replacing the white majority in Europe". And it is a testimonial to the very real threat of the far right and the existence of many who idolise Anders Breivik.
The anti-Muslim sentiment bordering on naked hatred and unbridled bigotry is what led to the attack on people gathered in mosques to pray on a Friday, and not much will change until, to begin with, there is a recognition of that sentiment. Until there is a clear acknowledgement that Islamophobia is not merely a 12-letter word that Muslims and their advocates use to further their "agenda" of victimisation and suffering. To paint almost 1.8 billion Muslims in the identical strokes of radicalised, militant, West-hating bigots, and to thrust on almost 1.8 billion Muslims one story of the other-ing of the West is not just feeding the beast of Islamophobia further dividing a hugely polarised world, it is also a blatant mechanism to see in binaries of black and white the reality of the 24 per cent of the world's population.
Amidst the overwhelming darkness of the massacre of 49 Muslims, mosques in New Zealand and around the world have been flooded with heartfelt messages of love and solidarity. Mosques in different cities in New Zealand have seen an incredible expression of support. The messages of "We love you", "We are one" and "Forever changed" are a further reiteration of the words of Prime Minister Ardern: "Immigrants have chosen to make New Zealand their home, and it is their home. They are us."
Thousands of miles away in Pakistan, the family of 50-year-old Naeem Rashid mourns his death as well as that of his 21-year-old son Talha. Both the father and son were killed in the massacre. Before being shot, Naeem tried to stop the shooter without thinking about his saving his own life. Unimaginable is the pain of his family and loved ones as they mourn Naeem and Talha who went to pray and were killed simply because they belonged to a religion the shooter, the terrorist, the radicalised extremist, the white supremacist hated.
Six Pakistanis have reportedly been killed in the massacre.
Also among those who were killed on March 15 was the four-year-old Syrian boy Abdullahi Dirie. He was at the mosque with his father and four siblings. Tarrant shot the four-year-old Abdullahi.
Terrorism doesn't have a face, religion or nationality. (Photo: Reuters)
Also killed: Hamza Mustafa, a 14-year-old Syrian boy.
Also killed: 42-year-old Bangladeshi Husne Ara Parvin, who stood in front of her wheelchair-bound husband in an attempt to save his life.
Also killed: 27-year-old Areeb Ahmed of Pakistan who was in New Zealand on a business trip.
Also killed: 71-year-old Afghan Haji Daoud Nabi, a resident of Christchurch, a place he "called home since 1977, and [that] offered hope and safety for him and his family."
Also killed: Hamza's father Khaled Mustafa, a Syrian refugee who in 2018 with his family (wife and three children) came to New Zealand, which they "they thought was the safe haven."
Also killed: Lilik Abdul Hamid from Indonesia.
Also killed: Mounir Sulaiman, 68, Ahmed Jamal Aldean Abdulghani, 68, Ashraf al-Morsi and Ashraf al-Masri from Egypt.
Also killed: Four unnamed Jordanians.
Also killed: Nationals of India, the United Kingdom, Saudi Arabia and Turkey.
Terrorism does not have a face even if it is that of a white man who live-streamed his massacre. Terrorism does not have a name even when it introduces itself before pumping hundreds of bullets into people whom it other-ed, dehumanised and killed. Terrorism does not have a religion even when it announces its hatred of followers of one particular faith. Terrorism does not have a nationality even when the perpetrator is in a country that takes pride in its inclusivity and generosity of spirit. Terrorism is not region-specific even when its perpetrator carries a passport.
What the world needs to say in one voice: enough. What the world needs to enunciate without any whataboutery: no more. What the world needs to do, beyond borders, beyond faiths, beyond ideologies: stand as one.
How many more people need to die before the world, united, will say: never again?
Also Read: Rest in peace, Isha! What life and death teach us in just a split second
The views and opinions expressed in this article are those of the authors and do not necessarily reflect the official policy or position of DailyO.in or the India Today Group. The writers are solely responsible for any claims arising out of the contents of this article.