How was your day? We've had a thoroughly action-packed one with the Delhi Assembly election results being announced. You can say that this was an action-packed election right from the word go, with parties trying every trick in the trade to win.
By parties we mean only the Aam Aadmi Party (AAP) and BJP, not the Congress. The Congress was so out of the contest that when the results began trickling in, the party congratulated the AAP and rejoiced over the BJP not being able to win in double-digits. The Congress seems to have forgotten that it was the same AAP that uprooted it from Delhi decisively in 2015. You must have even seen the joke on Twitter that the Congress has managed to retain its 2015 performance. Yes, then too, the Congress drew a blank in the elections.
The cryptic message that the BJP put up in the morning on a party poster, "Victory doesn't make us egoistic, and defeat doesn't disappoint us" seemed to be more suited for the Congress, which actually seemed unaffected by the loss. Now, that one lesson of handling defeat, we wish nobody learns.
The poster that BJP put out on Tuesday morning. (Photo: Twitter)
In the BJP camp, of course, there was disappointment with party Delhi unit chief Manoj Tiwari saying that he took full responsibility for the party's performance. That is some leadership there.
While the BJP may or may not blame the loss on Tiwari, we do credit him for a lot of entertainment that was dished out on Twitter in his name during the elections. Bhojpuri songs such as Baby Beer Pi Ke, which Tiwari has either sung or featured in, came back to haunt him. 
Now, Tiwari was appointed the BJP's Delhi unit chief to attract Poorvanchali voters. These are voters who have their roots in Uttar Pradesh, Bihar and Jharkhand. Nearly 29 per cent to 30 per cent of Delhi's 1.43 crore, or 143 lakh, voters are Poorvanchalis. This means about 41,47,000 to 42,90,000‬ voters in Delhi are from Poorvanchal.
But for Tiwari, it weren't just the songs that he sang, but his stint on reality show Bigg Boss, whose reality is all scripted, too led to people having a hearty laugh at his expense. Tiwari participated in Bigg Boss Season 4. In one of the episodes, Tiwari got into a verbal spat with co-contestant Dolly Bindra. Why? Over eggs.
So, Bindra was in-charge of the kitchen and she served inmates leftover food for breakfast. Tiwari refused to eat the leftover food and said he wanted to have an omelette instead. And then a fight broke out. Don't ask whose fault it was. We think it would be easier to answer whether the egg came first or the chicken. Not that we have an answer to the egg-chicken question. We just think it would be easier to answer that than who was responsible for a Bigg Boss fight.
For Tiwari, however, the problem that started on the reality show spilled over to his real life. We told you the show is majorly scripted but Tiwari's real-life problems weren't. Okay, let us get to the story.
One of the inmates in the house in Season 4 of the show was Shweta Tiwari. She had also, much like Manoj Tiwari, worked in the Bhojpuri film industry at one point. She had been the lead actor in two of Manoj Tiwari's films, Kab Aibu Anganwa Hamaar and Ae Bahuji Ke Sister. Tiwari's wife Rani, who was an aspiring singer, suspected her husband of having an affair with Shweta Tiwari, and so she filed for divorce. Manoj and Rani parted ways soon after.
Shweta later went on to marry actor Abhinav Kohli and that silenced the rumours about her affair with Manoj Tiwari. Rani, however, did not return to Manoj Tiwari's life.
Manjoj Tiwari and Shweta Tiwari in the Bigg Boss house in Season 4 of the show.
Since then, Manoj Tiwari's life has undergone a sea change. He is now a Lok Sabha member. In 2019, he defeated former Delhi chief minister Sheila Dikshit to enter Lok Sabha for the second time. In 2014, he had defeated AAP's Anand Kumar to make his Lok Sabha debut. In 2009, however, Tiwari contested on a Samajwadi Party ticket from Gorakhpur and lost. Yes, he lost to current UP chief minister Yogi Adityanath.
And since we are discussing polls and poll results, poll is our Word Of The Day. The word poll is of German origin, and first occurs in English in the 13th century. Back then, it meant 'a head'. You may be wondering why head. That was because before the days of mass literacy and secret ballots, elections were usually carried out by counting the heads of voters. It was only around the 17th century that the meaning of 'polls' was extended from 'heads' to 'votes'.
The poll results of Delhi, cast and counted through EVMs, have come as a huge disappointment for the BJP. Yes, the BJP improved its tally of 2015 (from three to seven), but that is nowhere close to what the BJP promised it would achieve.
Also the loss couldn't have come on a worse date. February 11 happens to be Deen Dayal Upadhyaya's death anniversary. Upadhyaya died in 1968. He was the president of Bharatiya Jana Sangh (BJS) at the time of his death. Actually, he had taken over as the BJS president just 43 days before he died, after remaining the party general secretary for long. On April 6, 1980, BJS took the form of the BJP after Jana Sangh members were forced to leave the Janata Party.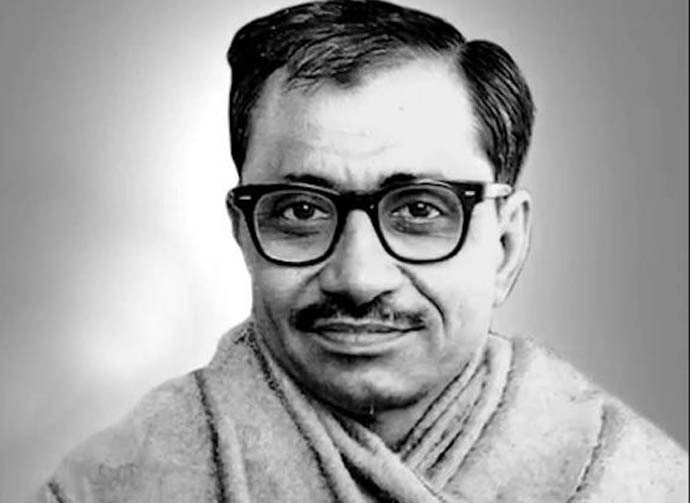 February 11 happens to be jana Sangh leader Deen Dayal Upadhyaya's death anniversary. (Photo: Wikimedia Commons))
You might already be aware that many Jana Sangh members continued to be members of the Rashtriya Swayamsevak Sangh (RSS) even after joining the Janata Party, and so some Janata Party members objected to it. BJS members chose to walk out of the Janata Party than give up their RSS membership.
But we were telling you about Deen Dayal Upadhyaya's death under extremely mysterious circumstances. Upadhyaya was elected president of the Jana Sangh in December 1967. He left for Patna from Lucknow on the evening of February 10, 1968. The train took a halt in Varanasi and left the Varanasi station at about 1.40 am. It entered Mughalsarai at about 2.10 am. Upadhyaya was, however, not on the train. A search was launched and just about 10 minutes later, Upadhyaya's body was found lying near a pole, 748 feet from the end of the platform of Mughalsarai station.
It is said, he had a Rs 5 note in his hand when his body was found.
A man named Bharat Lal was later charged with Upadhyaya's murder because someone in the cabin adjacent to the one in which the BJS chief was travelling, had seen Lal enter and walk out with a file and Upadhyaya's bedding. The murder charge could never be proven and Lal was acquitted of murder but convicted for theft. A CBI inquiry concluded that the murder was committed by common thieves for small gains. The Jana Sangh cried a political conspiracy but that was never proven.
Today, 52 years after his death, the seven-seat win in Delhi is certainly not the kind of homage the BJP would have wanted to pay its leader. But then as the BJP poster said, "Victory doesn't make us egoistic, and defeat doesn't disappoint us."
With the elections now over and victory and defeat in their respective places, Delhi has to gear up to welcome US President Donald Trump and First Lady Melania Trump. The two will be in India on a two-day visit — February 24 and 25 — and will be travelling to Delhi and Ahmedabad. This will be Trump's first visit to India. His predecessor Barack Obama came visiting twice. First, in 2010 and then 2015 (that time when Obama began his famous speech with, "Bade bade deshon mein...")
Here's a video of Obama trying "bade bade deshon mein..." You know what we mean.
But do you know there was a time when no US Presidents would come to India? The US ignored India for over two decades till Bill Clinton dropped in on us in 2000.
Jimmy Carter was the last US President to visit India before Clinton. So, Carter came in 1978 and then Clinton in 2000 — a full 22 years later. And do you know why Carter was in India?
Former US President Jimmy Carter and ex-Prime Minister Morarji Desai. (Photo: US Embassy)
To deliver a "cold and blunt message" to India to abandon its nuclear ambitions. Morarji Desai, who was then Prime Minister, did not sign the Nuclear Proliferation Treaty.
And it's not like US Presidents came visiting India a lot before Carter. When Obama came for the second time in 2015, he was the sixth US President visiting India in 67 years. This, despite Jawaharlal Nehru visiting the US in 1949.
The US took 10 years to return the visit, when Dwight D Eisenhower came to India in December 1959.
Now, you see heads of state do not come to travel. It did look like Canadian Prime Minister Justin Trudeau came in to India in 2019 just to take a tour of the country and dress up in those OTT kurtas, but that's not how it is generally. Heads of state come to broaden trade ties. Whoever says they come for cultural bonds is lying. Now, that lie could be born out of ignorance or could be deliberate. We do not know. But yes, heads of states come to broaden trade ties. US Presidents started coming in once they realised the strength of India's domestic market.
So, now that 'very good friend of India' Trump is coming to India, expect his good friend Narendra Modi to give him a grand reception. We will, of course, be getting you more interesting details on Trump and the visit.
For now, congratulations to AAP for the victory. Tough luck to BJP for the dismal performance. And Congress, well, what can we say to them? Bade bade deshon mein aisi chhoti chhoti baatein hoti rehti hai!