DailyOh! The protest that halted Delhi 32 years ago to why Joker's laughter is no laughing matter
We tell you what Oscars mean and is it right to call Oscars Academy Awards.

DailyBite
Hello again,
Hope you had a good weekend. If you are a Delhi voter, we also hope that you voted. And if you didn't, that's also fine because we understand sometimes (maybe even all the times) we are too disillusioned with the political lot to want to go out and vote. Whatever it is, the results will be out tomorrow.
Do you remember that the Supreme Court had refused to pass a verdict on the Shaheen Bagh protests till elections were underway? So, on Monday when the court opened after elections, it made an observation. Hearing petitions seeking the removal of anti-Citizenship Amendment Act protesters from Shaheen Bagh, the Supreme Court said, "You cannot block public roads. There cannot be indefinite period of protest in such an area. If you want to protest, it has to be in an area identified for protest."
The Supreme Court has said that protesters cannot indefinitely block a road as part of their agitation. (Photo: Reuters)
In Delhi, the identified areas of protests have been changing. In 2017, the National Green Tribunal (NGT) banned protests at Jantar Mantar. NGT said protests at Jantar Mantar were causing noise pollution. We wish someone could also ban all the needless honking that takes place in Delhi (around Jantar Mantar too). From Jantar Mantar, all protesters were shifted to Ramlila Maidan.
But there was a point in time in Delhi when protests could be held on Rajpath. A 1988 protest, however, compelled the government to move the protest site from Rajpath to Jantar Mantar. The 1988 protest was actually a farmers' protest led by Bharatiya Kisan Union (BKU) leader Mahendra Singh Tikait. Lakhs of farmers led by Tikait occupied the lawns of the Boat Club for several days. Before Tikait moved to Delhi, BKU had been agitating with regards to its demands for over a year in Meerut and some other parts of western Uttar Pradesh. Nobody heard them. So, with supplies of ration to last them at least a week, they moved to Delhi on tractor trollies, bullock carts, cars and on foot. It is estimated that about six lakh farmers had descended on Delhi.
In 1988, a Bharatiya Kisan Union protest brought Delhi to a grinding halt. (Photo: Wikimedia Commons)
The farmers turned the Boat Club lawns into their home and swore not to move out till their demands were met. Schools and colleges were closed. The judicial system too came to a halt when the lawyers went on strike in support. Now, Tikait was a wealthy farmer and he got support from wealthier farmers, so the food that came for Tikait and his men to boat club included three-course meals from Nainital, tractor-loads of apples and gajar ka halwa. Wondering how did it all end? The same way all farmers' protests end — after a host of promises were made.
It was after this protest that the government banned protests on Rajpath, and showed them Jantar Mantar for the task.
But the current protests are going on in Shaheen Bagh and the Supreme Court will hear the matter next on February 17. The court said if the protest has lasted 58 days, it can go on for one more week, before a verdict is reached. So, the traffic jams will continue for one more week at least. They will also continue after that because there are just so many vehicles in Delhi.
Now, amid all the talk of protests we forgot to tell you that Oscars 2020 have been announced. South Korean movie Parasite has become the first non-English movie to win the Best Picture award. Oscars is special and then to become the first non-English film to win the Best Film award in 92 years must feel extra special for Bong Joon Ho, Parasite's director.
Renée Zellweger won the Best Actress prize for her performance in Judy, and Joaquin Phoenix won the Best Actor award for Joker. We guess you must have already watched most of these films or are planning to catch up on them soon. Joker did create quite a flutter in India with Phoenix's performance earning rave reviews. If you missed Joker in the theatres last year, some good news for you: the film is being re-released in India on February 14, along with Once Upon A Time In Hollywood. Now, you do know that Phoenix starred as Arthur Fleck in the movie.
Arthur Fleck as Joker suffers from a condition that causes him pathological laughter.
Fleck is affected by a mental trauma which forces him to spend time in a mental ward. One of the many problems Fleck suffers from is a condition that causes him pathological laughter. Yes, we have been told that laughter is the best medicine and all that, but laughter can be a disorder too — and it's called the Pseudobulbar Affect.
People with Pseudobulbar Affect end up laughing or crying at the most inopportune times, much like Joker's Fleck. In fact, it is that very laughter that - spoiler-alert - results into Fleck killing those people on the subway. But don't confuse the Pseudobulbar Affect with nervous laughter. That's just a coping mechanism of the body and mind. Now, don't get into overanalysing your laughter. We say laugh out loud — not just smile and get done — at every opportunity you get because it is good for health. To all the winners of Oscars, meanwhile, we convey our good wishes. And why just winners, we convey our good wishes to all those who lost out at the Oscars too.
But do you know that while we use Academy Awards interchangeably for Oscars, it was in 2013 that the Academy Awards were officially rebranded as The Oscars? And Oscars is our Word Of The Day.
The popular theory is that the nickname for the Academy Award of Merit (as the statuette is officially known) was coined by Academy Award librarian Margaret Herrick. It is said that when Herrick saw the statue in 1931, she said it looked like Uncle Oscar. The statue is officially known as the Academy Award of Merit.
But Oscar per se is derived from two elements in Irish — os, which means 'God', and cara, which means 'spear'. It also means deer lover or champion warrior. This will also remind you of Oscar Wilde. Yes, he was Irish.
Oscar per se is derived from two elements in Irish — os, which means 'God', and cara, which means 'spear'. (Photo: Reuters)
Talking of awards and prizes, India missed out on the Under-19 World Cup at the hands of Bangladesh. And it is fine to win some and lose some but what was not fine about the match was the ruckus that followed.
Players from both sides got physical as soon as Bangladesh hit the winning runs to claim their maiden ICC tournament.
Young blood, they say, is mostly on the boil. Now, that is something we shouldn't be telling young men who have no control over themselves. They should have behaved better. All of them. But this incident somehow reminded us of an ugly incident from September 14, 1997. You know what happened then? Well, Pakistani cricketer Inzamam-ul-Haq beat up a spectator during a Sahara Cup ODI between India and Pakistan in Toronto.
Let us tell you how it all happened.
Inzamam was not having a great day that day. That's normal for players. Some days are yours and then some are not. So that day, Inzamam only managed to score 10 runs off 34 balls and the Pakistani side were all out at 116.
When Inzamam was fielding at the boundary, a group from the crowd started taunting him. The group was mean to him, saying things like, "Oye mote, seedha khada ho. Mota aaloo, sada aaloo." (Here's a rough translation for you: Oye fatty, stand straight. Fat potato, white potato. Don't ask us why.)
That's when the Pakistani cricketer lost his calm. He crossed the fence and started beating up a guy. The security personnel managed to control the situation but not before Inzamam had roughed up the man.
People can sometimes completely lose control over their temper. But currently the world is failing at controlling the Coronavirus. As many as 97 people died of the virus on Sunday. Did you hear of the Japanese ship on which cases of the virus infection have been rising?
Now, over 130 people have been found to be infected by the virus on Diamond Princess, a cruise ship quarantined in Yokohama, Japan. About 3,700 people, including about 2,600 passengers and more than 1,000 crew members, are quarantined on the ship, with passengers largely confined to their cabins. That must be a really scary situation to be in. You are in the middle of the sea and then you are struck by a virus and you don't know what to do. If you're feeling kinda claustrophobic, that makes two of us.
But then, Diamond Princess is not the only ship to be struck by a virus outbreak. In January 2019, Royal Caribbean International's Oasis of the Seas saw an outbreak of Norovirus. A total of 592 passengers and crew were hit by a gastrointestinal outbreak that seized Oasis and cut the seven-day Caribbean voyage a day short.
All tragedies that strike ships invariably take us to the memories of the Titanic that sank on April 15, 1912. But do you know that 20 years before the Titanic sank, an Indian steamer sank with 746 people onboard? That steamer was called Vijli. There is a book written on that tragedy. It's called Vijli Haji Kasamni.
But why are we talking of this ghost ship? A new teaser of Vicky Kaushal's Bhoot: The Haunted Ship was released today. The trailer came out last week. Now, we like Vicky and his kaushal but neither the trailer nor the second teaser looked too promising.
Maybe you will like it. These are subjective issues after all. Here's the trailer:
From ships, we will take you to airships. Airplanes. A British Airways plane from JFK International Airport in New York to Heathrow International Airport in London just broke an aviation record. The plane flew this distance from NYC to London in record time and at sub-sonic record speed, thanks to Storm Ciara. At one point, the flight even hit 710 kts, and many thought it broke the sound barrier, which is 666 kts. But no. That 710 kts was ground speed, while to break the sound barrier, the plane needs to have an airspeed greater than 666 kts. Confused? Here's a graphic to help you understand the difference:
Wind speed is the third player hier. This pic gives a nice overview how air speed isn't affectedly by changed wind or air speed. The most confusing imho is when air speed is higher than ground speed though facing head wind. pic.twitter.com/kkRl3w4fjI

— Springyard™🌐 (@springyard99) February 9, 2020
A crew member who flew on that BA112 flight also said that he had crossed the Atlantic quicker only on the Concorde. And that took us back to the Concorde, an aviation marvel that people still gaze fondly at.
The Concorde was the second, and most famous supersonic passenger airliner (the first was Tupolev Tu-144). A joint venture between British Airways and Air France, this beauty first took to the skies in March 1969. It entered service seven years later, in January 1976. The Concorde hit a maximum speed of Mach 2.04, that's more than twice the speed of sound.
The Concorde flew passengers, with per seat priced at a wallet-burning USD 12,000 (that's Rs 8,55,000!), across the Atlantic in 3.5 hours. And then, there was a deadly crash.
On July 25, 2000, Air France 4590 crashed shortly after take-off from Paris. All 100 people and 9 crew members on board died. The crash also killed 4 other ground staff.
Passenger numbers saw a massive drop after the July 2000 crash. The Concorde needed all its passengers and all those seats sold to be able to stay afloat. Business crashed. Environmental effects were highlighted. Breaking the sound barrier is no noiseless task, metaphorically and otherwise. The Concorde could only fly over water, because over land, its noise caused windows and glass to shatter!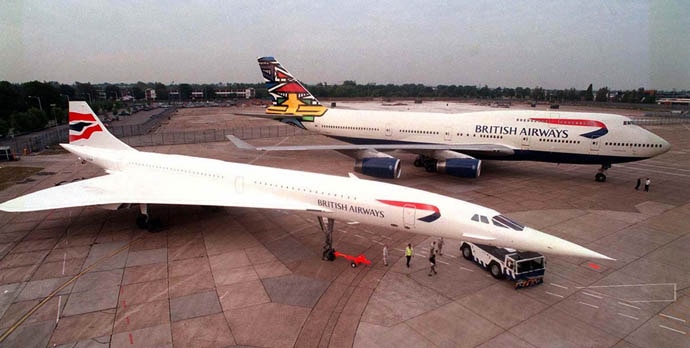 Boeing 787 Dreamliner vs The Concorde. Which one are you looking at? (Photo: Reuters)
So in 2003, Air France and British Airways both announced that they would retire the Concorde that year. On November 26, 2003, the Concorde took to the skies one last time.
The Concorde is now in museums. If you're an aviation enthusiast and want to see one, try visiting one of these museums.
We will leave you for today with this. Be back tomorrow.
Bye till then.
Also read: DailyOh! When Amitabh Bachchan sent a truckload of roses for Sridevi to cat that helped in jailbreak