As television news channels beam live the visuals of Delhi-NCR's smog and hold heated debates about what could have been done, what can be done, who can do what, et al, people from other states, barring few obviously polluted towns, sit pretty, thinking, "Oh, Delhi air is so bad. We are so lucky!" Well, if you are one of them, here is some food for thought:
1. Only 303 cities out of 6,166 census cities and towns – that is a mere five per cent - are monitored for pollution.
2. Of the 303, only 57 cities have continuous real-time monitoring stations.
3. The rest follow manual monitoring that does not allow daily reporting of real-time air quality data.
4. Of the 46 Indian cities with the population of more than a million, Delhi has the maximum number of real-time air quality monitors (30).
5. 19 of these 46 cities have just one real time monitoring station each.
6. 17 of these 46 cities do not have any real-time monitoring station.
And then the most important factors:
1. In 2007, 60 per cent of the cities monitored had PM10 levels officially classified as critical; in 2016, the same had increased to 88 per cent.
2. In 2007, 13 per cent cities showed "good" air quality (50 per cent below the standard); in 2016, it has reduced to a mere two per cent.
These were some of the alarming statistics presented by Anumita Roychowdhury, the executive director (research and advocacy) at the Centre for Science and Environment at a media briefing in Delhi on December 27.
The analysis was based on data presented to the Rajya Sabha for these cities. Calling it a "data eclipse", Roychowdhury pointed out: "The rest of India cannot sit back and do nothing. The first question that each city's people need to ask is: how many air quality monitoring stations are there and where are they located."
The first question that each city's citizens need to ask is: How many air quality monitoring stations are there and where are they located? Data analysis: CSE
For instance, scores of cities have just one real time monitoring station, that too located somewhere in a green area, which does not show the correct picture. And for the manual monitoring stations, there is simply no way of trusting the data as there is no transparency about when that data is collected, whether it is collected daily, et al.
"It is a conspiracy of silence. You don't inform people, so people think we are safe," said Roychowdhury."Science has to be used for policymaking. We have licence to pollute because we have no data," said Sunita Narain, CSE's director general.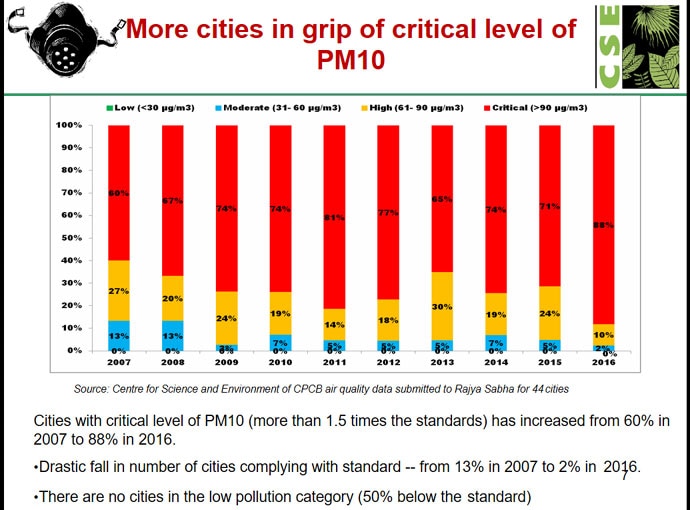 More and more cities are facing the PM10 pollution problem. Data analysis: CSE
Air pollution increases disease burden
In November 2017, when the pollution levels in Delhi hit the roof, the Indian Medical Association (IMA) declared a "public health emergency" and rightly so, even as the government continued to be in denial.
The 2017 state level Global Disease Burden report shows that air pollution has moved up the ranks as a major killer in nearly all states across India and among the diseases, ischemic heart disease and chronic respiratory ailments are the top killers.
The 35-60 age group is the most vulnerable to non-communicable diseases and has witnessed increased vulnerability to air pollution. What was frightening in the report was that the relative rank of air pollution as a risk factor has gone up in Arunachal Pradesh, Assam, Bihar, Chhattisgarh, Haryana, Himachal Pradesh, Odisha, Rajasthan and Uttar Pradesh.
Dr Sanjeev Bagai, senior consultant paediatrician and neonatologist, reminds us: "India has just 2 per cent of total landmass against which we have a humongous 21 per cent Global Disease Burden."
Unfortunately for Indian authorities and citizens in general, "Prevention is not fashionable to discuss." Dr Bagai warns: "We have just two options when it comes to air pollution: eliminating the stimulus, which is tough, and taking smaller preventive steps – creating awareness is the first."
And now, the PM's task force
Multiplicity of agencies has always been blamed for Delhi's woes. Planning, planning and then some but zero implementation aptly describes the situation in Delhi today. To top it all, there is now a competition of sorts between various authorities as to who will come out with a better action plan to combat air pollution. But this has confused Delhi-NCR residents more than proving useful.
The EPCA has been at it for long and has put in place a Graded Response Action Plan (GRAP) since January 2017; then there is NGT's "Comprehensive Air Plan".
Today, we have yet another action plan: this time, straight from the prime minister's office. The draft "Air Action Plan – Abetment of Air Pollution in the Delhi National Capital Region", formulated by a high-level task force set up under the chairmanship of principal secretary to the Prime Minister Narendra Modi, has suggested a 12-point action plan that lists key actions that the task force will monitor.
"It is recognised that the agencies responsible for the various determinants of air quality will take a number of other steps based on their assessment of need. Secretary, Ministry of Environment, Forests & Climate Change (MoEF&CC) will be responsible for overall coordination of the action agenda," said the draft notice, inviting suggestions and comments from citizens and experts.
Even as it seeks coordinated action to combat stubble burning in Punjab, Haryana and Uttar Pradesh, it has acknowledged Delhi has its own point sources of pollution and suggested "annual commissioning and validating source attribution studies for the national capital region".
Two other things among the various measures suggested are a "journey planner app integrating Metro, DIMTS and DTC services" and "integrated ticketing across DTC, cluster and metro in six months (basically, all kinds of mass public transport)".
This draft action plan calls for "collaboration with the traffic police, identifying choke points and taking up projects to reduce congestion at these points", but does not forget to suggest that a "similar exercise may be done in respect of Meerut, Rohtak and Gurugram divisions". It's high time the government woke up to pollution problems in tier-II cities.
Meanwhile, in Delhi, the mess continues
Details of the steps to be taken after the GRAP kicks in can be found here. But a major aspect about public transport mentioned in it is what the Delhi government has failed to achieve. First, there is no incentive for those driving cars or two-wheelers to abandon their personal vehicles and opt for public transport. More importantly, the number of buses continues to go down with each passing year.
A few days ago, lawyer Ritwik Datta, who takes up environmental issues at the NGT and other courts, made a very apt observation. "There is this one problem of air pollution… and then there are three courts – the Supreme Court, the Delhi High Court and the National Green Tribunal – looking at it for years and yet none is able to solve the problem."
But Sunita Narain of CSE, who is also a member of the Supreme Court's EPCA (Environment Pollution (Prevention & Control) Authority for Delhi and NCR) is of a different view.
"Although it took a pretty long time, action started happening around 2015. After the Supreme Court pushed for it, the Graded Response Action Plan (GRAP) for daily emergency response was kicked off this year. And our analysis shows, there is some improvement… slight, but yes. And now it is important that we do not lose this momentum till we are able to bend the pollution curve."
GRAP has made a difference, claims Sunita Narain of CSE. Data analysis: CSE
Narain said CSE's analysis of the air quality trend shows the following change: while in November 2016, 37 per cent days were slotted in the "emergency" category and 20 per cent in the "severe" category; in November 2017, 24 per cent days were in the "emergency" category and 17 per cent in the "severe" category.
Similarly, in December 2017, 12 per cent days are in the "emergency" category as opposed to 17 per cent for the same period in the previous year. While the levels are still very high, the severity and frequency of smog episodes are slightly lower.
For Delhi-NCR, a "severe plus" category was introduced, so when the pollution level comes down to "poor", it indeed is a good sign! The idea is to continue sustained action.
Stop the blame game and act
The Delhi government is not doing enough – from its pollution control committee to the transport department to the public works department to the environment and forest departments, the list goes on, and the list of what each of these are supposed to do will be even longer.
But then, neither is the Centre doing enough — we have the Union ministry of environment, forests and climate change, the central pollution control board, the ministry of health and family welfare, the ministry of power and the ministry of road transport and highways. Each stakeholder has an identified role and, yet, even as some steps are taken by few agencies, the overall effort is just too weak.
The peak days of the November smog saw the Union and Delhi governments blaming each other, with little action or progress.
The Global Disease Burden report has ample proof of how air pollution is taking a toll on all of India's citizens. There is no deterrence for causing pollution across India — there are no or not enough prosecutions. This is a major lacuna in India's fight against air pollution and calls for immediate corrective measures.
Because as it talks about "demographic dividend" on the world's stage or in speeches by mantris/babudom, India can ill-afford to have a stunted generation.
And if we allow it to happen, it will be criminal.