Breaking Views
Delhi's Aunty No. 1: Why Sheila Dikshit and Delhi were made for each other
Delhi, at that point, had had enough of the robustness of the Madanlal Khuranas. It needed Sheila Dikshit's empathetic liberalism.
Long before we entered the age of the political strongmen, there was the age of Sheila Dikshit, or Sheila Ji, or Sheila Aunty — a gentler, more graceful political eco-system where you didn't have to shout, name-call or flex muscles to be heard.
Just ahead of the 2013 Delhi Assembly elections, I was keen to organise a Sheila Dikshit versus Arvind Kejriwal 'big fight' kind of debate on television. It seemed to me like a classic made-for-television contest between the lady who had charmed Delhi for over a decade and the angry young challenger.
When I met her over a good English-style breakfast of cornflakes, eggs and toast — aloo paratha-sabzi-achar-style typical Punjabi-Dilli meal was not for her — she listened to us patiently and then grimaced slightly, "So, you think having a one-on-one presidential-style debate with the man who has accused me of corruption will be good for your TRPs, hmm.."
I didn't quite know how to respond but sputtered that it would be good for Delhi's citizens to hear both sides.
"Thank you, Rajdeep Ji, but no thank you. Now, would you like some more toast? And by the way, have you seen this new Deepika Padukone film, doesn't she look lovely?" she asked with a broad smile.
Sheila Dikshit succeeded in transforming Delhi's skyline and urban infrastructure because she loved the city. (Photo: Twitter)
We had come to cajole her into appearing on a tv show and we were leaving after having an animated discussion on cinema. That, in a sense, was typical Sheila Ji: an artful politician and gracious host but also a bit like the tough aunty of the neighbourhood, iron-fisted in a velvet glove.
I often wondered how someone with her clipped Miranda House English accent managed to deal with the rough and tumble of Delhi's factionalised 'Punjabi-fied' politics. The Congress in particular in the national capital was a badly splintered, male-dominated party: a genteel and refined lady who loved books and cinema, flowers and animals was now being thrown deep into the political jungle. And yet, she survived and eventually conquered, largely through her unique ability to win friends and influence people with her innate charm and patience.
Of course, it helped that she enjoyed the complete support of the only 'camp' that really mattered in the Congress: 10 Janpath.
She was a complete Gandhi family loyalist even though her loyalty was not that of a despairing sycophant as much as of an obedient and dutiful soldier who was emotionally and politically attached to the family.
The High Command's wish was her ultimate guidepost.
Then, be it being anointed the Delhi Congress chief in 1998 in a career-changing move or being crazily pitched as the Congress UP CM face in 2017 — Sheila Ji was the party leadership's woman for all seasons.
In 1998, it worked because the BJP was imploding in Delhi and the city was desperately looking for a change. It didn't work in UP because there was no strategy involved here beyond her credentials as an able administrator who had been married into a prominent UP Brahmin family.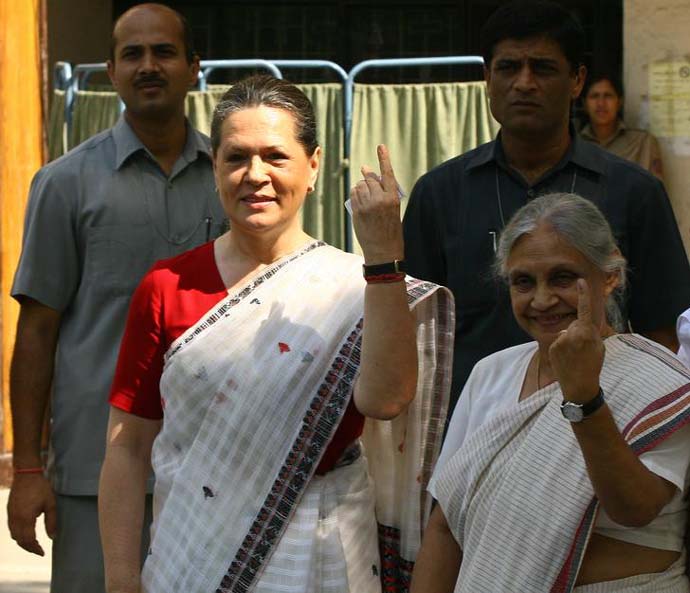 The High Command's wish was her ultimate guidepost. Always. (Photo: Reuters)
In a sense, Sheila Ji and Delhi at the turn of the century were made for each other. For much too long, Delhi had remained a political hell-hole, run like a collapsing municipal city-state with a narrow and parochial mindset. An expanding megapolis needed someone with a more open, modern and progressive outlook to marry an old creaking Delhi with a new, energised, increasingly cosmopolitan national capital.
The shift from the earthy robustness of the Madanlal Khuranas of the world to the more empathetic liberalism of a Sheila Dikshit was a pointer to a changing cityscape where a citizenry's vaulting aspirations needed someone who could fulfil them outside of the normal political fiefdoms.
Sheila Ji succeeded in transforming Delhi's skyline and urban infrastructure, in part helped by institutions like the courts which passed, for example, the historic CNG judgment, and in part assisted by her own desire to leave an imprint on a city she has lived in and loved.
The 'bhagiadari' scheme, for example, was a good example of the citizen-state partnership that was needed to get Delhi back on track. She didn't always succeed — the BRT road scheme didn't quite work, for example, and women's safety remained a major concern — but at least she never stopped trying, which is why Delhiites came to trust her and repose confidence in her as chief minister for three successive terms.
Indeed, she gave Delhi's growing influential middle class a voice at a time when the narrative of urban politics was slowly focusing more on good governance rather than divisive identity politics. Sheila Ji was, to that extent, an inclusive figure, able to bridge the divides between the Lutyens' VIP culture, middle-class colonies and jhuggi clusters —sharp social and cultural divisions that had left most people to believe that Delhi was both, an unlivable and an ungovernable city.
With her comforting presence, Sheila Ji became everyone's auntyji, accessible and always a steadying hand through good times and bad.
Delhi had found its middle-class compass to the future.
When Sheila Ji was eventually defeated in 2013, it was because this very fickle middle-class that had hailed her once as an agent of change now identified her with the vaulting corruption allegations swirling around the UPA-2.
The Commonwealth Games was meant to be the ultimate stamp of approval on Delhi's rapid transition into a truly 'new' Delhi and yet, ironically, it got trapped in the old India of patron-client favours. Suresh Kalmadi was the fall-guy but it was Sheila Ji who lost her political sheen.
Like so many popular long-serving politicians, she perhaps didn't quite come to terms with the sudden winds of disaffection swirling around her — or indeed, the shifting demographics of a city of teeming migrants, many of whom were living on the margins.
Sheila Dikshit lost a few elections but never her dignity. (Photo: India Today)
Riding on a wave of anti-corruption populism, Kejriwal made a dramatic entry into politics, a phenomenon which Sheila Ji couldn't quite grasp.
"You people are giving him too much publicity. How does he expect to fulfil all these promises of free electricity and water that he keeps making," she once asked with a quizzical look.
And yet, even when Kejriwal swept into power, Sheila Ji never lost her poise.
She lost a few elections but never her dignity, retiring quietly to her lovely elegant home in the upper-middle-class Nizamuddin neighbourhood.
This is perhaps where she should have faded away from public life but then politicians never really retire, or in her case, aren't allowed to.
Just ahead of the 2019 Lok Sabha elections, she chose to once again abide by the Congress High Command decision — this time to return as Delhi Congress president and even agree to contest the Lok Sabha polls from Delhi North East. It was a folly: she clearly wasn't in good health but was unwilling to let down her leadership in their hour of need.
The last time we met was when I interviewed her on the campaign trail in May this year.
I asked her how an 82-year-old was coping with the heat and dust of electioneering.
"Rajdeep Ji, correct yourself, I am 81, not 82," she pointed out emphatically.
And then as a punchline, when I asked her "How is the josh!", she replied instantly, "Don't worry, abhi toh main jawan hoon!"
Young at heart, always ready for an election battle, a people-centric initiative or a good Shahrukh Khan film, Sheila Dikshit's life and times is a reminder that there is still space for decency in public life.
Also Read: When Sheila Dikshit said to me, 'I know you. I have seen you on news channels'
The views and opinions expressed in this article are those of the authors and do not necessarily reflect the official policy or position of DailyO.in or the India Today Group. The writers are solely responsible for any claims arising out of the contents of this article.