Lt Gen DS Hooda (Retd): 'There is no harm in a retired general joining a political party. I am not joining the Congress though'
Lt General DS Hooda (Retd) spoke with Rohit E David about the national security strategy he has drafted at the behest of the Congress, the govt's Surgical Strike 1 and 2 and why the army does need AFSPA in Kashmir.
Lt General DS Hooda (Retd) has submitted a comprehensive strategy document on national security to Congress president Rahul Gandhi.
The Congress party had roped in Lt Gen Hooda in February this year to prepare a report. Hooda spoke with DailyO on some of the recommendations in the report — and his views on 'Armed Forces Special Protection Act' (AFSPA).
Q. What are your top 3 recommendations in the report given to the Congress?
Well, the national security strategy is a very comprehensive look at all our security requirements and how we can provide a safe internal and external environment for our citizens. There are many recommendations — it's difficult to say which three are most important.
The broad structure of the study is that we have looked at how India should find its rightful place in global affairs.
The second part is, how do we achieve a secure neighbourhood — we have issues with Pakistan, a boundary that's not settled with China, increasing Chinese influence in South Asia. The third part is, how do we resolve our internal conflicts like J&K, the north east. The fourth part is, how do we protect our people from emerging risks like climate change, environmental degradation, demographic challenges, cyber threats and technology disruption. And the final part of the study is on how we should build our capabilities in various areas.
When it comes to recommendations in the neighbourhood part, these are different for Pakistan and Afghanistan, how we manage our relations with China and the rest of our neighbours. I have also talked about having an Indian Ocean strategy.
Every country has a written national security strategy — that provides the basis of other organs of government to start taking action. If we don't have this strategy, then how does the military draw its own strategy? This provides a framework on how we can address future risks. I think that one broad framework of strategy is essential. Since the Congress commissioned this study, I am sure they will take these recommendations into consideration.
The Congress commissioned the study on national security strategy, headed by Lt General DS Hooda (Retd). (Source: Twitter)
Q. Are you closer to the Congress than the BJP?
When I had joined the National Defence Academy (NDA), I was 16 years old — I removed my uniform when I was 60 years old. So, most of my life has been in uniform. It teaches us to be apolitical.
Frankly, there is no political angle to this report. This is not my report, I have consulted various experts — we have all done this purely because we felt that we required some debate on national security in India and this is a task done in national interest.
Yes, the Congress needs to be complimented. Let's take a serious look at national security strategy. I do agree that there is no harm in a retired general joining any political party. I want to say that I'm not joining the Congress party.
And the report doesn't have any political angle to it.
Q. What are your views on the Balakot air strike which followed the Pulwama attack? Was it an effective response?
Yes, it was — we had lost 40 CRPF men, probably the deadliest attack. Response was essential.
I don't think anybody in the government could have even contemplated that we should not go ahead. And by using air response, we could give a strong message to Pakistan. I have no doubt whether the strikes actually happened — you have a person as senior as the chief of air staff stands up and say that we hit the target we wanted to.
We should not have doubts about the first surgical strikes either — I was there, I oversaw things.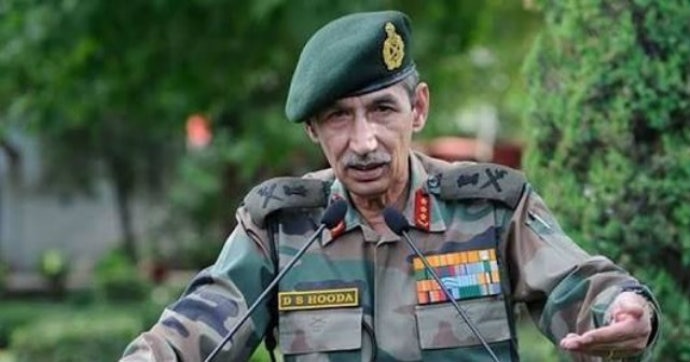 Nothing political about it: Lt General DS Hooda (Retd) says the national security strategy is a must and is apolitical. (Source: PTI)
Q. Congress' manifesto has sparked a debate on whether removing/reducing 'Armed Forces Special Protection Act' (AFSPA) will end militancy in Kashmir?
Militancy in Kashmir has many aspects, there is a cross-border terrorism factor, internal conflict, issues of radicalization, there are so many facets to militancy in Kashmir. Just talking about AFSPA will prevent us in finding a comprehensive strategy for Kashmir. I think this debate needs to be put on the backburner. We need to find effective responses to these issues in Kashmir.
If you want the army there, you need to have a legal act — otherwise the army can't operate.
Q. Should India have talks with Imran Khan and Pakistan on Kashmir?
I see Pakistan as a neighbour and at some stage, we need to have dialogue or talks. The only thing is that this dialogue needs to be result-oriented; it must lead to some result. If infiltration and ceasefire violation are going to continue, then I don't see any progress.
The ball is firmly in Pakistan's court — if takes some action against terror groups, then certainly, whatever talks take place will be positive.
Also read: AFSPA or political chutzpah? How the Congress' promise of reexamining AFSPA has sparked reactions in the Kashmir Valley
The views and opinions expressed in this article are those of the authors and do not necessarily reflect the official policy or position of DailyO.in or the India Today Group. The writers are solely responsible for any claims arising out of the contents of this article.