I am sure this tweet would have left millions in splits:
Hafiz Saeed, the fountainhead of anti-India terror networks in Pakistan, was reportedly absconding, with the Pakistani law enforcement agencies hot on his trail. Let your imagination take over. With this plot, any film would qualify for the Oscars hands down.
Gullibility is not a virtue. Especially, when a country is ready to cook up Harry Potteresque myths and make-believes. Still, with the intel at his disposal, the truth could not have been that far for Donald Trump.
Of course, there are other agendas at play.
It is only a matter of time before Hafiz Saeed is released. It has been the Pakistani norm for over a decade. (Photo: Reuters)
The US trade war with China is probably not going away anytime soon. The Strait of Hormuz is proving to be a tricky area — in more than one sense. India not abandoning its historic political and military ties — especially that of procuring military hardware from Russia — is another irritant for President Trump. Probably India retaliating to his tariffs sends out a signal that the new dispensation is no pushover and is keener to expand and strengthen ties in the neighbourhood, rather than focus all goodwill on distant foreign shores.
Coming back to Hafiz Saeed. Since 2012, the US has put a reward of $10 million for information that brings the Jamaat-ud Dawa (JuD) chief to justice.
Saeed operates freely in Pakistan. He operates under direct state patronage. He collects funds openly, on the streets in the name of organising jihad against India. And despite his arrest, he will continue to do so in the foreseeable future.
Once the summit meeting between Donald Trump and Pakistani Prime Minister is over on July 22 and if Financial Action Task Force (FATF) does not blacklist Pakistan in October, then I bet that Saeed will be out of jail by the end of 2019. It has been like this for a decade, and this is the way it will keep happening until the deep state in the neighbouring country is successful in mainstreaming him and his organisations politically.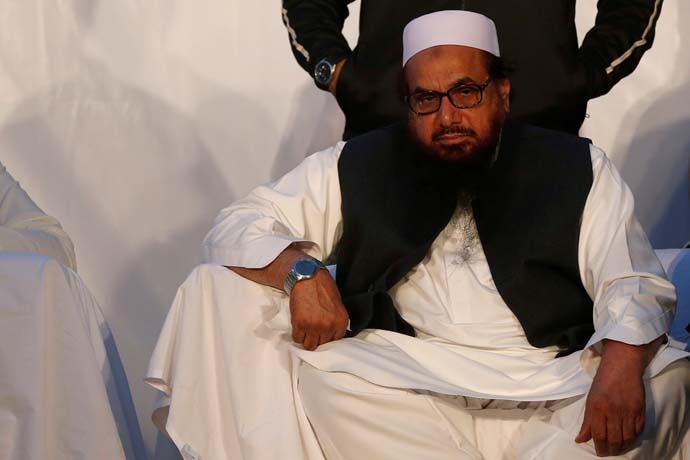 Saeed operates freely in Pakistan and will continue to do so in the foreseeable future, despite his arrest. (Photo: Reuters)
On July 17,  the International Court of Justice (ICJ) asked Pakistan to provide consular access to Kulbhushan Jadhav. It means that the international body has no faith in the judicial process in Pakistan. It is this same judicial process that has let Saeed go free for 'the lack of evidence' more than a few times.
Yes, Pakistan is important, more so when the superpower wants to get out of Afghanistan. However, it would be more logical and prudent to include India in the negotiations, especially, as it is invested emotionally and has heavy financial investments in the strife-torn state.
Have a nice summit, Mr President. And let nobody take you for a ride.