On the Sabrimala temple issue, the Supreme Court of India observed on April 13, 2016: "In Hindu dharma there is no denomination of a male or female. A Hindu is a Hindu."
And just like that a constitutional body has, probably for the first time anywhere in the world, become the interpreter of religious texts. In this it is protected by Article 25 (2) that deals with the right to religious freedom but allows the courts to intervene on social welfare and reform, but only on Hinduism. This inability to separate faith and state is now the definition of Indian secularism.
What this becomes is not just a ruling on access to a temple, but a reorder of the entire Hindu faith itself. The source of Hinduism is its Vedas. The Vedas contain entire texts devoted to women. While much is made of that favourite of the book-burners - the Manusmriti, which is not even a Vedic text but a second century code now overwritten by 18 centuries of lawmaking that left much of it behind, much like amendments to the current Constitution leave regressive laws behind - this ruling impacts the core texts of Hinduism, the ones that its philosophies are actually composed of. To say Hindus have no gender and are but Hindus, makes a mockery of much great philosophy.
Women offer prayers at the sanctum sanctorum of Shani Shingnapur temple for the first time in 400 years. 
The entire Ramayana revolves around Sita's abduction. And who wages war on the purity or abduction of a man? The entire Mahabharata was wrought upon the Pandu clan because of Draupadi laughing at Duryodhana in the palace of illusions. Kunti, Shakuntala, Maitreyi, Sati, Sita, Parvati, Gargi, Savitri, Ahalya and of course Sabari occur with various catalytic roles throughout Hindu literature. Their roles may be questioned or derided as sexist, and debated, but many texts are metaphorical, contain sub texts that a competent guru could explain, and are subject to interpretation, and they may not be arbitrarily removed from the religion by a non-religious body, and that too one that gives its followers the right to question it.
For example, my guru explained the Ramayana, as a metaphor: Sita as the mind, the deer as material wealth, Rama as the self, and Ravana as the ten senses who must be conquered else will be ruled by ego, ahamkara, and the subjugation of Sita in the purity ritual as the return to one-minded focus.
Others have other versions. Some take it at face value. Are we to toss out our texts and their interpretations because a judge decides it is a sexist story?
Within Hinduism, the issue of gender is complex and nuanced. Rites and rituals are defined in various parts of the Vedas. The principle of Shakti, the feminine principle of energy, is integral to understanding Vedic lore and, at once empowered with creation itself as well as destruction, is a very distinct energy from male avatars. Lord Ayyappa, at the centre of the Sabrimala debate, is born of Hara and Hari - Vishnu in the form of Mohini, both male principles.
So while the Supreme Court, if it so chose to reduce a spiritual union of male energies to physical form, may be well within its right here to ask why Hindus must be deprived of a law that decriminalises homosexuality, when it is in fact rich with religious precedent as evidenced here, sadly, the honorable court, unable to question the human rights' curtailing provisions of its own personal laws, is unable to bring up the real progressive questions of India for debate. Instead, it reduces Hindu gender to binaries. The principle of Shakti is also not restricted to women, it is permeable in men. Hence entire sects of male yogis devoted to female energies.
Durga puja is the worship of the Goddess Durga as the feminine principle.
So, as far as any Hindu knows, principles of male and female are not as distinct as the Honorable Judge would make them out to be. Neither is male or female a physical only form, nor is its energy restricted by the gender of the worshipper. Shiva lies in the Sahasrahara chakra and Shakti in the muladhara chakra, so all Hindus are in fact composites of both energies.These are nuanced positions most Hindus understand easily and are intrinsic to our religious ethos.
The legends of Sabarimala
The legends of Sabarimala, though there are many, one romantically portrays the ban on women as Ayappa's loyalty for the penance of a beautiful woman released from her curse by his slaying her demon form of Mahishi, also have to do with harnessing the inner male energies.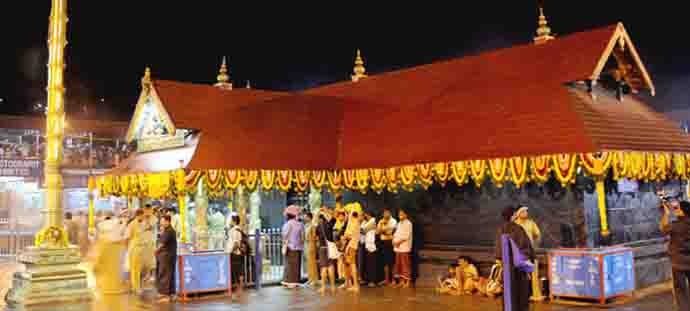 Devotees at Sabarimala temple.
Ayappa is the god of discipline. Mahishi symbolises the ego. It is in him that Hari and Hara, creation and destruction, come to harmony. The rigorous vows of celibacy, the 40 days penance, ironically, are a tribute to womanhood: they symbolise one day of penance for each week spent in a mother's womb. Woman, the symbolic Prakriti energy, or vehicle of creation is not available to man for these 40 days. Man must pull himself back from his function as procreator and the procreated. The black symbolises the nullifying of the colour spectrum, absorbing all differentiation into one.
Devotees do not even address each other by name during the pilgrimage. The physical state is forgotten, and the pilgrim must subsist on alms. The 18 steps symbolise 18 exercises to remind the student or the householder, of his need to transition to a state of detachment. Women may go up the hill all they want, Lord Ayyappa will survive the seduction of women pilgrims plenty. He is too advanced a master of the mind not to.
One may not be so sure of the men who make the climb though. The penance is for them. To remind themselves that they are one half of a whole, where they come from, who they depend on, and why balance is their function. That it is seen as rigorous penance, is indicative of why men need to probably do this more often, but once a year is enough.
No single Hindu philosophy
The Supreme Court also seems to be reducing Hindu philosophy to a single absolute certainty. Something Hindu sages, the progenitors of the philosophy themselves, never did. There is, contrary to popular opinion, no arbitration on who a brahmin should be. Ram was a kshatriya, Krishna was a Yadava, Shiva a tribal, a kirata, none of them brahmins. Rishi Aiterya, Vishwamitra, VedaVyasa, Matanga, Nammalvar... Ravana. Many material states in Hinduism are mutable.
The sages even in their expositions mark nothing but the highest truths as certainty. In Chapter II, brahmana 4, Brihadaranyaka Rishi Yajnavalkya asks of his wife Maitreyi who asks him for knowledge instead of the settlement of property he was about to give her before he left for the forest:
Yatra tv asya sarvam ātmāivābhūt:
"Where everything is the Self of knowledge, what does that Self know, except its own Self?"
This conversation with the most woman-friendly of Vedic sages - there is a later conversation with brahmavadini Gargi also in the same Upanishad - becomes the core of what is to be Advaita. Basically, that philosophy which says that, simply put, all soul, matter, energy, forms, are one.
Kumbh mela.
It is pertinent that Yajnavalkya was himself disowned by his guru, who annoyed by his constant questioning, asked for the knowledge he gave him back, which he vomited out and which was consumed physically by birds (tittiri), now forming the Taittirya Upanishad (and that's just one version of that story). Yajnavalkya then proceeded to seek the sun as his guru, and procured his own knowledge, which became the Shukla Yajur Veda.
All Hindus do not follow the Shukla Yajur Veda, and much of the caste distinctions are not merely whom you can choose to oppress, but is built on which school of Vedic study you traditionally follow. So when Yajnavalkya and Maitreyi propounded what was to be the base of Advaita philosophy, let's be clear, they were not following convention. That they were free not to do so, is the beauty of the space the religion lent them even at that conservative period of time.
No doubt, this entire body of knowledge and way of thinking is what the learned judge of the honorable Supreme Court was encapsulating and taking into account when he began to arbitrate what Hinduism says. He had clearly studied it, decoded all the caste links and structures, schools of knowledge, expounded it, and was only thus explaining it in open court. Which is an amazing feat, considering all commentaries and bhashyas on Hindu texts differ, even from sage to sage and commentator to commentator on the same line of Hindu text. Yajnavalkya warns Maitreyi: it is impossible to know the essence of finite beings.
Yet, the honorable judge, has defined all of Hindu Vedic dharma with the clear exposition of advaita, non differentiation. Where do the Visishtadvaitins, and the Dvaitins, who believe in differentiation, and other things, from Yogins to Nastikas, which Hinduism allows them to, apart from several other schools of thought, go?
The judicial arbitration of Hinduism's intrinsic principles reduces an entire religion to a monotheism and ignores the multiple layers of consciousness that form its spiritual temperament. The pantheon of Hindu gods exists so a devotee may adopt that which suits his form of bhakti, or adoration, which again is not the only path. Even wealth, duty, study take you there. One is not imposed on another. The myths and stories exist so Hindus lower down the plane of spiritual evolution may comprehend higher truths more easily, in the form of life lessons. The stories of avatars exist to exemplify ways of living and behaving. The Vedic texts exist for those who seek to question on higher planes. This ascent is not ordained by pundits but is open to each member of the faith as and when he or she finds himself seeking it. The multi-layered multi-faceted expansiveness of Hinduism is its fabric.
Ganesh Chaturthi.
So, yes, the women may enter Shani Shingnapur and the women may enter Sabarimala. Just like Maitreyi may have her own Upanishad. But to do so for the sake of a court-ordained mandate, by which every woman in Yajnavalkya's time may write their own Upanishad, betrays a lack of understanding of the religion. Of all religions on earth, it is Hinduism that refuses to apply a blanket formula for all spiritual growth and understands that every person finds their own ways of spiritual growth, through devotion, through duty, through study, through learning, through meditation, through yoga, through rebirth, and allows multiple channels to do so.
To force ascension is against the inbuilt progression of the religion itself. The Supreme Court, in adjudicating on matters it has no religious punditry over, and in doing so under the protection of the law, and the Constitution of India reduces Hinduism to a bunch of meaningless myths.
Without this spiritual understanding to back them, our temples are just stone houses, and our texts just myths we will never be able to explain. Hinduism's greatest temples have survived sieges, been shut, abandoned, looted, idols taken underground and protected against being misused, desecrated rather than their essence be lost. And Hinduism has survived it all. But these were mere physical attacks.
The current attack works against the essence of what constitutes the religion itself. By pandering to popular thought rather than any deep philosophical study of the religion or its tenets, it reduces it to its material facade.It is better, that rather than Hinduism suffer this fate, temples be shut down, rather than propagate this unthinking version of myths and stories that then hold no meaning intrinsic to the religion, and Hinduism recede to the space of private spiritual study.
Else Hinduism, under the protection of the Constitution of India, faces a fate worse than death.
It disintegrates into meaningless ritual.
If what the court says today stands as law, Hinduism in India is dead anyway.