They are well dressed, well coiffed, well spoken. He has two boys, she has three children. He's a political weathercock, she's a BBC weather girl-turned-chat show host. He is 62, she is 41. Both look good in Western clothes and even better in the loose flowing garments favoured by our posh Pakistani friends. And both speak Urdu with just the right touch of distaste. Im the Dim and Reham the Ravishing are what a troubled subcontinent was waiting for - so much so that they may even have their own soap on Zindagi TV, called what else, Imran par Reham karo.
Qubool hai!
Sorry, I know, I know. Imran Khan is a serious politician, chairman of the Pakistan Tehreek-e-Insaf, who almost became prime minister of Pakistan, at least in TV studios in Delhi and Islamabad. And being a former BBC weathergirl is serious business in a world afflicted by climate change. We must treat this union with the respect it deserves and be grateful to have a gilded new couple who will be as at ease in London drawing rooms as in New Delhi soirees, who will be at home slumming it on the political campaign trail as iin the quarters of army generals.
And yes, the playboy days are over. The days when a journalist could do an entire piece distracted by the sight of him reclining on a tiger skin clad in black silk boxers, or when Indian gossip columns could write breathlessly of his dalliance with the gorgeous Zeenat Aman, or even when London tabloids couldn't get enough of his marriage to Jemima Goldsmith - yes, she's back to Goldsmith, and has moved on from the high profile Hugh Grant to the even more high profile Russell Brand. Oops, sorry, that's over too.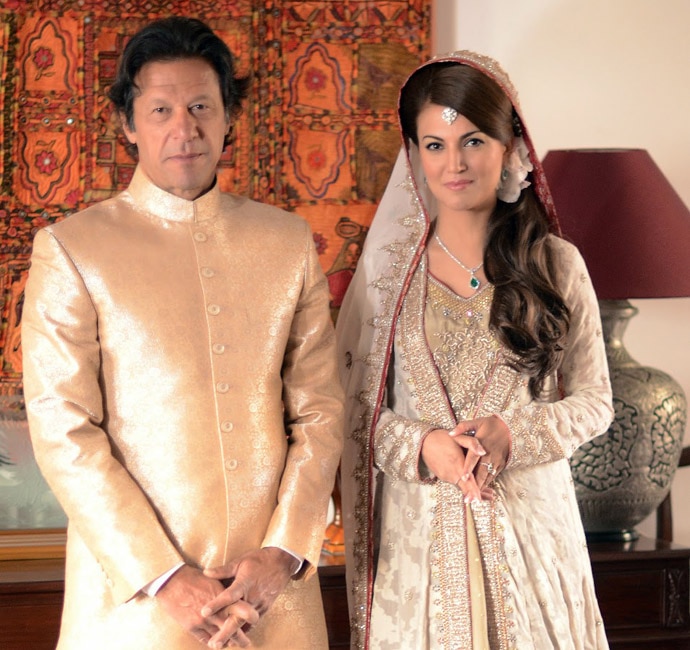 Is he going to be Imran Khalu from now on?
So is the era of Imran the playboy over? In the words of an acerbic Pakistani commentator, has the Khan finally become the Khalu? Indian women of a certain vintage (aww, all ages actually) have a new heart-throb, Fawad Khan. Pakistani cricketers are notoriously un-refined, and have been quickly replaced by the boys of TV, well manicured, well heeled and well. Smooth. And Indian actresses have become way too confident of their own beauty and success to throw themselves at the first gora (or semi gora) who comes their way. Forget Imran and Zeenat, one can't even envisage a Mohsin Khan-Reena Roy any more.
Side-by-side: The newly-wedded couple.
That doesn't mean we won't be following the exploits of ImRe, as their well meaning friends in India queue up to celebrate their marriage - so what if Imran's sisters have turned up their noses at their new sister-in-law. We will want to see what Reham wears and how many former members of the begum brigade give her the side-eye.
But think of it this way, begums. With Reham by his side, at least he will have more than enough practice with TV interviews. Watch Reham's interview with Imran on Aaj With Reham to see how she keeps him on his toes. Hmm, and perhaps she can finally do something about that ageing rocker hair.