And once again, India has cancelled a meeting with Pakistan.
India's Ministry of External Affairs issued a press release in words most unsavoury, unheard of in a formal, official statement of any ministry of foreign affairs.
While many in the jingoistic Indian media, political realm and Twitter terrain applauded the "slap" given to Pakistan, and many in Pakistan are glad to see India expose its "nefarious" agenda of maintaining the status quo of hostility with Pakistan, the rational and the peace-seekers are merely shaking their head.
A "tight slap", or a proof of intentions? MEA cancelling meeting with Pakistan not good for either nation. (Photo: PTI)
Nothing changes, and not because Pakistan is bad, harbours plans of India's destruction, wishes for mayhem through proxy warfare in Kashmir — officially and colloquially known in Pakistan as the Indian-occupied Kashmir — and wants a state of war with India. After the September 21 cancellation of the scheduled meeting of Pakistan's Foreign Minister Shah Mehmood Qureshi and India's External Affairs Minister Sushma Swaraj on the sidelines of UNGA, I had only one thought: India did not and India does not wish to have peace with Pakistan. Period.
Being a patriotic Pakistani who is a staunch proponent of formation of a good relationship with India, divesting it of negativity of mistrust, malevolence, insistence to have stakes in the three-pronged paradigm of Kashmir's reality (pro-India, pro-Pakistan, pro-self-rule), I say with dismay and an acute sense of disappointment that India does not wish to have a peaceful — forget about a good — relationship with Pakistan.
It is pointless to go into the long list of grievances on both sides, more raucously uttered by the Indian side — the size of the media, loud, jingoistic anchors and relentlessness of anti-Pakistan narrative being pushed non-stop since at least 2014 (that's when I started paying attention to the Indian media) ensures that India stands as the victim, the nice guy, the peace-seeker, the non-aggressive one.
It is Pakistan that is evil.
So much for assumed pragmatism of a country with its aspiration to become the next big global power versus the reality of petulance shown in its official stance vis-à-vis Pakistan, worded in language that suits the sensibility of a sulking teenager, or the incoherent rage of a villain in a James Bond movie.
I'm not a foreign policy expert, or a politician, I don't work for a think tank, or a media house, and I don't have anything to gain with my unswerving stance to see peace between Pakistan and India. I write, and I try to present the reality of issues that are mostly shown with partisanship, agenda-driven tilts and self-serving narratives. Today I merely wish to, through my article, present a few facts.
Facts matter, before reality is overwhelmed by hyperbole and bombast. Here are two statements, the first one from India's MEA, and the other a response from Pakistan's Foreign office.
India: "It is obvious that behind Pakistan's proposal for talks to make a fresh beginning, the evil agenda of Pakistan stands exposed and the true face of the new Prime Minister Imran Khan has been revealed to the world in his first few months in office."
Pakistan: "[Imran Khan] had clearly stated that if India took one step forward, Pakistan would take two. In the same spirit, PM Khan in his reply letter endorsed PM Modi's call for 'constructive engagement' and proposed the meeting of the two foreign ministers in New York to discuss a way forward on bilateral and SAARC-related matters."
A proponet of peace: Imran Khan wants dialogue. (Photo: Reuters)
Imran Khan has been in power for just one month, not a "few months" as announced by the Indian MEA in its statement, ergo "revealing of his true face" is based on a non-factual premise.
Pakistan's supposed "evil agenda" is that of peace, in the words of its prime minister, Chief of the Army Staff (COAS), foreign minister and president.
On the accusations levelled by the MEA that have been used as pretexts to cancel the meeting, the Pakistan Foreign Office issued statements.
On the alleged killing of a BSF soldier, the Pakistan Foreign Office said: "When the allegations of Pakistan's involvement first appeared, Pakistan Rangers clearly conveyed to BSF through official channels that Pakistan had nothing to do with it. Pakistan Rangers also extended help in efforts to locate the soldier's body."
The second issue of stamps issued by Pakistan to express its solidarity for Kashmiris, "Islamabad clarified that the postage stamps mentioned in the Indian statement were issued before the July 25 elections, following which Prime Minister Imran Khan assumed office."
And that, "The stamps highlight the gross and systematic human rights violations in Indian Occupied Kashmir, which were also extensively documented in a comprehensive report issued by the UNHC for Human Rights as late as June 2018."
September 21, 2018: Dr Arif Alvi, the President of Pakistan, tweeted: "Sad to see India backing off from FM level talks. Mutual reservations could have been placed on the table. Kashmiris face only disappointment on the International DayOf Peace. PM Imran Khan's outstanding peace overture negated in their usual belligerent manner." 
September 20, 2018: after the announcement of the meeting in New York, Mirwaiz Umar Farooq of Kashmir tweeted: "Welcome Pakistan Prime Minister Imran Khan's positive response of resolving issues including Kashmir through constructive & meaningful dialogue. People of J&K always support every initiative of lasting peace, whose assured way is through resolution of the Kashmir Dispute as per universal principles of justice and humanity. Hope Indian Prime Minister Narendra Modi reciprocates the spirit." 
August 19, 2018: General Qamar Bajwa, Chief of Army Staff Pakistan, after his now stuff-of-legends hug to India's Navjot Singh Sidhu, said: "Navjot, we want peace. When you celebrate the 550th birthday of Baba Nanak, we'll open the Kartarpur-Sahib Corridor. We'll even think of doing better things."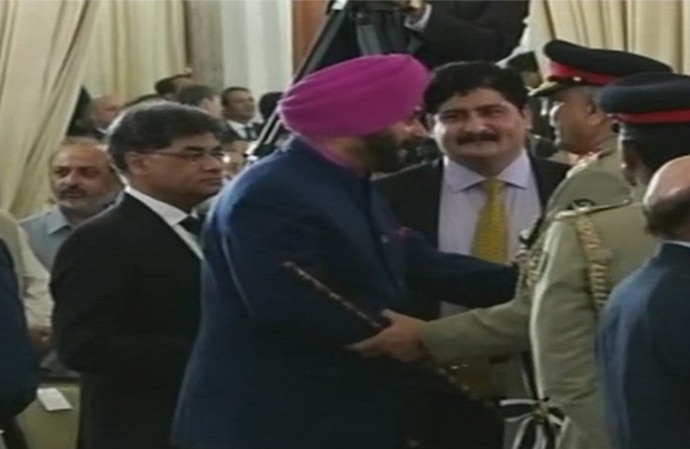 Is "Hug-plomacy" all India can offer? (Photo: Indiatoday.in)
July 26, 2018: in his first address to the nation after his, at that point, unofficial electoral victory, Imran Khan said:
"I think it'll be very good for all of us if we have good relations with India. We need to have trade ties, and the more we trade, both countries will benefit. The unfortunate truth is that Kashmir is a core issue, and the situation in Kashmir, and what the people of Kashmir have seen in the last 30 years, they have really suffered. Pakistan and India's leadership should sit at a table and try to fix this problem. It's not going anywhere. We are at square one right now [with India]. If India's leadership is ready, we are ready to improve ties with India. If you take one step, we will take two steps forward. I say this with conviction that this will be the most important thing for the subcontinent: both countries to have friendship."
September 22, 2018: Naeem-ul-Haq, the Special Assistant to Prime Minister Khan, tweeted: In December 2015, at a meeting in New Delhi, Imran Khan told [Narendra] Modi that attempts will be made to sabotage the peace process between India and Pakistan, and it is important not to succumb to them. And today Modi has done exactly that and more, by attacking PM Imran Khan in a very rude and malicious statement."
Imran Khan during his first visit as the Prime Minister of Pakistan to Saudi Arabia in an interview to Saudi media, spoke about the need to resolve the Saudi-Yemen issue through dialogue. "I feel that every conflict has a political solution. I am not a believer in a military solution."
Pakistan's support of the cause of Kashmiris — notwithstanding its open and non-so-open nature in the past — is moral, diplomatic and non-aggressive.
Statements of pro-freedom leaders — like Mirwaiz — applauding Pakistan's desire to have dialogue with India on all outstanding issues, the most important one being that of Kashmir, is testament to that.
Pakistan, in its present scenario of economic instability and myriad issues, does not and will not show any tacit or public endorsement of any narrative that would be detrimental to its short- and long-term rehabilitation — internally, regionally and internationally.
Prime Minister Khan's two-decade-long stance of non-aggression, insistence on having dialogue to resolve issues, condemnation of war, condemnation of drone attacks, and rehabilitation of displaced people is proof of his pro-peace ideals and politics.
Pakistan under the leadership of Imran Khan wishes to have peace in the region, and that will never be more than a dream if the conflict in Afghanistan and Kashmir continues. Pakistan has much to gain from dividends of peace, having suffered incalculable human and material losses, a consequence of being embroiled in internal and external wars. Pakistan has nothing to gain from war with India, especially through proxy fighting in Kashmir. And no one is better suited to lead that Pakistan than the pro-peace, pro-dialogue, and anti-war Prime Minister of Pakistan: Imran Khan.
Pro-peace, pro-dialogue, and anti-war. Then why does India hate Imran Khan? (Photo: Reuters)
A country the size and stature of India must behave the way it wishes to be perceived regionally and globally.
Amidst the explosive scandal of Rafale, India is allegedly indulging in the wag the dog tactic trying to tackle the crisis at home. Instead of throwing a hissy fit after allegations — that the Pakistan government has repeatedly and categorically denied — the Indian government should have gone ahead with the meeting, presented its lists of grievances to Pakistan in an official meeting, and demanded an investigation.
Pakistan, in the same meeting, could have presented its complaints and its deep reservations on the issue of human rights violations in Kashmir.
Issues are solved between parties that talk, not when a big country sulks and cancels meetings and summits, increases the wires on border and issues non-stop maliciously-worded statements against its smaller neighbour.
Dialogue between two sovereign states is not Aman Ki Asha, or an empty pappi-jhappi of peaceniks — dialogue is the way forward. One has to keep talking, despite issues, despite mistrust and despite pushbacks.
That is how real stakes are formed.
Things move forward. Bilateral interests are identified. People-to-people interaction is strengthened. Bilateral trade is increased.
Financial stakes are a great modifier, even in times of hostility. Look at China and the US. Or China and India. Dialogue initiates, continues and propels the narrative of peace forward, finding tangible solutions and long-term practical steps.
It was evident on September 22, 2018, who between Pakistan and India does not want peace.
NB: On checking my Twitter timeline after finishing this article, I saw Prime Minister Khan's tweet to India, and this is my response:
I stand with Prime Minister Imran Khan. His real face: he is pro-peace, pro-dialogue, anti-terrorism, anti-war. Yes, India is a big country with leaders who seem to have a small vision and a small heart. After directly insulting our Prime Minister, what you've shown, India, is smallness of everything.