'The first choice of Kashmiris,' veteran Congress leader Saifuddin Soz has reportedly said to whoever was listening, 'is independence.'
Saying It Like Soz.
The statement has been greeted with the proverbial storm in several kahwa cups, the BJP delightedly seizing yet another opportunity to attack a gob-smacked Congress, trying to figure out how to put some distance between itself and another of its leaders who's fallen into a rhetorical pothole. Meanwhile, a flurry of voices has broken out online, from those demanding to send Soz on a one-way ticket to Pakistan, to others who appear to want to accompany him.
But the whole 'reaction to Soz' is unnecessary.
It is also the cruelest joke on the people of Kashmir. 
There is a simple reason – 'independence' is the debit card issued by a very particular 'Bank of Kashmir'.
This 'Bank of Kashmir' has few but rather special clients. These include politicians from the state – relatively easy to bank on, given that the state has two major parties, each controlled by political families and friends. Both parties have a jealously guarded interest in keeping Kashmir closed-off, clutched close to their beautifully-dressed selves. The less Kashmir is truly free, the more the power of these parties. 
Such fun parties! It actually suits all its political players to keep Kashmir closed-off. 
The second lot to be serviced by the 'Bank of Kashmir' is the separatists – led by Syed Ali Shah Geelani (the ancient mariner of the Valley, who sits metaphorically upon its shoulders, slowly choking it), Mirwaiz Umar Farooq, whose bespectacled looks distract you from the violence he has reportedly influenced, and Yasin Malik who looks exactly what he apparently is – a cheap sadak-type thug. 
Separatists also have accounts with the 'Bank of Kashmir'.
None of these blokes is very pretty to see – but then, they are useful not because of their looks. 
They are useful as they apparently answer Pakistan's every beck and call, stir the independence/militancy/jihadi violence pot, produce strikes and stone-pelters on the streets, look after slain militants' families, provide rent-a-mob services to whoever can pay premium rates.
This explains why these separatists, despite being at the forefront of some of the worst violence Kashmir has seen, are generally imprisoned in comfy 'house arrest'. It would seem to many of us that the Cellular Jail in the Andamans might be a better location for them. But instead, they're found nestled in the comfort of their carpet-clad homes, enjoying the Indian state's security, comforts, free bijli-paani. They will never be behind real bars for they are vital cogs in the running of the 'Bank of Kashmir'.
The third group comprises various civil society-type 'angels-without-wings' – AWWs – who spend sleepless nights worrying about human rights abuses in Srinagar. They take occasional breaks from worrying though – such as when militants murder unarmed soldiers or civilians. When a shepherd is beheaded in his own backyard. When a teacher is killed for simply lingering near a security op. When a girl-band is shut down by Kashmir's 'Grand Mufti' and its 'I'm-so-cool' chief minister doesn't lift one finger – not even to tweet in lazy protest then. 
No, the AWWs are not unduly worried about how, by backing Burhan Wanis, they are pushing Kashmir towards a Kabul-esque harakiri, towards the suicide bomber-embrace of ISIS, the public thrashings of the Taliban, the 'liberalism' of Laskhar, the 'secularism' of Hafiz Saeed.
The Taliban dispenses its 'justice' – and this is what the 'independence' brigade wants for Kashmir? (Reuters)
Instead, they chant 'independence'.
From what? And to what? Who knows? Who really cares?
With advocates like these, 'independence' is the cruelest joke that has been played on Kashmir. 
While chanting 'independence' over all these years, the 'Bank of Kashmir' has managed to do the unthinkable. Lock up Kashmir. Throw away the keys. Imprison the state under an Article that has only put Kashmir in an aquarium of poisoned, backward ignorance, where it goggles like a stranger with memory loss at its own country, where it drowns under the waters of its unawareness and fear.
I visited Kashmir recently and was startled to see how behind the times it is.
Srinagar has one – only one – decent bookshop. It has one – only one – decent restaurant. It has one – no, none by way of cinema halls. It has no malls. No seminar halls, no lecture theatres, no coffee shops, no sidewalks, no taxi ranks, no markets, no clubs, no gardens, no lovers' haunts, not even one shikara where a sharp fear does not prevail. The fear is two-pronged. The armed forces. And, even more, armed militants – propped up by that ever-helpful 'Bank of Kashmir'.
Can you imagine the state of the people caught between the two?
There is little wonder so many are befuddled with Stockholm Syndrome; just replace 'Stockholm' with 'Srinagar' and you will get why they mutter azaadi under their breath, why they look towards the border – that one, described best by S'aadat Manto in his tales of madmen – with the tatters of hope, why they think anything would be better than this, the status quo.
But here's the thing – all of us don't live in Kashmir.
All of us don't suffer from Srinagar Syndrome.
And all of us most definitely don't operate at the 'Bank of Kashmir'.
Kashmir receives most generously by way of central funding. Jammu and Kashmir has one percent of the country's population – but, from 2010-2016, it reportedly received 10% of government aid. Uttar Pradesh has 13 per cent of the country's population – it received 8.2% of government aid. 
Union Finance Ministry data shows, over those 16 years, J&K received Rs. 1.14 lakh crores Central funds – more than a quarter of those disbursed to 11 'special category' states. The region continues to operate on a 90:10 government welfare scheme ratio, the '10' being state funds, the '90' coming from the Centre. And, despite auditors red-flagging sizable gaps where central funds have gone, the BJP government did little to address this situation.
In 2017, PM Modi's government announced a Rs 80,000 crore development package for Jammu and Kashmir.
That's our money – yours and mine.
Our hard-earned money that goes to Kashmir, to help its people – our people – have schools and colleges they can attend without fear, to have jobs they can aspire to without paying bribes, to have the decencies, the opportunities, the little joys, the big dreams, the hubbub and the peace every good life on this earth should have.
To have a life. To not sit around dreaming of anyone's death.
Why hasn't this happened? Where has our money gone?
Why, when we ask this question, are we always given the same old tatty fairy-tale – there was once a drunken maharaja. And a pushy PM. The maharaja signed away a land that wasn't really his. The land had to assent when a newly formed republic that had already begun to rot sent across some of its savages to pillage and rape. In exchange for protection, the pushy PM first clasped Kashmir to his aristocratic bosom, then stabbed it in the back when he discovered its unease. The pushy PM jealously locked up Kashmir's popular leader and thus imprisoned democracy there for decades.
The pushy PM's party was clever though.
It fore-fronted intellectuals, thinkers, writers who spoke about 'freedom' movingly, even as Kashmir's cinema halls became torture theatres, its Pandits were made exiles overnight, its villagers lived, not knowing if they'd be raped, killed or converted to militancy in their own apple orchards, their small saffron farms.
The card trick worked. Somehow, we, the people, became the oppressors of Kashmir. And they, the 'Bank of Kashmir' lot, became the translators of its dreams. Thus, till today, 'No wonder they want independence,' crows the 'Bank of Kashmir'. 'No wonder they hate you,' they sing.
It's time to stop paying them any attention.
Time to throw off the peculiarly filmi nightmare – think a Dilip Kumar movie without any songs – Kashmir's past has been.
It's time to imagine Kashmir as a place which only has a 'now' – for that is its only hope of any future.
It's time to talk as tax-payers who have funded this state over years, as Indian citizens whose hearts feel for those standing beside a stony border, as young people who don't care about the half-torn myths of the past, but think instead about cold, hard facts.
For every statement about Kashmir's 'independence', it's time to cut the codswallop and talk of development instead.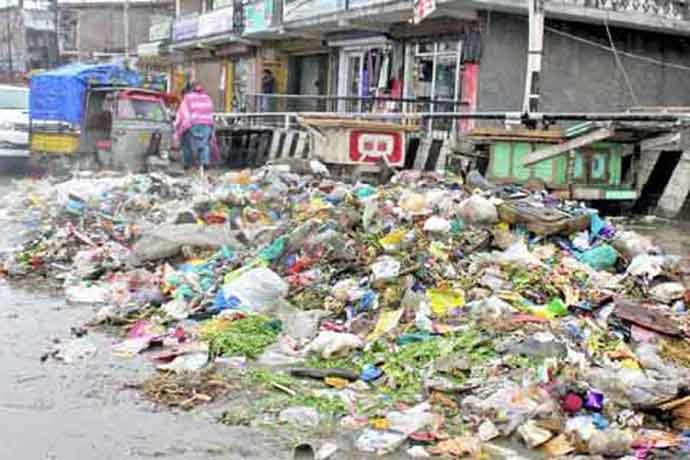 Paradise on earth – oh really? (Photo credit: Greater Kashmir)
Many Kashmiris don't realise how their minds have been held captive by the 'Bank of Kashmir'.
But we do. Because, despite everything, we know what real independence means. It's not perfect – but it's free of Hafiz Saeed's tender mercies. It's not perfect. But it will save Kashmir from becoming another Kabul.