BJP spells out sales pitch: Our Harvard gowns come with the saffron goons
Jayant Sinha, Giriraj Singh episodes is basically the party telling us it stands, whole and soul, for Hindutva, and will not be shamed for it.
The build-up to the 2014 General Elections had a heady feel. There was the promise of change in the air, of a rusted, corrupt establishment about to be overturned, of merit challenging inheritance, of honest, middle-class "hard work" about to trump privileged, elite "Harvard".
As another General Election approaches, Harvard is suddenly part of political conversations again.
This time, it is to mark a distinction within that party of promise. The BJP, supposedly, has two sides to it — one is the hardline, hardboiled Mandir variety, the other is achche din, vikas, merit category.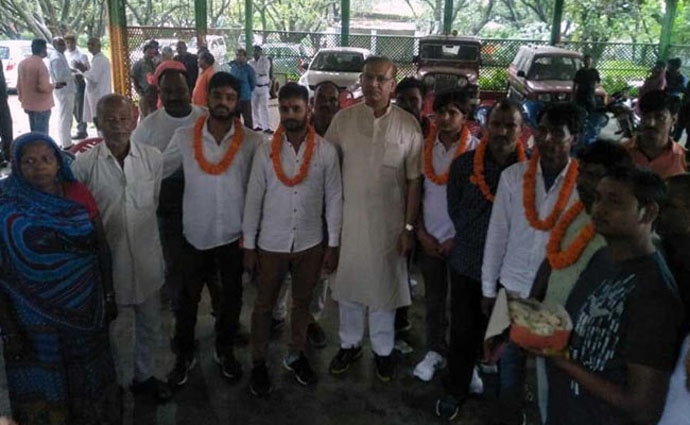 Et tu, Jayant? The 'even Jayant Sinha' tone of outrage suggests that it is acceptable for the earthier brand of leaders to fete convicts. (Photo: PTI)
In the past few days, the Harvard gown has shown splotches of saffron.
Harvard alumnus Jayant Sinha, a leading light of the "merit" group, and Giriraj Singh, a committed soldier of the "mandir" camp, have behaved in a strikingly similar fashion — Sinha garlanded eight men convicted of lynching a meat trader in Jharkhand, Singh wept while meeting families of men arrested for Ramnavami riots, whom he had earlier met in jail, in Bihar.
That two Union ministers — Sinha is MoS, civil aviation, Singh, MSME — chose to publicly commiserate with those linked to serious crimes should ideally have been anomalies, and their party and the government should have chided them.
But what they are is part of a pattern — and by extension, a spelling out of the party stand. BJP leaders have been backing those accused of communal crimes since 2015, but the leaders thus charged were mostly the mandir group. Sinha garlanding the Jharkhand convicts is erasing the duality — the BJP is making it clear that the party, whole and soul, stands for Hindutva, and will not be shamed for it.
The outrage is the story
In 2015, when Mohammad Akhlaq was lynched in Dadri, Uttar Pradesh, BJP MLA Sangeet Som promised bail to the accused. A year later, when one of the accused died, MoS Dr Mahesh Sharma visited his village and his body was draped in the tricolour.
In the Kathua gangrape and murder case, a number of BJP leaders backed the accused. After another lynching in Jharkhand last month, BJP MP Nishikant Dubey said he would pay for the defence of the accused.
Yet, the outrage over Sinha's actions seems to have an element of stunned incredulity, or resigned inevitability — "Et tu, Jayant? Then fall, BJP! (from grace)."
Not his first time: Bihar MP Giriraj Singh had once suggested that Modi's critics should be sent to Pakistan. (Photo: PTI/File)
But the very fact that Sinha was being counted among the "liberal camp" is a telling commentary on our times. The minister did not once speak out against his more rabid colleagues, did not criticise his party's problematic stances. His only "liberal" credential is not having made an overtly communal comment so far.
When our definition of a "sane voice" is one that stays silent as the ruling party vilifies, mocks, threatens those it doesn't like, it shows how firmly hatemongering has been normalised.
Also, when we reserve greater outrage for a "polished, well educated" minister like Sinha, we imply that it is acceptable for the earthier variety of leaders to engage in communal actions and utterances, creating the first chinks in what should be a non-negotiable boundary.
But who is 'hardline Hindutva' for?
This distinction of vikas versus Hindutva is made not just among the BJP's members, but also its supporters — there are those who want nothing but the Hindu rashtra, others want a better governed Hindustan.
Now, as the 2019 elections come closer and the promised "achche din" are nowhere in sight, the BJP is falling back on Hindutva.
But for exactly whose benefit?
Flagging the issue: In 2016, when a Dadri lynching accused died, Union minister Mahesh Sharma visited his family, and his coffin was draped with the tricolour. Photo: Twitter
The hardline Hindutva varieties will anyway vote for the BJP, the party does not need to play to that gallery. So, is it now totally abandoning the fig leaf of vikas, and making an open appeal – "Hindutva is all we have to offer, here is a more potent version". This is appealing to the basest emotions of people — bullying, the glee of being a part of the powerful majority, letting your most irrational prejudices run riot.
Communalism was not invented by the BJP — every political party panders to the majority community. But the BJP is reshaping the public discourse like never before. Previous parties passed laws to ban cow slaughter — a decision of appeasement, but very much accepted practice of a civilised society.
What the BJP is encouraging is jungle law — "slaughter those who kill cows, we have your back."
Through such actions, the BJP government is betraying its mandate and its duty to the country. It is also betraying those who voted for it in 2014 attracted by its promise of change.
The BJP won the last election on the rhetoric of hope. By 2019, its biggest USP has become fear.
Also read: It's Realpolitik: Why it's erroneous to corner Jayant Sinha over garlanding Jharkhand lynching case convicts
The views and opinions expressed in this article are those of the authors and do not necessarily reflect the official policy or position of DailyO.in or the India Today Group. The writers are solely responsible for any claims arising out of the contents of this article.