The Battle for Bengal: Why Mamata Banerjee is Kolkata's only hope against BJP
Mocked once as 'lower class' compared to the suave Buddhadev and the urbane Jyoti babu, Mamata is now the only hope of the same bhodrolok against the surge of the Sangh Parivar.
For years since Independence, Indian democracy had acceptable, urbane, suave and cosmopolitan faces at the top of the power hierarchy that ruled, by delegating to grassroots level leaders who were anything but urbane and acceptable.
The people always did choose from among themselves those they could relate to, but the reins of power were held ultimately by these faces.
Things started changing after the Emergency — one of the biggest shocks to the system was having a Lalu Prasad Yadav as Chief Minister of Bihar. But he earned his spurs fighting the controversial Maintenance of Internal Security Act (MISA) and opposing the Emergency along with LK Advani and George Fernandes. His rustic crudity was soon overlooked and he earned the admiration of the seculars and liberals of that time when he stopped Advani's Rathyatra from entering Bihar — that one act of his made everyone overlook his sins. There were titters when Rabri Devi was made CM — but that was not cause for outrage.
There was outrage among the upper classes when Modi became the PM and further shock and when Yogi Adityanath became UP CM.
Now, we have Pragya Thakur in Parliament.
But the shocked seemed to forget that Yogi was not new to politics. People have always chosen from among their own, but the faces at the top have, by and large, been what the BJP describes as the "Lutyens" types — and the urban, western-educated elite has, for all these years, been complacent in the belief that they are in control, looking with disdain and hauteur at what goes on beneath, assured that the scum won't rise to the surface.
Or what they consider scum.
Far from comic: Although he cultivated a rustic image, Lalu Prasad was one of the shrewdest post-Emergency netas. (Photo: PTI)
The politician of today who articulates and validates the belief system of the bulk of Indians — and all the religion, superstition, caste, creed that comes with it as a package — can go right up to the top. That's how you got Modi and that's how you got Adityanath or Pragya Thakur. This is an overthrow of the political class system where subaltern India has occupied its space.
When many urban cosmopolitan people bitterly talk or joke about some random godman or some lyncher becoming PM or President, they should realise it's not in the realms of impossibility. That old hierarchy of legal luminaries, erudite men and women of intellect, landed 'old money' aristocracy that gave the superficial gloss to India and made it look presentable has not gone but changed. Call it majoritarianism if you will, perhaps kakistocracy, but "Yatha Praja Tatha Raja" is now a reality everyone has to come to terms with and cater to.
Of all the states that have to deal with the winds of change, the most painful experience is probably that of West Bengal, and more specifically, Kolkata — the city I was born and raised in.
My parents believed in Nehru and Gandhi, and lived in thrift, while all around them, public servants and government contractors grew fat in corruption during the license raj.
And like so many others of their contemporaries, they grew disillusioned, bitter and finally resentful around the 1990s when consumerism and inflation raced past their meagre savings and left them gasping far behind. But even though we were so discerning in our disenchantment in our teenage years in West Bengal, with the un-enterprising bourgeoisie socialist Bengali middle class of our elder generation, many of us still joined student groups like the Students Federation of India (SFI) and the Democratic Youth Federation of India (DYFI), thinking they could make a difference.
Very few of us probably noticed the paradox of Leftists (among them, the ruling party's own student body) carrying on demonstrations in the streets every other day against the system — burning trams and buses and causing financial loss to the state, while their own people were in power. Those were the wonder years of growing up under the Foreign Hand and the Centre-Which-Neglected-Us. A benign state government looked on avuncularly at our activities, with their professors and "intellectuals" in place in college campuses to give us our next heady fix the following day. Those were the days of polemics and jargon that sounded downright funny — especially in the vernacular — and Kafka and platonic romance in petromax-lit teashops with girls who called you "da" (brother) and didn't bother with grooming.
So while another generation of bourgeoisie middle class collaborators was being created, we never saw what was happening in the villages right outside Calcutta.
Dissent of any kind was being crushed — not with tomes of literature and film festivals — but in more orthodox and brutal ways, and care was taken so that no other party could rule West Bengal for another 30 years. Our class enemy was the neighbourhood Marwari who found himself in the peculiar position of having to give employment to the locals, yet suffer their lockouts and bandhs, and keep the ruling party going with substantial donations under duress, now and then.
Part of the reason why the Leftists came to power in the early 1980s is because of the repression of the Congress government of the 1970s.
C for Cruelty: Congress leader Siddhartha Shankar Ray's govt crushed the Naxal movement brutally, leaving many families childless. (Photo: Getty images)
Siddhartha Shankar Ray's government crushed the Naxal movement with a heavy hand.
In the process, there were terrible excesses in a rule of terror — which left many families childless. Names of notorious police officers like Runu Guha Niyogi became household words. The sensibilities of the Bengali bhadrolok, reared in the soothing nuances of Tagore songs and the mellowing influences of the Renaissance, were horrified.
Blood is something abstract — the stuff of poetry and upheavals in "other" places not quite civilised. Not something you touch and smell and see oozing out of your innocent English-educated 17-year-old son's body, killed in an encounter.
The bhadrolok would never forgive the Congress for having brought blood to its doorstep.
The CPM cultivated the bhodralok image assiduously. They were "our kind of people." An urbane CM drinking Scotch goes down well with us. Its propaganda covered up its misdeeds in the villages. We bhadroloks don't mind blood as long as we don't see it. And there weren't so many pesky independent TV channels in those days.
The CPM built up a strong brand which we all bought into.
That brand was destroyed — blood was brought to our doorsteps again.
There was a great sense of betrayal among the Bengali intellectuals. And there was a great sense of embarrassment too — at the proof of their own complicity and denial all these 30 years that led to the tragedies that have bloodied West Bengal in all those years.
Bengal has been going through a continuum of disgust and cynicism cyclically.
West Bengal voted for political change by ending the 34-year-long rule of the longest democratically elected Left regime in the world in 2011. The All India Trinamool Congress (TMC) ushered in this change. Brought up in a poor family where, as a girl of 17, she had to witness her father dying because he could not afford medicines, Mamata was as subaltern as they come. In 1990, she was hospitalised for a month after being attacked by rival party workers during a rally, fracturing her skull. In 1993, she was injured again during a protest in which many were shot dead by the police.
Mamata's graph of progress has seen chaotic times — and the TMC's brand of politics is no less violent than the CPM it replaced.
The TMC rank and file was swiftly revealed as a ragtag band of mercenaries at the street level, many of whom are lumpen elements of the former Left government who have simply jumped ship. It did not take long for disillusionment to sink in with the TMC, with the Saradha scam exposed in 2013 and the Narada sting operation came to light in March 2016. The economy of West Bengal hardly improved. What is visible is the dazzling lighting of the city, the obsessive painting of every square inch of public space in a particular shade of blue, the playing of sonorous Rabindra Sangeet at traffic signals, and various impromptu "melas" showcasing Bengali snacks and local singers (purportedly as drivers of the economy).
Brand TMC: Despite sporting Didi, TMC's politics turned out no less violent than the CPM it replaced. (Representational photo: PTI)
The wound of Partition though is a dormant volcano in the minds of an extensive demographic in West Bengal. Many ancestors of the present generation were uprooted from East Bengal and many lost life and property in riots. The Left stood by the refugees and helped them join the mainstream. Yet, horrific stories have been handed down and there is a collective memory full of resentment. To them, Subhash Bose was also given a raw deal by the Congress and betrayed by Gandhi in particular.
No wonder the BJP co-opted Bose's nephew Chandrakumar only for his lineage.
Today, the Trinamool is also perceived to be following a policy of appeasing Muslims and helping illegal Muslim trespassers from Bangladesh to settle on this side. The TMC is accused of forcing people to vote for them through violence, intimidation and murder — like the CPM used to. And the liberals and seculars have been reduced to mere spectators today.
All their talk of the Bengal Renaissance, the inclusivity of Tagore and Satyajit Ray, the syncretic nature of Bengali literature, art and culture falls on deaf ears.
What one witnessed around 2017-2018 was hitherto non-communal individuals developing sudden victimhood on account of his/her Hindu identity, and asserting that aggressively — this is unprecedented in Bengal.
Food fascism is up next, as a beef festival — renamed Beep Festival — has been cancelled after the organisers received threatening calls. It is increasingly obvious now that that growing up, all those years ago, attending poets' soirees in Rabindra Sadan, and shuttling between cultural events between Max Mueller Bhavan, the USIS, the British Council, and Gorky Sadan, we were just a handful of cosmopolitans oblivious of what lay outside the Republic of South Calcutta.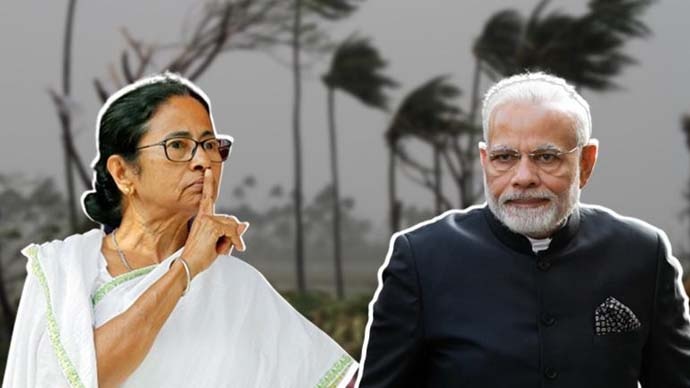 The Battle for Bengal: In the clash of subaltern politics, who will win isn't blowing in the wind yet. (Photo: India Today)
Today, Didi's Trinamool has nosedived from 34 to 22 seats in 42-seat Bengal in the Parliamentary election. Postcards of 'Jai Shri Ram' cheekily make their way to the Kalighat post office — the borough where Mamata di has her family homestead. She charges out of her car snarling if a crowd heckles her with "Jai Shri Ram" slogans. She warns party workers of infighting and issues a whip that traitors will be expelled from the TMC. As if they were not leaving already, having smelled the coffee as the CPM cadre had done all those years ago, and is now doing by joining the BJP.
These are all signs of a beleaguered and exhausted politician who has lost her edge and has her back to the wall.
Yet, mocked and derided once by the bhodrolok classes as lower class compared to the suave Buddhadev babu and Jyoti babu before her, Mamata is now the only hope of the same bhodrolok against the onslaught of the Sangh Parivar. A street fighter herself, Mamata was one of the first politicians to criticise demonetisation, refused to implement Modi's new health scheme in her state. And refused to attend the Niti Aayog meet, saying that it has no financial powers. Her efforts got most of the country's key opposition leaders up onto one dais of the United India rally on her side.
Despite all the signs, it is unlikely that Mamata Banerjee will go gently into that good night.
Also read: Reinventing Mamata Banerjee: What's next for Bengal's Didi?
The views and opinions expressed in this article are those of the authors and do not necessarily reflect the official policy or position of DailyO.in or the India Today Group. The writers are solely responsible for any claims arising out of the contents of this article.