Indira Gandhi's two bahus — Sonia and Maneka Gandhi — are in the electoral fray once again — perhaps for the last time.
Maneka stunned many in Sultanpur recently when she allegedly made a remark against the Muslim electorate's tendency to not vote for her — a statement she denied after receiving a notice from the Election Commission.
Sonia too made a cryptic remark at Rae Bareli, after filing her nomination for the fifth time from the family pocket borough, dubbing the 17th Lok Sabha Elections much like the 2004 General Election, when an otherwise weak Congress managed to edge out the Atal Bihari Vajpayee-led NDA government. Sonia dubbed Prime Minister Narendra Modi as someone who was not invincible. 
Once upon a time, these two powerful political women were simply daughters-in-law. (Photo: India Today)
Sonia and Maneka's strange ties date back to March 1974 when Sanjay got married. Initially, Maneka's entry into Indira Gandhi's household did not bring about much change. There were occasional tantrums, but both Indira and Sonia were sympathetic towards Maneka, young as she was. As in a typical Indian family, as the elder 'bahu' (daughter-in-law), Sonia had a special place — she was responsible for running the kitchen and deciding the menu. Maneka had little interest in the kitchen, so there were no clashes on that count — but she enjoyed helping Indira get quotations for her speeches. 
Not always a united family: Occasionally, there were big fights inside Indira Gandhi's house. (Photo: India Today)
After the Emergency, in 1977, when Indira was out of power and under attack from the Janata government, she managed Surya magazine and used it apparently as a tool to run down Indira's opponents. Maneka proved a staunch defender of the family's interests and gave back as good as Indira received through the magazine, running a series of exposés that did immense damage to those arrayed against Indira.
Yet, occasionally, there were big fights inside Indira's house.
On one occasion, Maneka reportedly got so angry with Sanjay that she removed her wedding ring and threw it at him.
Indira lost her temper too — as the ring had belonged to her mother, Kamla Nehru.
Maneka had a keen interest in politics, a fact that she never tried to hide. Yet, over the years, Indira started trusting Sonia more, seeking her advice on everything, from the choice of menu to her selection of sarees. She also valued Sonia's aloofness towards politics and matters of statecraft.
Sonia got along well with Sanjay, except when he apparently appointed her as a director in Maruti Technical Services (MTS), a dubious subsidiary of Maruti. Sonia reportedly signed on the dotted line, entitling her to a monthly salary, 1% commission on net profits, house and travel expenses, car, driver, etc.
However, none of these perks was directly passed on to her. Sonia was unaware of the larger legal dimensions — but when Rajiv came to know that MTS was posing as a consultancy service and had reportedly taken ten lakh rupees from Maruti, which was struggling to survive in spite of generous contributions from public sector banks, he was said to be livid.
Angrily, he apparently asked Sonia, 'How could you do this?!'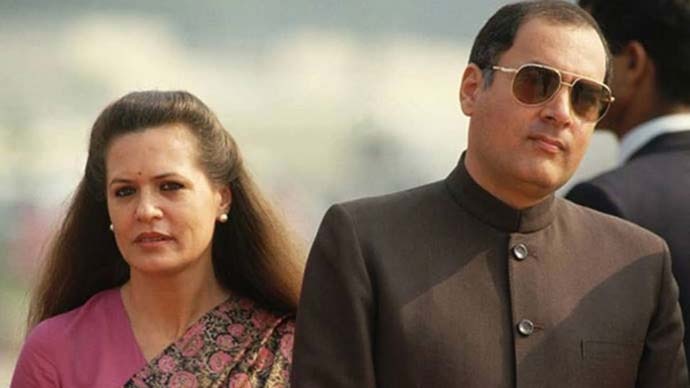 Sonia Gandhi was reportedly against Rajiv joining politics. But she was apparently even more wary of Maneka. (Photo: India Today)
A commission of inquiry headed by Justice AC Gupta probed the issue and submitted its report in 1978, during the Janata Party regime. 
The commission concluded, "[I]t is a fact known to all concerned that Shrimati Sonia Gandhi was a foreign national. In view of the provisions of the foreign exchange regulation act of 1973, which had come into force on 1 January 1974, she could neither hold shares of any Indian company nor hold any office of profit in such company from the date the act came into force without the prior approval of the Reserve Bank of India."
Ultimately, she tendered her resignation on 21 January 1975.
This issue resurfaced when Rajiv took over as Prime Minister. Rajiv, refuting the charge, made it clear that his wife never drew a monthly salary of Rs 2,500 or visited the Maruti office or factory.
After her defeat in the elections of 1977, Indira was forced to vacate the Prime Minister's house and move to 12 Willingdon Crescent with both daughters-in-law, grandchildren, attendants and dogs.
It was in this smaller house that Sonia really became closer to Indira.
She did not keep an ayah for Rahul and Priyanka and began cooking both meals of the day. Indira was extremely wary of keeping a cook as the old one had died and she had many suspicions.
Things were not smooth though. Another big fight was witnessed by BK Nehru when Sanjay threw a fit at Sonia because an egg was not properly fried. According to Nehru, Indira did not reprimand Sanjay, but she appeared acutely embarrassed by Sanjay's conduct. 
Sometimes, all it takes is an egg and a family relationship simply fries.  (Representational image: Reuters)
In his memoir Nice Guys Finish Second, Nehru described the scene at Indira's 12 Willingdon Crescent house: 'More often than not, there was servant trouble. Sonia was the cook, Maneka merely ate. Indira's two sons and their wives were certainly not on the best terms with each other.'
Journalist and author Khushwant Singh, too, recalls that Rajiv and Sanjay had their differences, "Once I happened to be there when Rajiv and Sonia were celebrating one of their children's birthdays. I noticed that the two brothers and their wives occupied different ends of the house and had very little to do with each other."
Both Rajiv and Sonia had not liked the imposition of the Emergency, but they chose to remain silent. At a party during this time, Sonia met Naveen Patnaik, son of Biju Patnaik, the towering Odisha politician and head of the regional Utkal Congress (currently known as Biju Janata Dal) who was jailed in the round-up of Opposition leaders. Sonia had no hesitation in apparently sympathising with Biju's son. "It must be terrible for you that your father is in jail. I am sorry about it," she reportedly remarked.
Friends of Indira said her two bahus were completely different since they came from diverse backgrounds. Sonia had been taught not to raise her voice or show dissent; Maneka was more outspoken. Maneka hardly measured her words before speaking. The Gandhi-Anand households were never at ease except during Emergency — when Maneka's mother, Amteshwar Anand, became a close companion of Indira. Maneka and Sanjay used to have the usual family arguments over minor things like food, but many times, these were reportedly witnessed by the entire family.
Exaggerated accounts were later given to show Maneka as irresponsible — but sources close to Sonia maintained that at least in the first few years, the family had adjusted and they had a good time.
Maneka always had a strong political streak. And she always wondered why Sonia was treated as special. (Photo: India Today)
Sonia and Rajiv were away in Italy when Sanjay died in an air crash while practising loops in his Pitts S-2A aircraft over Safdarjung Airport on 23 June 1980.
A chartered aircraft was sent to Rome to fetch them.
On the way, it picked up Maneka's mother, Amteshwar, sister Ambika, Congress leader VC Shukla and industrialist Swraj Paul from London.
Shukla and Paul kept telling Amteshwar that she should try to keep the two families together and rally round Rajiv.
Amteshwar was too grieved to apply her mind to this aspect.
However, within days the Anand family, which had risen from being a decisively middle-class army family to one with political clout during the Sanjay era, was once again viewed with suspicion and distrust.
As time went by, Sonia was spotted picking up vegetables at Khan Market, a shopping area favoured by diplomats and bureaucrats. She began growing broccoli in the vegetable patch behind the house. Indira, facing challenges from various quarters, would not leave an opportunity to praise Sonia.
The preferential treatment of Sonia upset Maneka, who was also trying to help out her mother-in-law with the feisty Surya magazine, among other things.
Maneka wondered why Sonia was treated specially just because she could buy groceries and cook. 
Khan Market: The site of delicious Lutyens dramas, then and now. (Photo: Wikipedia)
Indira's family friends, ranging from Pupul Jayakar to Mohsina Kidwai, attribute a number of factors as to why Indira had a preference for Sonia over Maneka. 'In many ways, she was much more Indian than an average Indian girl,' Mohsina Kidwai recalled. 'Indiraji always admired her for her good eye for handicrafts, handloom and antiques. She shortlisted and selected menus for dinners. When Frontier Gandhi, Khan Abdul Ghaffar Khan, visited India in connection with the Gandhi centenary celebrations, Sonia was Indiraji's personal emissary, looking after his one meal a day, etc.'
Indira's return to Parliament in 1978 from the Chikmagalur parliamentary seat in southern Karnakata — where she won by a massive margin — marked a turning point.
Incidentally, the seat was vacated by HD Deve Gowda, who would later head a rag-tag coalition as Prime Minister in 1996-97. The Chikmagalur victory restored the confidence of the family. For both Sonia and Maneka, life at 12 Willingdon Crescent was a lively experience of an Indian joint family with its share of skirmishes and happy moments. Maneka and Sonia temporarily became friends when Maneka was expecting Feroze Varun — the elder sister-in-law took care of her food, giving her vital tips and spending a lot of time with her until the baby was born in March 1980.
Somehow, Sonia has never clarified why she vehemently opposed Maneka's entry into politics.
Sources close to Sonia said she felt Maneka's inexperience and haughty behaviour would become a liability for Indira.
Sonia was also said to be extremely wary of the Anand family — particularly Amteshwar Anand.
The exit of Maneka from the Indira household witnessed many twists and turns — an ideal script for any saas-bahu serial.
Indira's so-called perfect bahu, who cooked food, bought groceries, helped Indira choose the right sarees, raised her children and showed no inclination towards politics and politicking, strangely made no attempt to be a peacemaker.
Some of Sonia's friends said that her conduct must also be seen in a human context. After all, she too was a bahu and had to protect her turf.
Her assessment of Maneka's potential threat and personal bias may have prevented her from acting decisively.
Maneka, however, does not hold her responsible.
According to her, Indira and other members of the family changed their attitude once Sanjay died: 'I realised that I was nothing but Maneka to them.' 
Maneka began working on an independent line in her effort to enter politics. She apparently had the support of some influential friends of Sanjay who had reportedly benefited immensely under him — but many backed out when Maneka told them she was planning to go against Indira. Suddenly, Maneka discovered that, except for Akbar 'Dumpy' Ahmad, known for his fiery speeches and outspoken behaviour, virtually everyone else had changed loyalties.
The good Congress leaders who had suffered during the Sanjay era, began a campaign, saying that the Anand family wanted Indira to draft Maneka in politics.
The whisper campaign had its impact.
In any case, Sanjay's death had changed everything.
Indira was a broken person.
Sometimes, she would hold herself responsible for Sanjay's death; sometimes, she would blame the young widow. In her wavering mood, she began putting pressure on Rajiv to give up flying completely, fearing for his life.
Rajiv was in no mood to oblige his mother, but he agreed to take leave to be at her side.
Word was soon out that Rajiv would emerge as Sanjay's successor — it came as a rude shock to Maneka as Indira had promised to make Maneka her personal secretary.
Maneka wondered how Indira could draft a political novice like Rajiv. After all, on numerous occasions, Indira herself had described Rajiv as an apolitical person. 
Indira was apparently not that keen on Rajiv joining politics either. This changed after the loss of Sanjay Gandhi. (Photo: India Today)
Indira's close circle, ranging from Pupul Jayakar, Dhirendra Brahmachari and RK Dhawan to writer Khushwant Singh, was sharply divided on the issue of Sanjay's successor.
Some media persons who had easy access to Indira and Maneka's family began lobbying for a political role for Maneka.
Indira was undecided — Sonia opposed Maneka's entry.
Although she was not keen on Rajiv to become a political player, she viewed Maneka as an unpredictable and ambitious person.
According to Pupul Jayakar, "At first, Indira understood Maneka's despair. She was anxious to find something that would occupy Maneka's time and in a compassionate gesture to the young widow, suggested to Maneka to become her secretary and travel with her. This upset Sonia. Letters were exchanged between Sonia and Indira, and Indira, realising the need for Rajiv and family, withdrew the offer."
Sonia may have blocked Maneka's entry in politics, but she was equally opposed to Rajiv stepping into Sanjay's shoes. At one juncture, she even threatened to walk out of his life if he were to join politics. 
Sonia recalls that she 'fought like a tigress' for the sake of Rajiv and the children but most of all, for 'our freedom — that simple human right that we had so carefully and consistently preserved.'
Sonia, however, slowly gave in.
The rivalry between the two took a piquant turn when Maneka, who had won as an independent from Pilibhit in western UP, became a minister in the National Democratic Alliance (NDA) government headed by Atal Behari Vajpayee in 1999. 
In a subsequent reshuffle, she was appointed a minister for culture, a position which gave her supervision over various family trusts headed by Sonia.
Maneka ordered a probe into alleged financial irregularities in some of these trusts and questioned the trust deed of the Indira Gandhi National Centre for the Arts (IGNCA). 
Becoming a minister, Maneka ordered a probe into the IGNCA. (Photo: IGNCA website)
The pace at which she started looking into these institutions upset many people.
In an abrupt move, she was taken out of the ministry and moved to the more innocuous department of statistics.
Maneka held Sonia responsible for her exit.
The publication of Indira: The Life of Indira Nehru Gandhi by Katherine Frank provided further ground for discord. Maneka alleged that the older bahu of Indira was instrumental in the inclusion of hoary tales involving Sanjay in the book. She claimed that Sonia and the Congress were trying to project Sanjay in a poor light — and show Sonia, Priyanka and Rahul as the true inheritors of the Nehru–Gandhi legacy.
Frank had met Sonia while conducting research for the book and acknowledged Sonia's support in terms of granting access to family letters and photographs. When the book came out, some Congress leaders felt portions of it showed Sanjay and Indira in a negative way, but aide and adviser on literary matters K Natwar Singh and party spokesman Jaipal Reddy advised Sonia against issuing any statement or demanding a ban.
Maneka acted quickly against some statements in the book and won an out-of-court defamation suit in England.
Maneka quickly asserted that it was Varun's sense of outrage against Frank that prompted her to file charges against the author. 
Maneka is dismissive about her failure to inherit the legacy of the family. According to her, the whole idea of linking the Congress with the Nehru–Gandhi legacy is incorrect.
"The legacy lies in carrying out the ideals set by the family," she says, asserting that it does not matter to her that it is Sonia who is accruing the political benefits of things in life. Earlier, she had stayed on, working round the clock to float the Sanjay Vichar Manch, a quasi-political outfit.
Indira was livid and plainly told Maneka to leave Safdarjung Road if she wished to run a political organisation.
Although a political novice, Maneka played her cards well, dictating the timing of her exit from the Indira household.
At the time, Indira was in London with Sonia, while Rajiv was busy learning the ropes of politics and governance from a select band of academics, bureaucrats and technocrats.
Indira returned from London on the morning of 28 March 1982.
Family watchers said the Prime Minister was in a foul mood — so much so that she did not even return Maneka's greeting. Soon, Indira stormed barefoot into Maneka's room in the company of two witnesses, Dhirendra Brahmachari and RK Dhawan, ordering her to leave her residence.
Maneka first exhibited innocence, wondering why she was being given marching orders. When Indira referred to her Sanjay Vichar Manch speech, Maneka said she had cleared it.
This infuriated Indira further.
They exchanged heated words — and Indira told her to leave without any belongings. The debate went on for long, and finally, at 1 am, she began walking out of the house. 
For the dozens of media persons, including correspondents of major foreign news agencies like Reuters, AFP and BBC, it was an opportunity of a lifetime.
'There was Indira, shouting, hair dishevelled, and Maneka, sobbing in a low voice. I have watched hundreds of Hindi films and soap operas but nothing like that. It was so real,' said a photographer who captured the entire episode on film.
Indira's two daughters-in-law are still at loggerheads.
Sonia refuses to comment on Maneka — but Sanjay's widow is not so diplomatic.
She is known to make acerbic remarks about her sister-in-law — on her political style and way of functioning, even personal comments.
Speaking on Doordarshan, Maneka said, 'It is true that she is a foreigner. But more than that, she has never done any social work and does not have any training. We are not born politicians, but you learn, study, and most important, you feel that something belonging to the dynasty.'
While the young Gandhis were reluctant to attack one another in public, K Natwar Singh launched a no-holds-barred verbal assault on Maneka.
The Sonia camp was quick to remind the nation about the circumstances and the manner in which Maneka made common cause with Indira's detractors — eventually accepting the post of a junior minister in the Vajpayee government. 
Flowers, but with the thorns of broken relationships: The saga of distrust among the Gandhi siblings continues. (Photo: Twitter)
In the last couple of months, Varun Gandhi had apparently made concerted efforts to warm up to the Congress — but both Rahul and Priyanka remained rather guarded.
Reportedly, Varun kept expecting a call that was nowhere in sight. 
Varun Gandhi apparently made concerted efforts to warm up to his Congress cousins who reportedly have not responded. (Photo: DailyO)
At the last moment, Varun and Maneka exchanged constituencies to shore up their electoral prospects.
The saga of distrust among the Gandhi siblings still continues.