Mani Shankar Aiyar is a political nobody in the present day Congress. The habitual offender, crude and deft at scoring self-goals, is neither a party MP, nor member of any influential party panel. However, he has a long history of being politically incorrect.
During Sonia Gandhi's tenure, someone had asked Aiyar to compare his standing in the Congress during Rajiv Gandhi's era with that in the Sonia regime. The former career diplomat-turned-politician and Stephanian replied rather wistfully, "Tab arsh mein tha, ab farsh mein hoon (I was on cloud nine then, but now I am grounded)." When Arjun Singh, Sheila Dikshit and others had rebelled against PV Narasimha Rao in 1995, Aiyar had created a flutter, reportedly alluding to Sheila Dikshit as a "gangster's moll" in a news magazine column.
Shocking: Mani Shankar Aiyar reportedly alluded to Sheila Dikshit with a less than Parliamentary 'gangster's moll'. (Source: PTI)
In 2017, when Aiyar had described Prime Minister Narendra Modi as a "neech kism ka aadmi", he committed another faux pas. In 2017 itself, Aiyar had commented from Kasoli in Himachal Pradesh that only two people could become the next chief of the grand old party while referring to the Congress organisational polls. "I feel only two people can be the next president of the Congress, one mother, and one son," he said.
Congress insiders insist that after 2016, when Aiyar ceased to be a member of the Rajya Sabha, he had not been close to either Sonia or Rahul or given frequent appointments at 10 Janpath.
Aiyar courts controversies swiftly and with ease. In November 1998, Aiyar had a rather short-lived tenure as All India Congress Committee (AICC) spokesman. He had to tender an apology to then-Prime Minister Atal Bihari Vajpayee for calling him "nalayak" (incompetent). Aiyar had described Vajpayee as "layak vyakti, nalayak neta" (competent person, incompetent leader). In a clarification, Aiyar had said, "I have subsequently learned that the expression I used could have an unparliamentary connotation. Not being a native Hindi speaker, I seem to have inadvertently used an improper expression, for which I wish to tender my apologies to the Prime Minister for any offence unintentionally caused."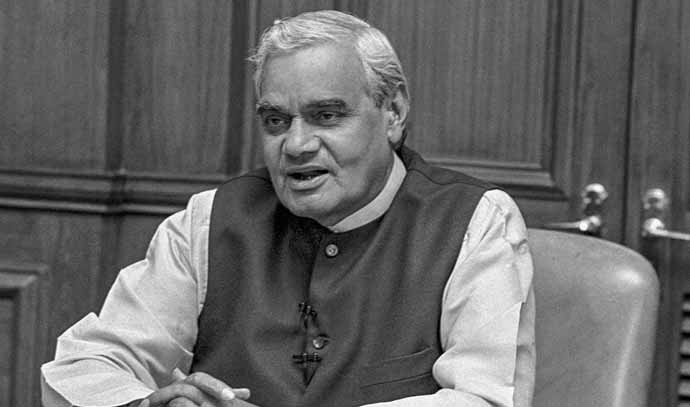 He didn't escape either: Mani Shankar Aiyar reportedly called Atal Bihari Vajpayee 'nalayak'. (Source: PTI)
Aiyar had told this correspondent then that he had referred to Father Camille Bulcke's dictionary and found 'nalayak' a word describing someone weak. "I was tempted to use the Hindi word ayogya but in Tamil, it has a different and rather derogatory meaning," Aiyar had said.  
In January 2013, when Rahul Gandhi was elevated to the Congress vice-president's post in Jaipur, Aiyar had infamously dismissed Modi as a "chaiwala" ahead of the 2014 Lok Sabha elections. His exact quote was, "I promise you, in the 21st century, Narendra Modi will never become the Prime Minister of the country.... But if he wants to distribute tea here (at the AICC jamboree), we will find a place for him."
Modi and the BJP used that remark to full advantage — selling it to the voters as an insult to Modi's 'humble roots'.
It is not that Aiyar's contemptuous ire is reserved for the BJP or prime ministers alone.
In September 2013, Aiyar had targeted fellow Congressman Ajay Maken, describing the then-Union sports minster a "BA pass from Hansraj College". Aiyar, himself a former sports minister under Dr Manmohan Singh, had made fun of Maken, wondering how Maken could use "big words like 'dichotomous'".
For those unfamiliar with Delhi's North Campus college unofficial social rankings, St Stephen's prides itself in producing the best and brightest. Stephanians are often heard describing students studying even at the otherwise illustrious Hindu College as those from "across the road". Kirori Mal and Hansraj College have impeccable academic credentials but do not figure on the radar of Stephanians, whose social dos are confined to those from Miranda House (a posh girls' college) and Sri Ram College of Commerce.       
On another occasion, Aiyar had addressed the 26/11 Mumbai attacks mastermind and internationally designated terrorist Hafiz Saeed as 'sahab'. "Hafiz Sahab belongs to a minority group and the majority of Pakistanis want peace with India," Aiyar had said.
Pleasing the enemy: Mani Shankar Aiyar came under sharp criticism for calling terrorist Hafiz Saeed 'sahab'. (Source: Twitter)
In Congress circles, Aiyar's political incorrectness has surprised many who credit the Indian Foreign Service (IFS) officer-turned-politician with quick wit. For instance, Aiyar had once recalled noticing a visitor's book at St Stephen's College that had Natwar Singh's remark, "I am what I am because of St Stephen's." Aiyar asked for a pencil and scribbled under it: "Why blame the college?"
Today, many Stephanians could be privately heard saying the same about Aiyar and St Stephen's: