Does PM Modi really believe in what he said about 'Islamic heritage' of India?
The Modi who wants to become a statesman is very different from the Modi speaking in political rallies to his core supporters.
On Thursday (March 1), Prime Minister Narendra Modi addressed a conference on "Islamic Heritage: Promoting Understanding and Moderation" which was also attended by visiting King Abdullah II of Jordan. A government-sponsored short film on the Islamic heritage in India was also screened on the occasion.
"Pluralism is what makes India. Our diversity strengthens us. This is the land where people of various faiths and beliefs happily coexist, guided by universal values of harmony and togetherness," Modi said, addressing the audience that comprised mostly Muslims of different sects, many of them clerics.
He added, "Islamic culture is flourishing across India. The influence of Sufism spreads the message of love, peace and brotherhood. The government of India is leaving no stone unturned in empowering the Muslim youth. We want them to have the Quran in one hand and a computer in the other."
Aware of the significance of the occasion, PM Modi sprinkled his otherwise chaste Hindi speech with Urdu words when thanking the attendees. He did not shy away from reminding all that Delhi has been gateway to the syncretic "Ganga-Jamuni tehzeeb".
Modi also echoed the Jordan king, reminding that extremists and terrorists are enemies of faith they claim to represent. King Abdullah later said that fight against terror is not a war against any one religion or against Muslims, and that the Islam he grew with, teaches compassion and mercy.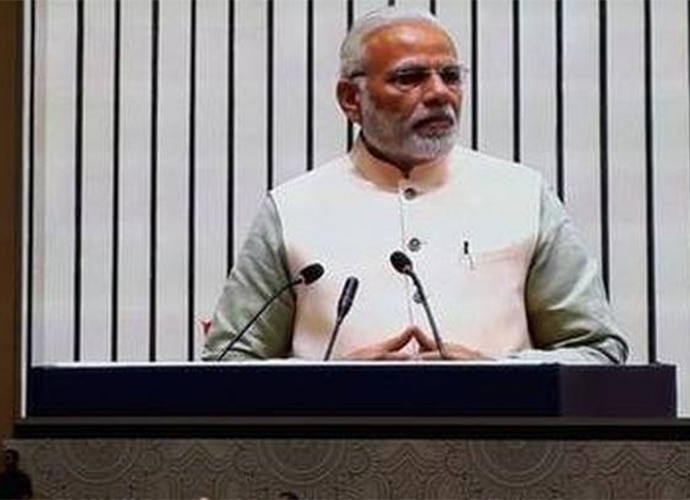 Photo: The Hindu
In short, PM Modi sought to champion the causes of moderate Islam and in which he hopes to partner with a moderate ruler from Arab, who is "India's friend". King Abdullah II, along with his wife queen Rania has tried to promote peaceful, moderate forms of Islam which is simultaneously in sync with modern values at a time when Islam is increasingly associated with terrorism.
King Abdullah is a descendent of the same Hashemite clan to which Prophet Muhammad belonged, and his ancestors were cof Mecca and Medina for centuries before the House of Sauds took charge of the two holy mosques. His statement thus has symbolic significance even if he is not very influential in the Muslim world.
The programme, the two heads of states addressed was noteworthy, but nothing they said was new. King Abdullah reiterated his vision of peaceful and moderate Islam that over 1.8 billion people follow, a quarter of the world population.
PM Modi, on the other hand, not only prided himself on India's syncretism but appeared to reach out to India's Muslim population with his sugar-coated words and cherry-picked examples to show the contribution of India to Islam as the "cradle".
The only problem was that they were speaking to a largely Muslim audience, who for decades have been pleading exactly what they were repeating, but those words have so far fallen on deaf ears. Modi had spoken in similar vein earlier, focussing mostly on Sufi Islam, in 2016 while inaugurating a Sufi conference, that many saw as an attempt to pit Muslims against Muslims.
His campaign agenda, of course, was "Sabka Saath, Sabka Vikas (collective efforts, inclusive growth)".
But Modi government has largely failed to walk the talk as Muslims today feel more vulnerable than ever, due to rising hatred against them and communal polarisation. Hindutva leaders deliver hate speeches without any fear of law, while vigilante groups feel so emboldened that they themselves record videos of lynching they commit in the name of "gau-raksha" and "love-jihad", and spew venom against one particular community before they share it on the social media.
In the closing remark of the programme, Maulana Mehmood Madani, general secretary of Jamiat Ulama-e- Hind, had tried to nudge the prime minister. With PM Modi sitting on the dais, he said, "To counter communalism in the country and in our society, national interests must be made supreme over interests of any one community."
He further highlighted the crucial role played by Muslim leaders such as Maulana Mahmood-ul-Hassan Madani and Maulana Abul Kalam Azad in the freedom struggle and in shaping the secular and democratic fabric of the country. Shiekh Hind Maulana Mahmood-ul-Hassan had spoken of "composite nationalism" and opposed Partition.
Muslims who stayed in India believe that their well being is in the larger good of the nation. But they continue to remain backward on all human development indices, and are one of the most deprived and disadvantaged groups. Despite few cosmetic moves and hallowed promises, little has changed in their lives.
If PM Modi really believes in what he said about "Islamic heritage" of the country, he must begin by sending a stern message to those who everyday lay new claims on the Taj Mahal, Charminar, etc.
Above all, his government must acknowledge the contributions made by Muslims not just during the five centuries of medieval rule, but also during the freedom struggle and afterwards. Indian Muslims must not be made to suffer in the name of purported mistakes of past, whether Partition or those of the medieval times.
PM Modi has really come a long way from Gujarat where exactly 16 years ago under his watch, the state burnt after the Godhra train carnage. He had infamously refused to visit any of the camps where victims of riots are still living, or to rebuild dargah damaged in riot. As he spoke about Sufism today, the irony was not lost. It is hence commendable that he does not appear as uncomfortable with Islam and Muslims any more, but is talking of a glorious Islamic heritage of India and that too so eloquently.
The PM Modi who wants to become a statesman is very different from the Modi speaking in political rallies to his core supporters wherein we see a reflection of the Hindutva ideology peddled by his parent organisation RSS. If what PM Modi said about Islam and Indian Muslims were not just routine statements that head of states issue, he must make his constituency understand the same.
He must repeat the same speech next time he addresses his supporters in a rally in Uttar Pradesh or Gujarat, else these will ring hollow.
Also read: It won't be long before we start calling Holi 'India's Tomatina'
The views and opinions expressed in this article are those of the authors and do not necessarily reflect the official policy or position of DailyO.in or the India Today Group. The writers are solely responsible for any claims arising out of the contents of this article.