Why each LPG cylinder matters: PM Modi's welfare schemes have given the poor individual possessions
This could translate to big votes, crossing the appeal even of large but impersonal public projects like roads and schools.

DailyBite
Come elections, Lok Sabha or Assembly, and Tamil Nadu is inundated with freebies.
From a waiver of farm loans to laptops, cell phones, colour TVs, mixer-grinders, fans, cycles, livestock, the laundry list of freebies in the state has always had variety on its platter. The political leaders in the state, from CN Annadurai to MGR, Karunanidhi and Jayalalithaa, have been known in the past to devise innovative schemes — a move which has later been picked up by the Centre. Mid-day meals (encouraging children to attend school) and floatation of centralised procurement agency for medical services, for example, are two such examples from the past.
It is a model that has never failed to woo the electorate.
Far from being only bunches of communities, the Indian electorate has also been about individuals — be it the individual politician/leader or the individual self. The schemes that woo individuals thus have to be deeply personal and only then, community-based. Which is perhaps why infrastructure and development projects, like roads, rails, dams and industries, have never garnered as much fanfare — or adoration — as much smaller freebies do.
Toilets for all: Rural women now have all the "izzat" in their ghar. (Photo: PTI)
In recent times, Prime Minister Narendra Modi seems to have perfected the model that the Tamil politicians lure their voters with. But instead of luring voters with more sophisticated possessions like colour TVs and mixer-grinders, the Prime Minister equipped them with toilets and LPG connections.
Cutting across caste and community lines, immediately empowering the poorest, and giving women in particular a sense of ownership, political analysts have called this nothing short of a masterstroke.
Each voter has access to the infrastructure that is personal to him/her — yet, the scheme is working to develop the community on the whole.
The toilets — known as "izzat ghar" or a house of dignity — instil a sense of respect and pride in a household for having their own toilet. It is the same case with the Ujjwala Yojana that provides free cooking gas (LPG) connections to all poor households. The schemes transform societies — and yet, being deeply personal, looking at these goods, touching them, using them each day, makes the beneficiary feel they are the biggest individual benefactors of the welfare scheme. The same cannot be said of building roads and ensuring connectivity — that is all seen as the belonging of the community, rather than individual households.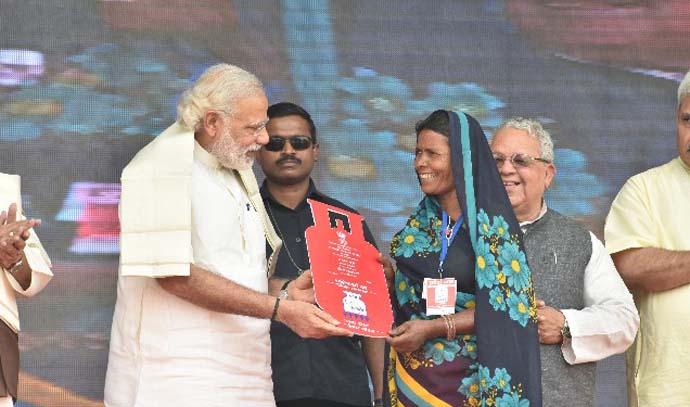 By ensuring that womenfolk are proud owners of LPG connections, Modi's Ujjwala scheme is a masterstroke. (Source: India Today)
The schemes have worked on the ground. Six crore households got LPG connections through Ujjwala after 2014 and 9.56 crore toilets have been built under the Swachh Bharat Abhiyaan making 5,36,724 villages Open Defecation Free (ODF) besides electrification of over 2.5 crore households since October 2017 under the Saubhagya Yojana.
Clearly, Modi's calculation of translating freebies to votes, yet having a positive impact on the society, has worked. What is also deeply interesting in this case are reports of follow-up workers apparently calling up beneficiaries to enquire about their freebies, such as gas cylinders, and to emphasise that these have come from the PM's welfare schemes — and if he were to return, the likelihood of more welfare work, represented in more goods and services, could be a strong possiblity.
This then empowers the individual at a deeply personal level, while clearly empowering the politician as well.
What an idea, Modi ji!
Also read: Toilet, a PM katha: How that seat beat Modi's big schemes in impact