With Pakistan barely a fortnight away from the upcoming elections scheduled on July 25, the country is clearly in a mess. The authorities, including the mighty and all-powerful armed forces, are clueless as to how to handle the multitude of complex problems threatening the country. The latest is the suicidal blast in Yakatoot, Peshawar on July 10 killing the popular Awami National Party (ANP) leader, Haroon Bilour and 19 others.
This devastating blast in Pakhtunkhwa province has given a deadly jolt to the Pakistani counter-terror forces who have been claiming an incident-free election campaigning and had anticipated terror strikes being escalated as July 25 closes in.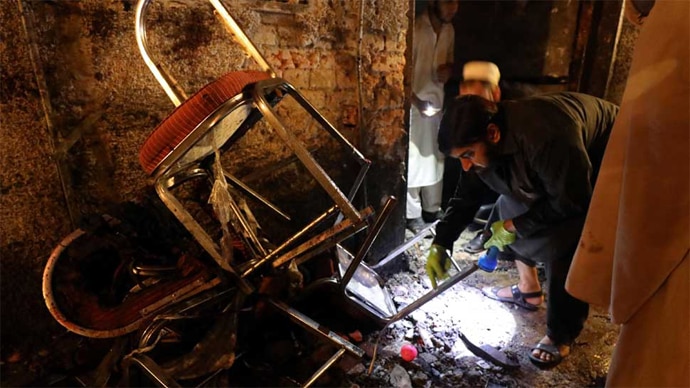 A suicide blast in Yakatoot, Peshawar on July 10 killed the popular ANP leader, Haroon Bilour and 19 others. [Photo: Reuters]
It is believed that Tehreek-e-Taliban Pakistan (TTP) had masterminded and perpetrated this act of violence. Coincidentally, Haroon Bilour's father, Bashir Ahmad Bilour was also assassinated in a similar modus operandi in 2012 and again the needle of suspicion had pointed towards TTP. It's clear that today it's the TTP whose writ is running in the region.
By any logical inference, it was for the Pakistani intelligence authorities to have assessed and alerted their field operatives for a more proactive intelligence gathering and subsequent neutralisation of the threat. But nothing of this sort happened and 20 lives were lost while the intelligence and security establishment remained mute spectators.
This inertia and insensitivity towards real-time threats speak poorly of the authorities more so because the entire official state machinery appears to be directing its energy and efforts to target Indian infrastructures and particularly Kashmir.
It would appear advisable if those calling the shots first attend to their domestic problems on priority and then tackle their self-designed adversaries.
This argument holds good more cogently this time, as during the preceding period of the elections, Pakistan's omnipotent Inter Services Intelligence (ISI) has been evincing extraordinary interest in the forthcoming elections with what many security analysts describe as direct interference in the electioneering activities.
Such charges also seem acceptable due to frequent statements issued by the armed forces which otherwise is perceived to be in hand in glove with the ISI.
Further, ISI is alleged to be aligned rather closely with some of the terror-linked political parties so as to give them political legitimacy lest the democratic and relatively pacifist parties get an upper hand and with they being at the helm, the uninformed lot in Pakistan which remains a force to reckon with, will cease to call the shots and could be reined in rendering them toothless.
More trying times for Pakistan are only a couple of days away. [Photo: Reuters]
Meanwhile, according to National Counter Terrorism Authority (NCTA), other possible targets could be Tehreek-e-Insaf Pakistan (TIP) leader Imran Khan, terrorist leader Hafiz Saeed's son and a host of others, particularly during the lull period in the run-up to July 25. This looks alarming and definitely fraught with perils.
Against this backdrop, more trying times for Pakistan are only a couple of days away which will further heighten the flurry of political activities especially in the aftermath of Nawaz Sharif and his daughter Maryam Nawaz's impending return from London expectedly on July 13 at Lahore.
Sharif's decision to return in the face of grave corruption charges and in a politically charged atmosphere is seen as a direct challenge and defiance to the Pakistani establishment. If at all Sharifs return to their homeland as planned, it is likely to set off a trail of exciting but disturbing developments posing a substantial headache to the ISI in particular as the latter does not seem to be favourably inclined towards their former PM.
Such hostility on part of the ISI could possibly have gained momentum after Nawaz Sharif's rather bold and candid statement last month seeking accountability for those Pakistani players responsible for Mumbai attacks of 26/11. Nawaz's articulations were conveniently interpreted as anti-Pakistan and therefore, by implication, pro-India.
Former Pakistan Prime Minister, Nawaz Sharif with daughter Maryam Sharif. [Photo: Reuters]
Hence, he continuous to be on the radar screen of the authorities. Coming weeks will be interesting for Indians keeping an eye on Pakistan.
In the meantime, either by way of disinformation or by way of a deliberate and selective leak to media, there are strong speculations doing the rounds that the Pakistan People's Party (PPP) has entered into some kind of deal with with the establishment. So all kind of permutation and combination are at work amid rapidly changing political equations.
This proposed watch becomes more imperative as there will be a direct fallout in India should any party nurturing anti-India agenda secures a victory, albeit with the facilitation of the armed forces or the ISI. Ad interim, Pakistan should watch out for more terror abetted violence as exhibited in the recent Peshawar deadly explosion.