How Raj Babbar has always been a motormouth and Congress has taken it in its stride
The actor-turned-politician had one time been highly critical of Rajiv Gandhi too. But the Congress has overlooked this too.
Actor-turned-politician Raj Babbar is one of the most sought-after election campaigners in the Congress party. Even though his popularity falls behind that of Rahul, Sonia and Priyanka Gandhi, along with Navjot Singh Sidhu, sources in the Congress war room claim that to be the case.
Babbar has a knack for courting controversies.
In the ongoing round of Assembly polls in five states, Babbar has made news often for the wrong reasons and the December 11 verdict will indicate if the actor-turned-politician is a boon or a bane for the grand old party.
The December 11 verdict will indicate if the actor-turned-politician is a boon or a bane for the grand old party. (Source: India Today)
In 1998, Babbar had contested against the then-prime minister Atal Bihari Vajpayee from Lucknow as a Samajwadi Party candidate.
Speaking at 'Shastrarth', an initiative by ex-diplomat-turned parliamentarian Pavan K Verma, art collector Nita Khanna and painter Manish Pashkale, to hold a freewheeling conversation at Delhi's Taj Mansingh Hotel on November 23, Babbar recalled how he had promised Vajpayee that he would not utter anything undignified or improper during the campaign.
Sitting by the side of another actor-turned-politician Shatrughan Sinha, Babbar recalled meeting Vajpayee shortly after filing his nomination.
"I chanced upon Vajpayee ji in a flight... I walked up to him, ignoring the dirty looks of his aide Shiv Kumar and said namaste... I told him that my bid to contest against him was purely foolhardy and sought his blessings. Vajpayee ji affectionately held my hand and blessed me. I was so overwhelmed that I promised him that I won't utter anything undignified during the campaign. There were occasions in Lucknow when his cavalcade would pass by and I would step aside and bow. He always had a smile," Babbar said.
Babbar's remarks about his equation with Vajpayee come after he drew flak from BJP leaders and Prime Minister Narendra Modi himself for dragging the name of the latter's mother's name in the poll campaign.
"He [Modi] used to say that the rupee has fallen so much against the dollar that it was nearing the age of the then prime minister [Manmohan Singh]. Today, the rupee's value has dropped so low, that it is inching closer to your[Modi's] beloved mother's age," Babbar had said during an election rally in Indore.
Jab vo (PM Modi) kehte te ki dollar ke samne rupaya itna gir gaya ki uss waqt ke PM ki umar batha karke kehte te ki unki umar ke kareeb ja raha hai.Aj ka rupaya,apki pujniye mataji ki umar ke kareeb niche girna shuru hogaya hai:Raj Babbar,Congress,in Indore,MadhyaPradesh. (22.11) pic.twitter.com/5vTv0c2sKb

— ANI (@ANI) November 22, 2018
Babbar said he was merely responding to Modi's remarks made during the 2014 Lok Sabha campaign in which he compared the depreciation in the value of rupee to then-Prime Minister Manmohan Singh's age.
Modi, in several public meetings in Madhya Pradesh, accused Babbar and the Congress of "abusing" his 97-year-old mother.
Modi retorted saying Babbar's remarks showed Congress' bankruptcy of ideas and poll issues. "When one doesn't have real issues to talk about, he resorts to abusing somebody else's mother," Modi said in Madhya Pradesh's Chhatarpur.
Two years ago, Babbar, who was Uttar Pradesh Congress chief then, had described poll strategist Prashant Kishor as "a sound recordist".
Kishor was then working as a close Rahul Gandhi aide — but it did not prevent Babbar from commenting, "He (Kishor) is merely a sound recordist. When the voice pitch goes up or down, he adjusts it. He is not my leader: my leader is Rahul Gandhi."
Babbar, who is believed to be close to senior Congress leaders Ahmad Patel and Digvijaya Singh, got away with his barb.
During the UPA years, Babbar had been labelled a motormouth. He had also embarrassed the Manmohan Singh regime by claiming he could buy a meal in Mumbai for Rs 12 but he was forgiven after an apology.
When the Congress welcomed Babbar into its fold in 2008, it had to forgive the attacks Babbar made on Rajiv Gandhi when he was one of former Prime Minister VP Singh's lieutenants.
"Rajiv Gandhi wants to make India a Nehru Private Ltd company," he had said.
"The Congress is like the Kauravas. Duryodhan is ruling...."
Yet, it was the Congress that Babbar sought to join when he decided to enter politics full-time following the death in 1986 of his actress wife Smita Patil, daughter of a Congress MP — partly, perhaps, to distract himself.
In 1984, when Congress candidate and actor Sunil Dutt contested from Bombay north west against lawyer Ram Jethmalani, Babbar and Smita would walk through the city's bazaars and slums asking people to vote for Dutt.
But in 1987, as Rajiv Gandhi struggled to fend off VP Singh's revolt and President Gyani Zail Singh's ire, Babbar switched his gaze to the Jan Morcha.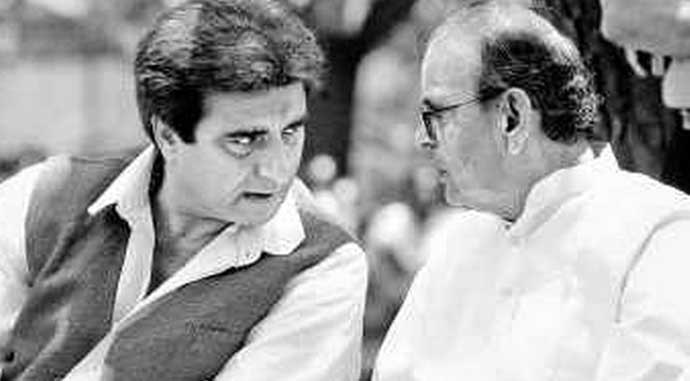 Raj Babbar with former Prime Minister VP Singh. The duo had at one point launched blistering attacks against Rajiv Gandhi. (Source: Twitter)
It wasn't the last time he would shift loyalties. After the Babri Masjid demolition, he joined the Samajwadi Party and became a Rajya Sabha member in 1994.
After a well-fought defeat against Vajpayee from Lucknow in the 1996 general election, he made his Lok Sabha debut from Agra in 1999 and repeated the success in 2004.
But his running feud with Mulayam Singh Yadav's favourite Amar Singh, who is said to have cost Babbar several film contracts that went to Amitabh Bachchan instead, led to his departure in 2006.
Babbar joined the Congress and in a by-election in 2009, upset Akhilesh Yadav's wife Dimple.
Babbar had shown a knack for politics from his days at the National School of Drama (NSD), where he earned the tag "rebel without a pause", leading several campus revolts and championing countless causes.
In the present-day Congress, Babbar's popularity is greater than any Congress Working Committee member or any chief minister of the party, except for the cricketer-turned-politician Navjyot Singh Sidhu.
Congress leaders need to ponder over why they are not effective campaigners.
It also explains why the Congress is so hopelessly dependent upon the Gandhi family.
Also read: As the political rhetoric on all sides worsens, one can only ask, 'Ye andaz-e-guftagu kya hai?'
The views and opinions expressed in this article are those of the authors and do not necessarily reflect the official policy or position of DailyO.in or the India Today Group. The writers are solely responsible for any claims arising out of the contents of this article.