During a campaign rally in Uttar Pradesh on Saturday, Prime Minister Narendra Modi taunted the Congress President Rahul Gandhi with the line, "Your father's life ended as bhrashtachari (corrupt) number 1."
In an election tainted by personal slurs, including Rahul's own "Chowkidar Chor Hai" taunt, has Modi crossed an invisible line?
Was the former Prime Minister Rajiv Gandhi corrupt?
When I first met Rajiv Gandhi at his home in the summer of 1985, he was about to embark on landmark state visits to the United States and the Soviet Union.
Trigerring a Storm: In an election rally, Prime Minister Modi called Rajiv Gandhi 'Bhrashtachari No. 1' (Source: Business Today)
He was just 40, fresh-faced and, we thought, keeping aside our journalistic cynicism, that he would usher in India's own age of Camelot. Rajiv was the elder son of Indira Gandhi. When he returned to India after three years at Trinity College, Cambridge University, he trained to be a pilot and joined Indian Airlines in 1968. In February, the same year, he married Sonia Maino, the daughter of Stefano Maino — who initially opposed the marriage — but came around when he saw Prime Minister Indira Gandhi's sprawling home at 1, Safdarjung Road, where Rajiv too lived.
For twelve years, Rajiv flew passengers on local routes between cities like Ranchi and Indore, while younger brother Sanjay became his mother's informal political advisor. During the Emergency in 1975-1977, Rajiv Gandhi and Sonia Gandhi briefly thought about leaving India. In the end, they stayed back — but kept strictly out of the turbulent politics of the 1970s.
When Sanjay died in a private plane crash in June 1980, at the age of 34, everything changed.
Sanjay's wife Maneka had just delivered a baby boy, Varun, in March 1980 — three months before Sanjay's fatal plane crash. Had fate not intervened, Sanjay, and not Rajiv, would have succeeded Indira Gandhi as the Prime Minister after her assassination in 1984 — and 39-year-old Varun Gandhi, not 48-year-old Rahul Gandhi, would have been heir to the Gandhi dynasty today.
That bears more than a passing thought.
Looking Away From Politics: (Left to Right) Rajiv Gandhi, Sonia Gandhi, Sanjay Gandhi and Indira Gandhi. (Source: India Today)
Rajiv began his prime ministership with what has come to be the greatest taint on his legacy — the anti-Sikh genocide that consumed Delhi and other cities for four horrific days from October 31 to November 3, 1984.
As I wrote in my biography of Rajiv: "For the next four days, Delhi, Kanpur and other cities in North India witnessed horrific scenes of violence. Subsequent investigations indicted not only senior police officials but also named several senior Delhi Congressmen who had instigated the rioters. Eye-witness accounts spoke of Congress-led thugs pulling Sikhs out of their homes and butchering them with swords — or setting fire to them."
In 1986, Rajiv made the second big misjudgement of his prime ministership. He used his 414-seat brute majority in the Lok Sabha to overturn the Supreme Court's 1985 verdict favouring a destitute Muslim woman, Shah Bano, abandoned by her husband, Mohammed Ahmed Khan.
Leaving her destitute: Rajiv Gandhi overturned the Supreme Court's verdict on the Shah Bano case. (Source: India Today)
An apex court bench headed by Justice Y.V. Chandrachud (father of current Supreme Court Justice D.Y. Chandrachud) had granted Shah Bano a small monthly maintenance allowance. Enraged Muslim clerics denounced the verdict. In order to appease the Muslim community, Rajiv used Parliament to overturn the Supreme Court's order. It was a defining moment of his prime ministership.
Worse was to follow — Bofors.
Rajiv's best friend, and Doon School classmate, Union Minister of State for Defence, Arun Singh, resigned in August 1987 when Rajiv refused to allow a full-fledged inquiry into the Bofors scam. As MoS, Defence, Singh knows the full truth about the Bofors deal. He has maintained a vow of silence on Bofors for 32 years. In all, five cabinet ministers resigned within three months of the Bofors allegations surfacing in May 1987.
By now, Sonia Gandhi had also emerged as a powerful political influence on Rajiv. She kept out of the limelight — but the presence of an Italian coterie, led by arms dealer Ottavio Quattrocchi, grew rapidly.
Sonia Gandhi and Rajiv Gandhi, pictured together in Paris, 1984. (Source: India Today)
Born into a family of modest means in Lusiana, Italy, in December 1946, Sonia had been packed off to England in 1964 at the age of 17. She learnt English at a local language school for foreigners in the university town of Cambridge. With limited financial resources, Sonia found work in a restaurant where she would eventually meet Rajiv who was a student at Trinity College, Cambridge University.
While researching my book, I visited Trinity College, met the Registrar and spoke to Rajiv's tutors at the university. All sang praises of him — "Diligent, charming, intelligent" — but then, they were unlikely to be poorly disposed towards the current Prime Minister of India.
Rajiv was a modern, progressive man. His public sacking of the foreign secretary, AP Venkateswaran, at a press conference in Delhi, in January 1987, in front of the Indian and the international media, was widely condemned but totally out of character. I never saw him lose his cool or talk down to people.
When I met his Parsi relatives in Mumbai, they spoke well of him, though complained good-naturedly about his infrequent visits to their home since becoming Prime Minister. I interviewed several members of Rajiv's cabinet — from the ever-shrewd Kamal Nath to the charming Madhavrao Scindia — and found only Arun Nehru, Minister of State for Internal Security, to be out of place in the collegial atmosphere that prevailed in the early months of Rajiv's prime ministership.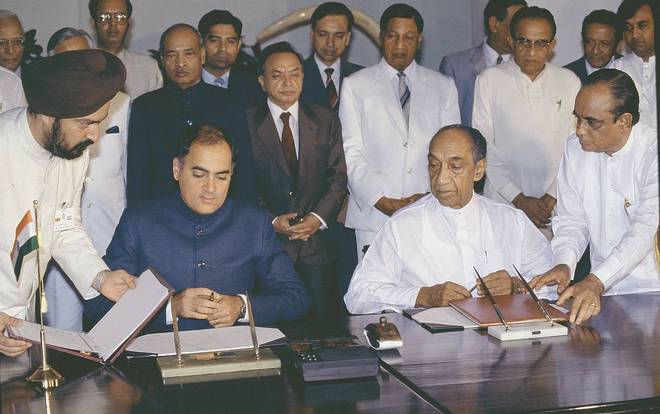 War and Peace: Rajiv Gandhi signing the India-Sri Lanka accord in July 1987 (Source: Reuters)
"No one," Arun Nehru growled at me, "Does anything around here without my say-so."
Nehru fortunately did not last long in Rajiv's cabinet.
What are the positive aspects of Rajiv's legacy? He introduced a computer and telecom culture in the country, sealed peace accords in Assam, Punjab and Mizoram, built strong relations with both Moscow and Washington, and modernised the armed forces.
Unfortunately, the legacies he is remembered for are the anti-Sikh pogrom, the Bofors scam — and his alleged complicity in allowing Union Carbide chairman Warren Anderson to escape from India after the Bhopal gas disaster.
Rajiv also blundered by first training and then fighting the Liberation Tigers of Tamil Eelam (LTTE) in Sri Lanka — which led to his assassination at an election rally in Tamil Nadu on May 21, 1991. Would Rajiv have made a better Prime Minister, had he lived to head the Congress government in place of PV Narasimha Rao in June 1991?
Three PMs: Rajiv Gandhi, pictured with his mother, Indira Gandhi, with PV Narasimha Rao. (Source: India Today)
What I do know is that despite his many missteps, Rajiv Gandhi, at heart, was a good man who was forced to do a job he never wanted. Half-Parsi, half-Kashmiri, fond of ham radios and flying planes, Rajiv, in the end, was a victim of circumstances. He died 28 years ago this month, aged only 46.
Ironically, the one thing Rajiv disliked was dynastic politics, despite his family's history — he was never keen on Rahul or Priyanka joining politics.
On August 20, 2019, Rajiv would have turned 75. His legacy remains unfulfilled, interrupted in the temple town of Sriperumbudur, 42 km from Chennai, where he was assassinated by a woman LTTE suicide bomber.