Can the media stop baiting the RSS?
The RSS was a threat to Indira Gandhi's authoritarianism, but to accuse it of being fascist or anti-national is wrong and Indian media needs to realise this.
It was widely reported recently that the Press Council of India censured two leading dailies, one English and one Marathi, for falsely attributing an inflammatory quotation to Rashtriya Swayamsevak Sangh (RSS) chief, Mohan Bhagwat. The articles with the fake news were written by well-known and respected journalists, the one in English by a leading senior editor-commentator and TV personality, with his own show.
History of misquotes
What makes matters worse is that the misquotation was attributed to the interactive session of Bhagwat's three-day lecture series, Bhavishya ka Bharat, held in September 2018 at Vigyan Bhawan, New Delhi. Hundreds of people attended the sessions, which were widely covered, with Bhagwat fielding over 200 questions. The speeches, questions, and answers were recorded and are easily available for playback. I myself was present and wrote a column on how Bhagwat's ideas signalled not only a significant shift in RSS, but also a new vision for India.
Misunderstood or misquoted? Mohan Bhagwat cannot catch a break. (Photo: Reuters)
When asked about the mob-lynchings by "gaurakshaks," I remember Bhagwat saying that violence over any issue is condemnable; strong action should be taken against its perpetrators. But cow protectors, he added, are not necessarily the ones doing the lynching. Moreover, when cattle thieves or cow smugglers indulge in violence, why is no voice raised in the press? Why the double standards?
When Bhagwat's comments on the issue are so easy to verify, the logical question that arises is why do even senior and experienced journalists get him and the RSS wrong time after time? What can the reason be? I think the answer is at once obvious and complex. The one simple cause for this repeated misunderstanding is prejudice, sheer and cussed prejudice, coupled with deep ignorance. But the not-so-obvious underlying reason is that both are the result of an anti-RSS narrative, bordering on conspiracy, whose roots are deep and unpleasant. In fact, its originator- in-chief, if not author and architect, was probably none other than Jawaharlal Nehru, our first Prime Minister, himself. Nehru learned his politics from England more than India. As a Fabian socialist and communist sympathiser, he consistently misread global politics, not to speak of economics.
Jawahar Lal Nehru's socialist blinkers contributed to painting RSS in a bad light. (Photo: India Today Archives)
His greatest blunder because of his socialist blinkers was our China policy, which resulted in a terrible defeat in the Sino-Indian war of 1962. Earlier, India foolishly supported China's permanent membership to the UN Security Council, a mistake which we are still ruing. Closer home, however, Nehru inherited the Communist suspicion and hatred for Fascism.
Nehru's bias
Thinking the RSS to be an Indian version of European Fascism, Nehru thought it incommensurable with his notion of a secular, democratic republic. Other Congress stalwarts, including Mahatma Gandhi and Sardar Vallabhbhai Patel, did not share Nehru's distaste or distrust for the RSS.
Gandhi, at the behest of acolyte and admirer, Jamnalal Bajaj, visited an RSS shakha in Wardha in 1934, and then again in 1947 in Delhi, when he was staying at the Sweeper's Colony. During the latter visit, he famously said about the Sangh that he "had been very well impressed by their discipline, complete absence of untouchability and rigorous simplicity. Since then the Sangh had grown as… any organisation which was inspired by the ideal of service and self-sacrifice was bound to grow in strength. But to be truly useful, self-sacrifice had to be combined with the purity of motive and true knowledge," said Gandhi according to his Collected Works published by the Publication Division in 1999.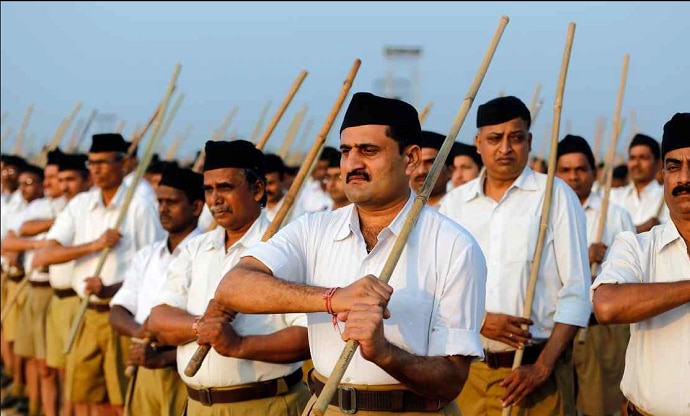 Mahatma Gandhi was impressed by the level of discipline and secularism in the RSS ranks. (Photo: Reuters)
The report of the visit appeared earlier in Gandhi's own paper, Harijan on September 28, 1947, and in Pyarelal's Mahatma Gandhi: The Last Phase, vol. II, p. 441. After all, the founder of the RSS, Keshav Baliram Hedgewar, was himself a Congressman who had been jailed during the freedom struggle. Patel, too, though he banned the RSS after Gandhi's assassination by Nathuram Godse, a former member, was quite aware of the good work that the Sangh had done during the Partition bloodbath, saving the lives of thousands of Hindu men, women, and children. Patel convinced that the Sangh had nothing to do with Gandhi's death, had played an important role in lifting the ban.
Emergency warriors
But Nehru's take on the RSS was different. Apart from his visceral dislike for the Sangh, he was also perhaps aware that one day it would be the Sangh Parivar which, either directly or indirectly, would unseat the Congress. Despite all the negative propaganda unleashed against the Sangh by various Congress-led governments, this has actually come to pass in a manner more decisive and definitive that Nehru might have ever dreamed of or feared. Indira Gandhi, his daughter, also banned the RSS during the Emergency. The 48th anniversary of "Black Day" when Emergency was declared on June 25, 1975, will soon be commemorated.
Some members of my own family spent most of the 22 months in jail. My own maternal uncle, a Math school teacher, who had never done a single illegal act in his whole life, found himself imprisoned and his family deprived of an income. The RSS fought the Emergency so valiantly that the now Modi-baiting Economist of December 4, 1976, described it as "the only non-Left revolutionary force in the world" fighting "to bring democracy back to India."
Yes, the RSS was a threat to Indira Gandhi's authoritarianism, but to accuse it of being fascist or anti-national is wrong.
(Courtesy of Mail Today)
Also read: Can Congress shake off the 'Muslim appeasement' tag, and emerge stronger?
The views and opinions expressed in this article are those of the authors and do not necessarily reflect the official policy or position of DailyO.in or the India Today Group. The writers are solely responsible for any claims arising out of the contents of this article.