Why India must get rid of sedition law
This is one colonial inheritance that all our governments since Independence have never been able to give up.
As a child growing up in Bengal with folk tales peopled with speaking birds, cats, tigers and foxes often running afoul of the law and getting hauled up in front of the king, one often came across words like, "Maharaj obhoy bolbo na shobhoy bolbo?" Translated, this means, "Oh Great King, should we speak fearfully or fearlessly?"
The implication of this query obviously being that the former approach would be censored and pleasing to the ears. The latter would be the unmitigated truth that is likely to offend his majesty. Offending the king was sedition and never ended well.
A common punishment in those days was making the offender sit on the finely honed point of a "shool", a sharp lance, and the end was excruciatingly slow and painful. A wise and just king would usually respond to the question with a kindly, "Obhoy bolo" (Speak without fear).
We too had been asked to speak our minds fearlessly and criticise the government, as that is essential in a healthy democracy.
On April 18, Prime Minister Narendra Modi at the 'Bharat Ki Baat, Sabke Saath' programme at London's Westminster Central Hall had said, "I want this government to be criticised. Criticism makes democracy strong. Democracy cannot succeed without constructive criticism."
Look who's talking: PM Modi last year said he wants this government to be criticised. (Credit: PTI photo)
However, he also added a caveat: "To criticise, one has to research and find proper facts. Sadly, it does not happen now. What happens instead is allegations."
Of course, one can never control what form such criticism may take because that would go against the very spirit of this generous assurance of safe passage of free speech and expression. Criticism may range from a reasoned article in an online publication pointing out the glaring disconnects of a Rafale deal, to a meme of the PM smearing his own wax statue with the words "I am a thief".
It could manifest in a timid panelist trying to make a point on Republic TV being hollered down by Arnav Goswami (and labelled an "anti-national" for his views) or a standup comedian like Kunal Kamra whose show was cancelled by the MS University (MSU) of Baroda after a group of students wrote to the Vice-Chancellor alleging that his content was "anti-national."
The word "anti-national" has been increasingly gaining traction since 2014 ever since the BJP came to power, and it has now escalated to "sedition". If the allegation of being an anti-national was merely socially reprehensible but not legally admissible, sedition is an actual crime punishable by law and a serious matter.
Since the charge of being an anti-national segues into charges of sedition very easily nowadays, one has cause to panic. So much so that recently, a professor was seen rushing to and fro touching the feet of ABVP activists of his college and begging for their mercy, after they had called him by that dreaded word.
According to anthropologist Alpa Shah, whose latest book, Nightmarch: A Journey Into India's Naxal Heartlands, where she attempts to bring some sanity into the discourse surrounding Naxalism and highlight the endemic structural violence that the Indian state has wreaked over decades in Jharkhand's Adivasi areas, "branding people as 'Urban Naxals' sadly seems a way of discrediting and silencing those who have devoted their lives to the rights of the powerless".
Adivasis of Jharkhand, resisting displacement, topped the list of those slapped with sedition in 2014. The villagers of Kudankulam, Tamil Nadu had sedition cases slapped against them for resisting a nuclear power project.
It was Girish Karnad's unique form of protest against this kind of buttonholing and stereotyping, by hanging a placard from his neck "Me Too Urban Naxal" that got him into trouble recently.
We have reached the point where the government's policies and dealings are considered sacrosanct and beyond scrutiny or critique because no distinction is made between party and government and government and state.
Girish Karnad taking part in an event marking Gauri Lankesh's death anniversary. (Credit: Twitter)
If one says anything against the party ideology or their handlers, the RSS, it is interpreted as an attack on the nation. This closely reflects Trump's America (and indeed our two societies are becoming bizarre complements of each other even in micro situations in thoughts actions words and deeds) by Trump's repeated use of the words, "enemy of the people".
Perhaps this phrase was first used by Shakespeare in his play, Coriolanus where two tribunes, Brutus and Cicinius call Coriolanus the "enemy of the people", but it is a label that tyrants and dictators have used freely over the centuries when trying to deflect blame from themselves. It is used when a tyrant needs to conflate his own self with the collective so that any attack on him is seen as an attack on collective interests.
The phrase was first used in a modern political sense by revolutionaries during the French Revolution when they would nonchalantly denounce their enemies. A law was passed in 1794 during the terror explicitly targeting "enemies of the people", which made crimes including "spreading false news" punishable by death.
It is easy to slap a case of rape or criminal misdemeanor against whosoever is a whistle-blower, and lock him away indefinitely. Pervez Parwaz, a social activist and lawyer, had accused Yogi Adityanath of giving a hateful and provocative speech in Gorakhpur on January 27, 2007, which, he alleged, had led to communal clashes between two communities during a Muharram procession.
We know about Dr Kafeel Khan and his continued harassment since the oxygen cylinder story broke. It is also easy at the moment to just instigate a lynch mob against a person by just calling him anti-national/tukde tukde gang/urban Naxal, or simply bump him/her off in a police encounter which will be seen as "necessary" by a brainwashed population.
According to a former IG of police in UP, SR Darapuri, "Encounters are an important part of the BJP's governance method and are seen in all states ruled by them. This means that there is inordinate amount of pressure on the police to undertake encounters."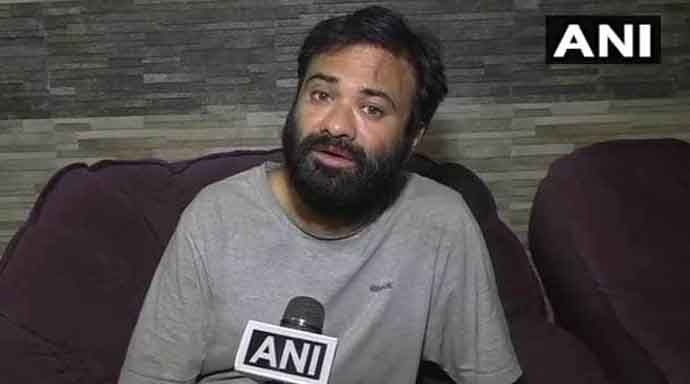 Soft target? Dr Kafeel Khan. (Credit: Twitter/ANI)
In February 2016, after slogans were allegedly raised on the JNU campus against the hanging of Afzal Guru, Kanhaiya Kumar and Umar Khalid were both arrested on grounds of sedition and raising purportedly anti-India slogans (which later turned out to be untrue on the grounds of forensic evidence of tapes.)
Around that time Umar Khaled had written in an article, "Asking questions is anti-national, anti-state, anti-Army, anti-India, or as Union Minister Kiren Rijiju commented last year, part of a bad culture. Draconian laws such as the Section 124-A only serve to give a legal veneer to the regime's persecution of voices and movements against oppression by casting them as anti-national."
On October 19, 2015, Hardik Patel was arrested by the Rajkot Police after an FIR was filed against him at the Paddhari police on grounds of sedition.
In 2014, Kashmiri students were charged with sedition for supporting Pakistan in a cricket match between India and Pakistan by Manzoor Ahmed, Vice-Chancellor of Swami Vivekanand Subharti University in Meerut. In addition to sedition charges, the students were charged with "instigating hate between two communities". The whole thing was dropped after the then CM of Jammu and Kashmir, Omar Abdullah, tweeted several times that the sedition charges against the students were an overreaction.
The overreaction has now assumed sinister proportions.
Recently, in another development, Congress digital communications chief Divya Spandana was charged with sedition for a meme depicting the PM in a poor light post the Rafale deal controversy. The irony being that such memes against Dr Manmohan Singh (and worse) were par for the course for BJP IT cell workers in the run-up to the 2014 Lok Sabha elections.
A substantial number of them were followed and still continue to be followed by PM Modi himself. Since when has the prime ministerial chair become equivalent to the state?
The sedition law was originally drafted by Thomas Macaulay. It was not a part of IPC in the 1860s and was even dropped from the law. It was introduced in the IPC in 1870. Many Indian freedom fighters, including Mahatma Gandhi and Bal Gangadhar Tilak, were charged with sedition during freedom struggle.
Section 124-A of the Indian Penal Code, named 'Sedition', explains sedition in wide and magnanimous terms. It says:
"Whoever, by words, either spoken or written, or by signs, or by visible representation, or otherwise, brings or attempts to bring into hatred or contempt, or excites or attempts to excite disaffection towards the Government established by law in India' shall be punished with life imprisonment."
The explanations, which the Indian Penal Code gives, are that the expression 'disaffection' includes disloyalty and all feelings of hate.
However, according to Section 124-A, comments expressing strong disapproval of the "administrative or other action of the government without exciting or attempting to excite hatred, contempt or disaffection, do not constitute an offense under this section".
Calling for trouble: Divya Spandana (Credit: Twitter)
When the first amendment was introduced, which also included detailed limitations on free speech, Prime Minister Jawaharlal Nehru was categorical in his belief that the offence of sedition was fundamentally unconstitutional.
He had said: "Now, so far as I am concerned [Section 124-A] is highly objectionable and obnoxious and it should have no place both for practical and historical reasons. The sooner we get rid of it the better."
Perhaps something of the BJP's mindset which finds it advantageous to conflate "nation" and "government" and "destruction of Bharat" to refusal to chant ultra nationalist slogans, can be understood from the resolution adopted by its two day national executive meet on March 2016 which stated:
"Our Constitution guarantees freedom of expression to every citizen, but that freedom is only enjoyable within its framework. Talking of destruction of Bharat can't be supported in the name of freedom of expression. Similarly refusal to hail Bharat — say Bharat Mata ki Jai — in the name of freedom of expression is also unacceptable.
"Our Constitution describes India and Bharat also: refusal to chant victory to Bharat is tantamount to disrespect to our Constitution itself. Bharat Mata ki Jai is not merely a slogan. It was the mantra of our freedom struggle. It is the heartbeat of a billion people today.
"It is the reiteration of our Constitutional obligation as citizens to uphold its primacy. The BJP makes it clear that it will firmly oppose any attempt to disrespect Bharat and weaken its unity and integrity."
PM Modi also said, in his address to the executive, that the party and the government "was accepting of political criticism of itself, but not of the nation". However, criticism of the BJP is increasingly being manipulated to seem criticism of the nation by hostile and cornered party spokesperson, the BJP channels like Republic TV, Times Now, and the social media pro-establishment activists.
The 'idli versus pizza' nationalism
From questioning the opacity of the Rafale deal to demanding answers on how much of taxpayer money has been spent on the PM's overseas travels and with what tangible results, to what action is being taken against gau rakshak-lynch mobs who have been clearly identified, one may expect a wall of silence and hostility with a wrong and motivated interpretation of threat to common purpose and "destruction of Bharat".
Vice-President Venkaiah Naidu make frequent appeals to us to decolonise ourselves — from the English language, from pizzas and burgers, and the "western mentality".
The sedition law is also a colonial British relic used to curb free speech during India's Independence struggle. Now, the government is using it to silence and harass those with divergent opinions and it is time we repealed and did away with it.
Mahatma Gandhi, who was imprisoned under the law, called it "the prince among the political sections of the Indian Penal Code designed to suppress the liberty of the citizen".
It is the one inheritance from the British that all our governments since Independence have never been able to give up.
Also read: If Ramya can be charged with sedition why not PM and others?
The views and opinions expressed in this article are those of the authors and do not necessarily reflect the official policy or position of DailyO.in or the India Today Group. The writers are solely responsible for any claims arising out of the contents of this article.