In a move that took Indian politics by storm on Monday, the BJP government cleared a proposal to grant 10 per cent reservation for economically backward groups, including upper castes, from the general category in government jobs and educational institutions.
As was expected of it, the Dravida Munnetra Kazhagam (DMK) came out as the first political party to oppose the Bill on Tuesday.
DMK leader MK Stalin urged the Tamil Nadu CM to bring a resolution against this proposal by the Centre.
In a tweet from the DMK's official handle — Arivalayam — Stalin said, "The Centre plans to give 10 per cent reservation to the economically backward upper echelons of the society to gain political traction. This is an act is against the social justice, and the legislature should pass a resolution against the Centre for tabling such a policy."
The ruling party in Tamil Nadu, the AIADMK, however, was initially non-committal on the issue and biding time in the interest of evolving the party's politics. 
However, M Thambidurai, the Deputy Speaker of the Lok Sabha and AIADMK leader has said, "Reservation was initially only for Shudras who suffered a lot over centuries. For the economically weak there are already several schemes by this government. So no quota is needed. reservation is needed only if the govt schemes failed."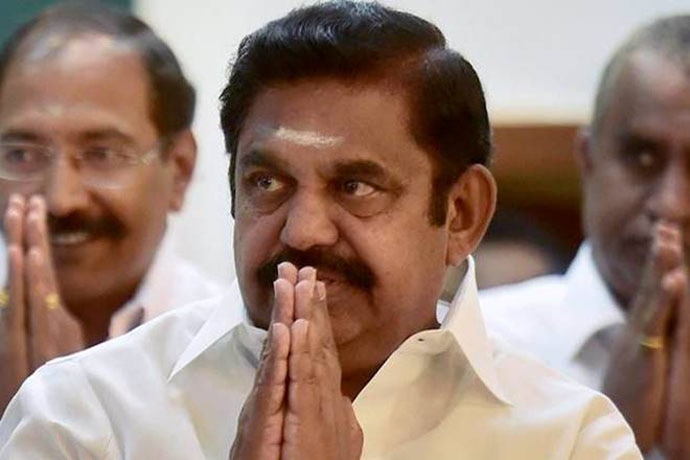 Does Tamil Nadu CM Edappadi Palaniswami have the ideological conviction of his predecessor? (Photo PTI)
While Prime Minister Narendra Modi has been trying to woo the two primary Dravidian parties in the state (the AIADMK and DMK) ahead of the 2019 elections, after the leaders of both the parties died — AIADMK supremo J Jayalalithaa in 2016 and DMK President M Karunanidhi in 2018 — and newer equations emerged, Dravidian politics has stayed at least partly true to its core identity of affirmative action in favour of only backward classes. 
Not a man to be cowed by political infirmities, M K Stalin was amongst the first leaders to oppose reservations for upper classes. (Photo: PTI)
This is relevant in the current political circumstances because reservations in Tamil Nadu have a long political history.
The history of Dravidian politics was formed on the basis of the anti-Brahmin movement in Madras Presidency (as the province was called during British rule) during the 1910s and 1920s. The movement was coherently launched by the Backward Classes in the 1930s, stretching to the 1950s. The movement gave a distinctive character to the politics of the state and the policies of the Backward Classes (BCs). 
A most prominent face of Dravidian politics, M Karunanidhi lived long enough to see reservations for backward classes go from 25 per cent to 69 per cent. (Photo: PTI)
From a reservation for the Backward Classes at 25 per cent in 1951 to a total reservation percentage at 69 in 1989, Tamil Nadu politics has been shaped by the reservations for various backward classes (both inclusive and exclusive of economic strata).
In 2006, two Brahmin communities urged the Tamil Nadu State Backward Classes Commission that they also be included in the Backward Classes list — but the Commission did not oblige. Brahmins constitute about six per cent of the 7.5 crore population of the state, out of which 30 per cent (around 13 lakh) are economically backward and live below the poverty line. However, "Eligibility to backwardness is not based on economic and educational backwardness alone. It is not a poverty alleviation program. So, a community that is socially forward will not be included," Professor D Sundaram, retired professor of sociology, Madras University and a member of the second Tamil Nadu State Backward Classes Commission from 1993 to 2001, had reportedly said.
The DMK seems to be clear on its stand. Party spokesperson Saravanan reportedly said, "Our party has always opposed this creamy layer concept. Backwardness is not limited to economic status. Reservation for the poor is an anathema to social justice. Backwardness is defined by social status and how they are perceived in a social set-up and that should be the criteria."
Unlike economic status, caste is immobile.
"Caste is determined at birth, unlike economic status. Anyone can become rich or poor."
While the DMK is sticking to its doctrinal position of affirmative action for social justice to oppose the proposed quota, its nemesis, the AIADMK, has from its birth in 1972, been less dogmatic on Dravidian ideology. That flexibility has let the party feel no compulsion to either immediately oppose or welcome this proposed quota and maintain what it hopes will be perceived as a studious silence. While it subsequently did oppose the move, it did seem that the AIADMK was betting that this is a wave it can ride out.
Samooha Neethi Kaatha Veeranganai — will her political successors live up to her title? (Source: PTI)
The party that was led by the lady who was called Samooha Neethi Kaatha Veeranganai (the brave lady who upheld social justice) after she ensured the reservation scheme for the backward classes rose to 69 per cent when it stood at 50 per cent across the country — chose not to go hand in glove with reservation for upper classes in favour of political gains, after all.
Timeline of reservations in Tamil Nadu
The timeline of reservations for backward classes in Tamil Nadu since 1951 — from 41 per cent to 69 per cent. (Source: Wikimedia Commons)
1951: 16 per cent reservation for SC/ST and 25 per cent reservation for OBCs introduced. Total Reservation stood at 41 per cent
1971: Sattanathan Commission recommended the introduction of the "Creamy Layer", altering Reservation percentage for Backward Classes to 16 per cent and separate reservation of 17 per cent to Most Backward Classes (MBCs). The DMK Government increased OBC reservation to 31 per cent and Reservation for SC/ST has been increased to 18 per cent. Total Reservation stood at 49 per cent
1980: The then-ADMK government excludes "Creamy Layer" from OBC reservation benefits. Income Limit for availing Reservation benefit has been fixed at Rs 9,000 Per Annum. DMK and other Opposition parties protested the decision. "Creamy Layer" scheme was withdrawn and Reservation percentage for OBCs has been increased to 50. Total Reservation stood at 68 per cent
1989: Statewide Road Blockade Agitations were launched by the Vanniar Sangam (parent body of Pattali Makkal Katchi, an OBC-led group) demanding 20 per cent reservations in State Government and 2 per cent Reservations in Central Government exclusively for the Vanniyar caste. The DMK government Split OBC reservations as two parts with 30 per cent for OBC and 20 per cent for MBC — separate Reservation of 1 per cent introduced for Scheduled Tribes. Total Reservation percentage stood at 69 per cent
1992: The Madras High Court, in light of the Supreme Court's ruling in 1992, said that the quantum of reservation should not exceed 50 per cent — it directed the State to bring it down to 50 per cent from the academic year 1994-1995
1993: In November 1993, the Assembly adopted the Tamil Nadu Backward Classes, Scheduled Castes and Scheduled Tribes (Reservation of Seats in Educational Institutions and of Appointments or Posts in the Services under the State) Bill, 1993 (now known as Tamil Nadu Act of 1994).
1994: In June 1994, Jayalalithaa led a delegation of parties and impressed upon then-Prime Minister P.V. Narasimha Rao to refer the Bill to President Shankar Dayal Sharma. A month later, the Presidential assent came. Jayalalithaa also pressed the Centre to bring in a Constitutional amendment to include the Tamil Nadu Act in the Ninth Schedule so that its validity could not be challenged. By the end of August 1994, the Act became a part of the Ninth Schedule
2006: The Supreme Court asked the Tamil Nadu Government to exclude the "Creamy Layer" from Reservation benefits. The Supreme Court referred inclusion of 69 per cent reservation in Tamil Nadu in the Ninth Schedule to a nine-member bench
2018: Tamil Nadu's 69 per cent reservation — breaching the 50 per cent cap — is under challenge in the Supreme Court. It remains questionable, even though placed under the Ninth Schedule